From Leftovers To Nextovers!
---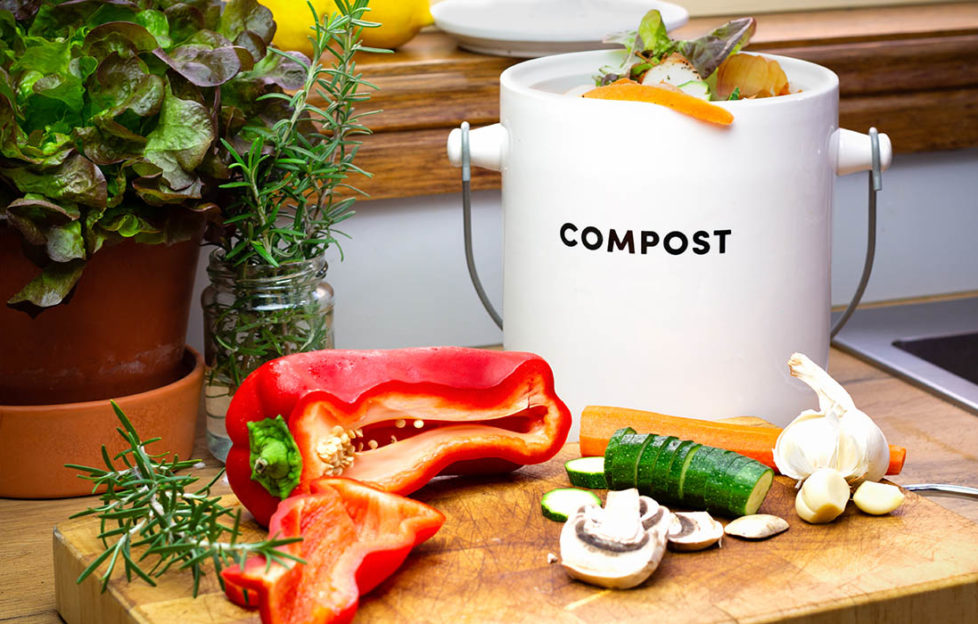 Pic: Shutterstock
Every year in the UK, we waste a massive 4.5 million tonnes of food.
We're not talking about the bits we can't eat like banana skins, apple cores or chicken bones. That's 4.5 million tonnes of perfectly good food that could have landed in our stomachs rather than the bin.
A quarter of this waste comes from leftovers – food we end up throwing away because we've cooked, prepared or served too much. You know what we're talking about: the few spoonfuls of pasta, rice or mash left in the pan, or the extra sausage that doesn't seem worth keeping.
Throwing away these leftovers may not seem a big deal. But when you tot up all the leftovers that are wasted like this by everyone in the UK, it adds up to enough food to fill…
almost 10 million large wheelie bins
900 Olympic-sized swimming pools or
2 Wembley stadiums each year.
In short, that's a lot of perfectly tasty food being chucked away.
That's why Panasonic has joined together with Love Food Hate Waste, a charity that aims to raise awareness of the need to reduce food waste, and registered dietitian Juliette Kellow to reveal how to use your microwave to turn some of the most common leftovers into Nextovers. Juliette is the author of The Calorie, Carb And Fat Bible 2020.
Nextovers: a trend, then a habit
Nextovers are the latest food movement to hit our kitchens – and for once it's a trend that every single one of us can follow and turn into a habit for life.
Feeding yourself or a huge family? Vegan or carnivore? Want to lose weight or bulk up? Need a gluten-free or dairy-free diet? We promise the nextovers trend will suit you!
The idea of nextovers is really simple. Instead of putting any uneaten food into the bin, turn leftovers from today into new meals for tomorrow.
And with most people having a microwave oven in their kitchen, it couldn't be easier. In fact, the microwave is truly a secret weapon in the war against waste.
Why should we all be nextovering?
Why should nextovers be a priority? It's a vital food trend that's crucial in helping us to reduce the amount of food we throw away.
Nextovers are a great time saver! There's no need to cook a new meal from scratch. Leftovers mean we already have a meal – or at least a good part of it – just waiting to be eaten.
Throwing away leftovers is bad news for the environment. On top of all the greenhouse gases created from producing, transporting, storing and cooking food in the first place, leftovers that are binned end up in landfill. Here, bacteria break them down, generating even more of these climate-changing greenhouse gases.
In fact, it's estimated that eating up leftovers rather than sending them to landfill would have the same environmental benefit as taking more than half a million cars off the road for a year!
Use those nutrients. Putting leftovers in our body rather than landfill means we benefit from all the goodness they contain.
Our bank balance also profits. All the perfectly good food we throw away is worth around £14 billion a year – or £60 a month for an average family with children. Leftovers account for £3.5 billion being put straight into the bin!
Ring the changes. A lot of the leftovers we save still don't get eaten and end up in landfill. Sometimes they're forgotten! But it would also seem many of us just don't enjoy eating the same food two days in a row.
And that's the beauty of nextovers – you use up your leftovers but still eat a completely different meal the next day.
Getting started…
Panasonic, Love Food Hate Waste and dietitian Juliette Kellow have come up with stacks of ideas that reveal how to use your microwave to turn some of the most common leftovers into nextovers.
By using a microwave, perfect results, even with pre-cooked food, are easier than ever. The result: a happier environment, body and bank balance – and a delicious new dinner that's ready in a matter of minutes!
Recipe Inspiration
Nextovers are a simple way to create delicious new dishes. Using your microwave oven ensures they get from fridge to table in super speedy time.
Leftover Cooked Pasta
Combine pasta with canned tuna, sweetcorn and pesto, heat through and serve topped with grated reduced-fat cheese.
Mix pasta with tomato sauce, homemade or from a jar, top with mozzarella cheese, and heat until the cheese melts. Serve with salad.
Try roasted vegetable pasta or a vegan tomato and spinach pasta bake.
Can't decide on macaroni cheese or cauliflower cheese? Have both by steaming some cauliflower florets in the microwave. Combine with leftover pasta, any other leftover veg, pour over cheese sauce and top with grated reduced-fat cheese. Heat until the cheese has melted and the sauce is bubbling.
Or try the same recipe using leftover cooked butternut squash or pumpkin (depending on the season) and cooked pasta.
Leftover Mashed Potato
Turn it into a pie topping – simply put leftover casserole or stew into a dish, top with warmed up mash (or sliced boiled or new potatoes if that's what's leftover), a little grated reduced-fat cheese and heat.
Stuck for ideas? Try a fish pie or shepherd's pie.
Whip up some gnocchi – reheat mashed potato then pass through a fine sieve. Mix with plain flour and Parmesan. Roll into a log, cut into 2cm pieces, form into bite-sized oblongs and press lightly with a fork. Drop into boiling water and cook in the microwave until the gnocchi rise to the surface. Drain and serve with tomato sauce, a sprinkle of Parmesan and salad.
Try this warming Leek & Potato Soup. Cook a chopped onion and leek in a little olive oil in the microwave until soft. Pour in some reduced-salt veggie stock and the mash. Stir and heat thoroughly, then blend until smooth. Stir in a little single cream if you like and season with black pepper.
Leftover Cooked Rice (always reheat until piping hot)
Make a veggie biryani by steaming frozen mixed veg in the microwave then mix with cooked rice, biryani curry paste, chickpeas, raisins and a little reduced-salt stock. Heat until piping hot and garnish with toasted flaked almonds to serve.
Use it to fill roasted stuffed peppers.
Make microwave rice pudding. Combine equal volumes of leftover rice and milk and heat until the milk is boiling. Add sugar or sweetener to taste, and any other flavours you like such as lemon zest, cinnamon, vanilla essence, ginger or cocoa powder. Heat on low, frequently taking the pudding out to stir, adding more milk if necessary until you have the perfect consistency. Leftover fruit? Now is the perfect time to add!
Leftover Bolognese
Simply add chilli powder, Tabasco and a can of drained kidney beans and you have chilli! Heat through and serve with microwaveable or leftover rice, and a spoonful of reduced-fat soured cream.
Top leftover Bolognese with leftover mashed potato to convert into a cottage pie. Alternatively, reheat frozen mash or boil some potatoes in the microwave then mash. Top with grated reduced-fat cheese and reheat until piping hot.
Believe it or not, it's easy to make lasagne in the microwave. Layer up leftover Bolognese with lasagne sheets and a white or cheese sauce. Finish with a layer of white sauce, sprinkle with grated reduced-fat cheese and cook in the microwave until the pasta is soft and the food is piping hot.
Leftover Roasted Meat
Turn roasted chicken, lamb, beef or pork into a casserole. Chop meat into bite-sized pieces and combine with chopped garlic, onions, carrots, leeks, a can of tomatoes, tomato puree, a little reduced-salt stock, red or white wine (perfect for using up a nearly empty bottle), mixed herbs and black pepper. Microwave until all the veg are cooked. Thicken with cornflour if needed and serve with bread or mash.
Add some spice. Chop leftover meat, combine with chopped onions and peppers and a jar of your favourite curry sauce. Heat through until the veg are soft and serve with rice or naan bread.
Fill wraps with shredded meat and roasted red peppers from a jar. Roll up and place in a microwaveable dish. Spoon over chilli sauce from a jar, top with grated reduced-fat cheese and heat through. Serve with salsa, guacamole and reduced-fat soured cream for easy Enchiladas.
Leftover Vegetables
Grease a microwaveable dish, add leftover vegetables, pour over beaten egg and top with grated reduced-fat cheese. Microwave until the egg is cooked through (don't cook for too long or it will become rubbery). Add pieces of leftover potato, ham or cooked sausage, if you have them.
Leftover roasted vegetables are perfect for adding to a pizza base, or combining with pasta, rice or couscous for a hearty salad.
Heat your leftover veg in the microwave then purée, Masterchef-style, with a little olive oil and plenty of black pepper to create a creamy Vegetable Mash to serve alongside your main course.
Tips for using your microwave for Nextovers…
Make sure you use microwave-friendly bowls and dishes.
Invest in a re-usable, washable cover that's designed for using in a microwave – it will reduce the amount of single-use cling wrap you use.
Make sure you reheat food until it's piping hot, or use the recommended Panasonic Genius Sensor technology, and remember, only ever reheat food once.
If your microwave is combined with an oven and grill, get experimenting with these functions – it will open even more possibilities for creating delicious nextovers.
Visit The Ideas Kitchen for microwave-friendly dishes.
Here's a great pasta bake recipe to get you started on the Nextovers habit!