The 6 Best Audible Books For Health and Wellbeing
---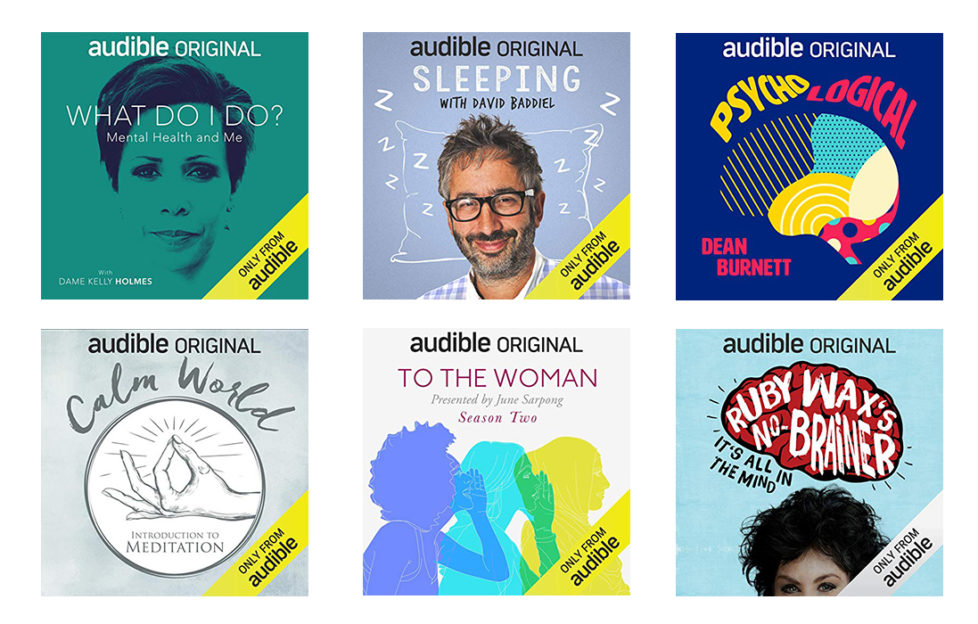 So you've been waking up with Joe Wickes, and taking your daily socially-distanced walk? That's great – but in these troubled times, it's just as important to look after your mental as well as your physical health…
If like me, you find it hard to concentrate on reading at the moment, audible books are a great way to get your daily dose of hints and tips for a happy life, even under lockdown.
Whether you're looking for tips on getting a better night sleep or would like advice on coping with anxiety and depression, or simply need some uplfting, inspiring insight from people who have faced and overcome their own difficulties, one of these titles could be for you.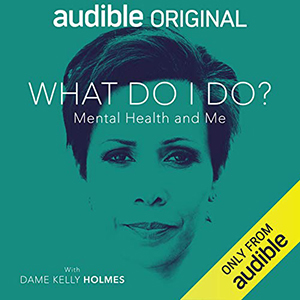 Having experienced her own mental health difficulties, with depression and self-harm, Dame Kelly Holmes sets out to discover how other people cope. She joins each guest in a place that makes them feel good: taking a spin class with presenter Davina McCall, baking with comedian Catherine Bohart, and playing the bagpipes with journalist Alastair Campbell in his bathroom, among others.
Each episode concludes with an expert insight from mental health professionals, Dr David Crepaz-Keay from the Mental Health Foundation and psychotherapist Owen O'Kane, including information about seeking professional help.
This deeply personal series offers listeners an honest and relatable insight into how some the UK's best-known celebrities have coped with mental health difficulties, ranging from OCD to insomnia, addiction to grief, and depression to anxiety. Whatever is troubling you, you'll find support here.
---

Sleeping with David Baddiel By Geoff Jein, Narrated by David Baddiel and Dr Guy Leschziner (£12.99, or free with Audible 30-day trial)
In these days of uncertainty, with our daily routines disrupted, sleep can often feel like a luxury – even in ordinary times, studies have found that 52% of Britons struggle to sleep. And yet a good night's sleep can reduce your risk of heart disease, cancer, and Alzheimer's, and even make you slimmer, happier, and more attractive.
If you're having trouble harnessing the incredible power of sleep, this is the audible book for you!
Over six episodes, a world expert on sleep acts as a guru to an insomniac comedian, transforming their nocturnal habits and showing how you can do the same, waking up refreshed and ready to tackle the uncertainties each fresh day brings.
---
PSYCHO-LOGICAL By Dean Burnett, Various narrators (£14.99, or free with Audible 30-day trial)
We all know that mental health problems are common and serious issues. But when it comes to mental health matters, one question that's rarely asked is… why? Why are conditions like depression and anxiety so common? Why is our mental health so vulnerable to the stresses and events of modern life? Why do so many mental health problems have pronounced physical symptoms? And why is there still so much confusion and stigma about mental health matters?
Expert in neuroscience, psychology and psychiatry, Dr Dean Burnett (best-selling author of The Happy Brain) aims to uncover just what we think is going on with our brains when serious mental health problems occur and – importantly – how and why the available therapies may work.
Expertly narrated and written in an engaging and straightforward style, Psycho-Logical is a must for anyone who's ever dealt with mental health issues of their own, knows someone who has or is interested in the ever-more-important subject matter.
---
Calm World: Introduction to Meditation By Alice Fraser, Ash Ranpura (£12.99, or free with Audible 30-day trial)
Meditation is proven to decrease stress and anxiety – but how does it work? And how do we begin to practise it?
With the help of neuroscientist Ash Ranpura, comedian Alice Fraser explores the science, history and culture behind meditation.
On the way to achieving our goal of perfecting meditation techniques, we meet the tiny part of the brain that triggers most of our fear and anxiety, the NBA coach who taught Michael Jordan how to meditate, and the writer who says the best way to cope is to practice mindfulness.
---
In the second volume of Audible's flagship podcast series first produced for International Women's Day, June Sarpong brings together a group of exceptional women to celebrate inspirational women from around the world. Each episode begins with a prompt: "To the woman …" followed by five themes – "To the woman that shaped me," "To the woman that loved me," "To the woman that heard me," "To the woman that saved me," and "To the women that surround me." What begins as a simple prompt becomes a larger narrative of love, friendship and a celebration of women. Moving and inspirational, and a great reminder that in these uncertain times we can all support one another, even when we can't have physical contact.
---
No Brainer By Ruby Wax (£13.99, or free with Audible 30-day trial)
Could we be happier, calmer, better human beings? In this Audible Original, Ruby Wax hunts down her hero brain scientists, in the UK and across America, to learn more about what makes us tick: why we get stressed, how we feel pain, what makes us addicted … Aof course, being Ruby Wax, she brings us a lot of fun along the way.
Sometimes irreverent, but always insightful, Ruby draws on memories of her own difficult childhood and long history of depression and makes you laugh out loud with her frank observations and anarchic questions. You'll learn a lot about your brain, and hear a ton of advice on how to use it better.
---
To discover more about Audible Books' incredible range of non-fiction and fiction books, or to sign up to their thirty-day free trial, visit Audible.co.uk