Sweet Potato Crusted Pie
---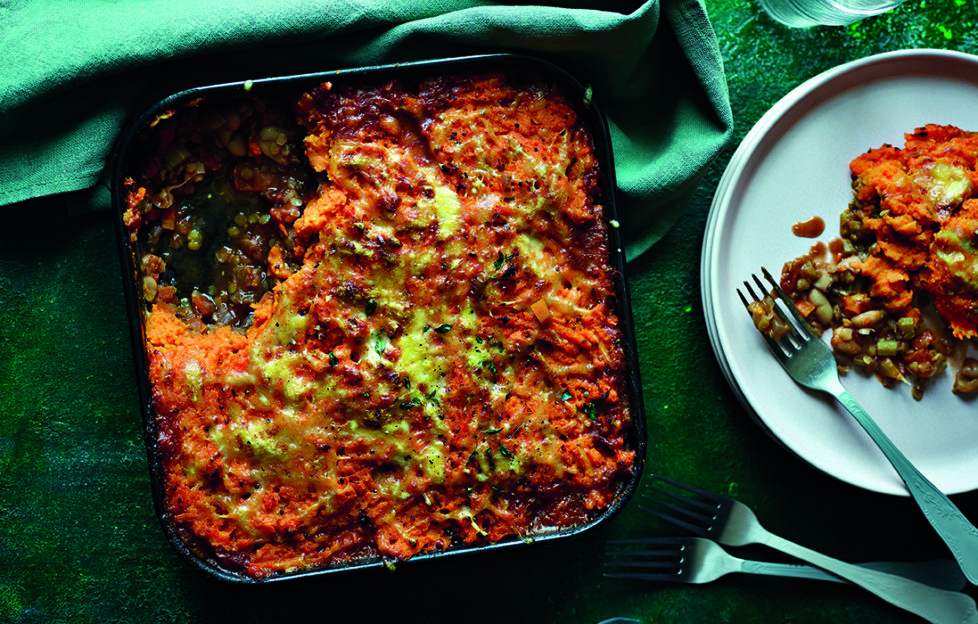 It's National Vegetarian Week (May 11-17) and for me, the best dishes are those that make clever use of bold flavours and hearty textures. This one from Higgidy, with its rich Worcester sauce and red wine, and its sustaining lentils and cannellini beans, is no less satisfying than the traditional meaty version…
Serves: 6
Cooking time: 1hr 20min
Heat the olive oil in a deep saucepan, add the onion, celery and carrot and sprinkle over a pinch of salt. Cover the pan with a lid and sweat the vegetables over a low heat, stirring occasionally, for 15min until soft.
Add the garlic to the pan along with the paprika and mace, turn the heat up to medium and toast the spices for a minute. Stir in the tomatoes, bay and thyme. Cover the pan again and cook for a further 7–8min until the tomatoes have collapsed and started to release some of their liquid. Stir in the lentils, the can of beans with their liquid and the wine. Add the bouillon powder or stock cube to the empty bean can and fill with boiling water from the kettle, stirring. Pour the stock into the pan along with the Worcester sauce. Bring the contents of the pan to the boil, then reduce the heat, cover with the lid and simmer gently for 20min until the sauce has started to thicken. Remove the lid and simmer for a further 10min to evaporate some of the liquid. Discard the bay leaves and set aside.
While the lentil and bean mixture is simmering, preheat the oven to 200°C/180°C fan/Gas Mark 6. To prepare the mash, bring a large saucepan of water to the boil. Add a pinch of salt and the sweet potato chunks and boil for 15–20min until completely soft. Drain the sweet potatoes and return to the pan. Add the butter, mustard and half the Cheddar, then use a potato masher to mash the sweet potatoes until completely smooth. Set aside.
Once the lentil and bean mixture is ready, use the same potato masher as before (don't worry about washing it) to mash about half of it in the saucepan. Taste and adjust the seasoning with salt and pepper.
Spoon the lentil and bean mixture into the pie dish. Spread the sweet potato mash over the top and sprinkle over the remaining Cheddar. Bake for 25min until golden and bubbling. Serve hot.