Garden Spa Time
---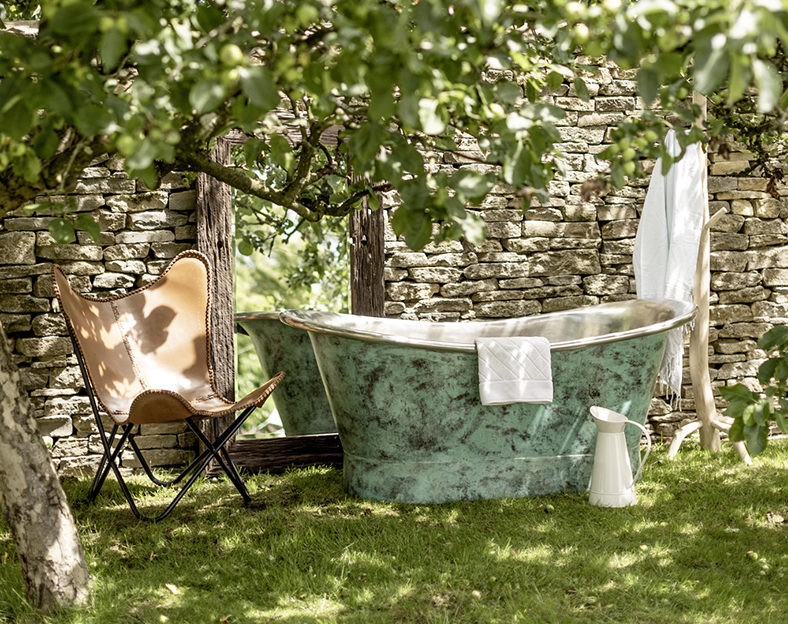 All items available at www.indigenous.co.uk.
Taking the tub outside
There's constant talk about bringing the outside in. Filling our homes with plants and flowers, to lift the spirits and feed the senses. But what about taking the inside out? Specifically, the bath tub.
Vintage Tub
It may sound a little outlandish, but a vintage tub in the garden makes a lovely feature – and it's increasingly popular. Have a look and you'll find many a spa with a well-appointed outdoor tub. And, whilst a homemade garden spa may not be fed from a hot mineral spring – or sat in a woodland setting – there's much that can be achieved at home!
Bath With A View
Bateau-style tubs, with their symmetrical shape and gentle sloping ends, are just perfect for creating a garden spa. Most are made of copper, tin or nickel and all of these materials retain heat really well. They're also surprisingly light, so easy to move around – and undeniably beautiful. Choose a spot with a view, if you have one, or create an intimate nook. Surround the tub with plants and herbs, string fairy lights nearby and create something lovely for all the family to enjoy.
Practically Perfect
Practical considerations are important. You'll need to be able to fill the tub, preferably using a hose from taps with a hot water supply. In terms of emptying, you could direct the water straight to a drain or, failing that, let it soak into the garden as you would a paddling pool. Make sure to use eco-friendly bathing products – or forage and make your own from herbs and petals. Don't forget a well-appointed stool for drinks and snacks, and a hook for a towel or bathrobe. Then, just wait for a glorious summer afternoon… or a balmy night with a star lit sky.
Main image: Oxidised Copper Bath Tub (£2,650), Branchwood Coat Stand (£150) and Butterfly Chair (£300), by Indigenous.co.uk
To shop and for more information, please visit www.indigenous.co.uk.