Revealed: The UK's Favourite Lockdown Cheese 
---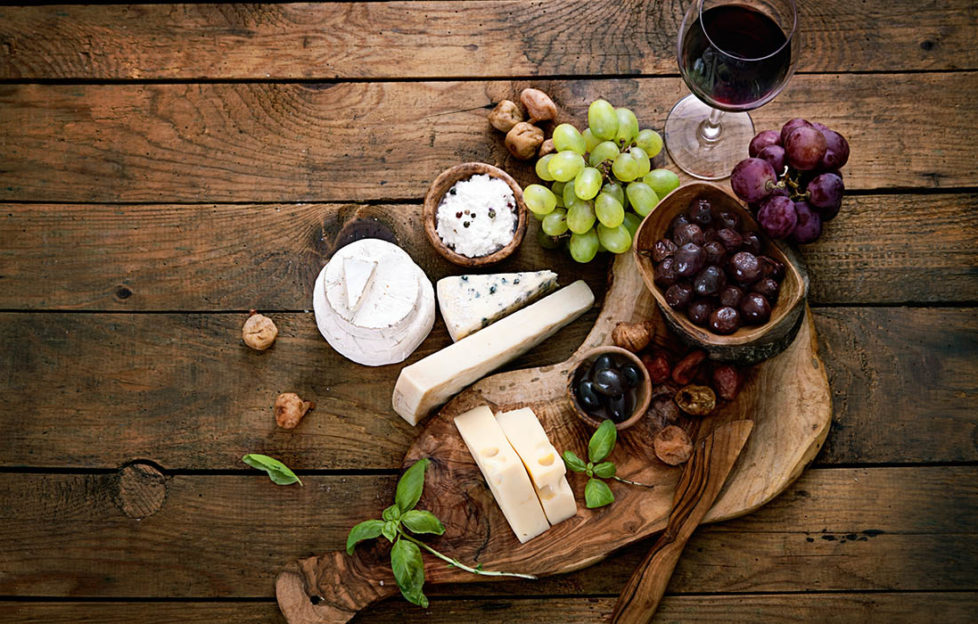 Pic: Shutterstock
To celebrate National Cheese Day – today! – researchers from recipe box company Gousto have revealed the most popular cheeses we've been choosing during lockdown.
The Nation's Favourite Cheese, Revealed
According to Google Trends, searches for Cheese and Wine Night have tripled (+203%) during lockdown, but what cheeses have we been including in our virtual cheese and wine nights on Zoom? 
Red Leicester – +164% more searches during lockdown
Goats Cheese +158%
Cheddar +97%
Camembert +80%
Brie +72%
Blue Cheese +30%
Mozzarella +19%
Parmesan +17%
Stilton -28%
Wensleydale -33%
Has lockdown changed our cheese preferences? A 2017 study by Branston Pickle crowned Cheddar as the UK's favourite, but during lockdown we're favouring Red Leicester and goat's cheese.
The ultimate cheese board
Gousto food stylist Jenny Brown and senior recipe developer Jordan Moore have teamed up to reveal their tips for assembling the ultimate cheese board, perfect for National Cheese Day this week:
Jordan says that the perfect cheese board should be based on your own tastes and preferences, but there are a few 'rules' you can follow to ensure you have enough variety texture on the board:
A hard cheese: Try a strong, crumbly Cheddar or for something different, try Gruyère.
A soft and semi-soft cheese: Brie and Camembert are popular choices for the soft-cheese section, and Port Salut is a great all-rounder for the semi-soft section.
A blue cheese: Stilton is the most traditional option, but if you want something a bit lighter for the summer months, take a look at Gorgonzola too.
A flavour-added cheese: Wensleydale with cranberries or apricots is a nice addition to a summer cheese board. Or for something more punchy, why not try a black pepper or garlic-flavoured goat's cheese?
Cool and elegant
Jenny adds that the board itself should be the backdrop to your delicious selection of cheese!
"Most people have a wooden or glass chopping board in their kitchen which is a great way to display your cheese and accompaniments. If you have a marble or slate board, then these are perfect for keeping your cheese cool, as well as being a beautiful canvas to show off the cheese."
Jordan adds that accompaniments such as crackers should be kept as plain as possible, letting the natural flavours of the cheese shine through.
"There are so many different flavours of crackers to choose from nowadays, it can be difficult to know what to pick up. My general rule is to keep the crackers as plain as possible, so try an oatcake or a cream cracker to serve alongside.
Add some fruit
Jenny adds that fruit can be both beautiful and delicious on a cheese board.
"Grapes, strawberries, apples and figs are perfect cheese board additions – just be sure to give the apples a spritz of lemon or lime before serving to avoid them going brown on the board."
When it comes to portion size, Jordan says, "Cheese boards are all about indulgence. But if you're unsure about how much cheese to display, allow between 30 and 50g cheese per person.
"30g is about the size of a matchbox so you can eyeball it easily, but don't worry if you have leftovers! Simply wrap them in wax paper and refrigerate until you're ready to use them again.
"One of my favourite ways to use up leftover cheese is to chop it all up and use it to create the most decadent macaroni and cheese!"
Got some leftover cheese? Why not try one of Gousto's recipes to help you use up those odds and ends from the cheese board?