Feta & Spinach Quiche
---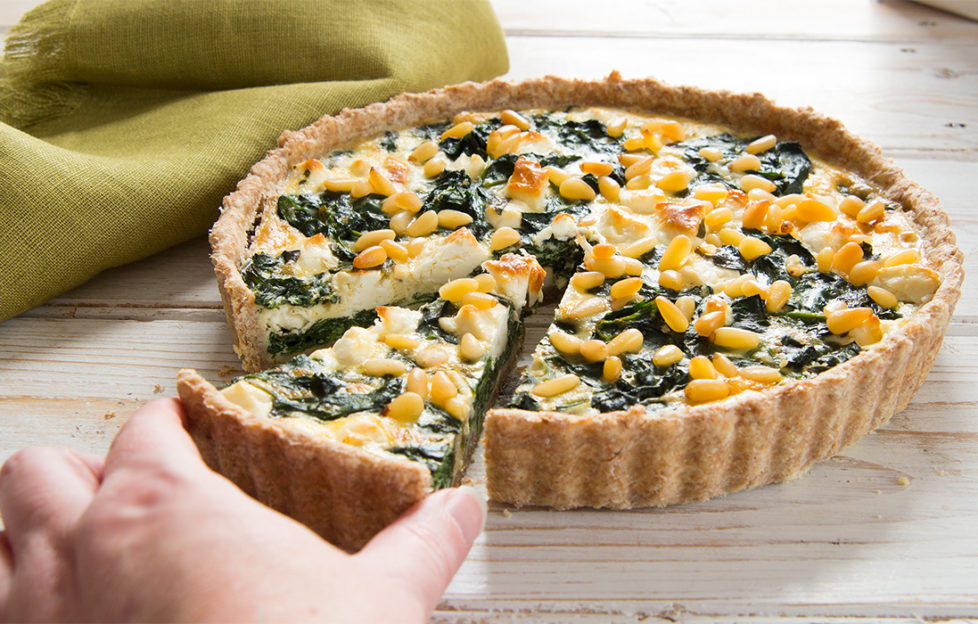 Rediscover the delicious combination of crisp pastry and rich, savoury filling with this meat-free favourite from Carr's Flour. Perfect for a leisurely lunch in the garden!
Preparation Time: 25min
Cooking Time: 35min
Serves: 4-6
Preheat the oven 180˚C (Fan 160˚C, Gas Mark 4).
Rub the butter into the flour until it feels and looks like breadcrumbs. Add enough water to bring the mixture together to form a ball. Wrap in cling film and rest for 15min.
Roll out pastry on a floured surface and line a 20cm fluted tin, pressing carefully. Cut away excess pastry. Put into the fridge to chill.
Steam the spinach until just wilted. Leave to cool and dry slightly.
Whisk the eggs together and season with salt (not too much – the feta will add saltiness), pepper and nutmeg. Cut the feta into chunks and add to the mix.
Add the cooked spinach and stir, then spoon into the pastry case. Sprinkle the pine nuts on top.
Bake on the middle shelf for 35min or until set. Serve warm or cold.