Mint & Pea Lamb Kofta Burger with Rose Yogurt & Tabbouleh
---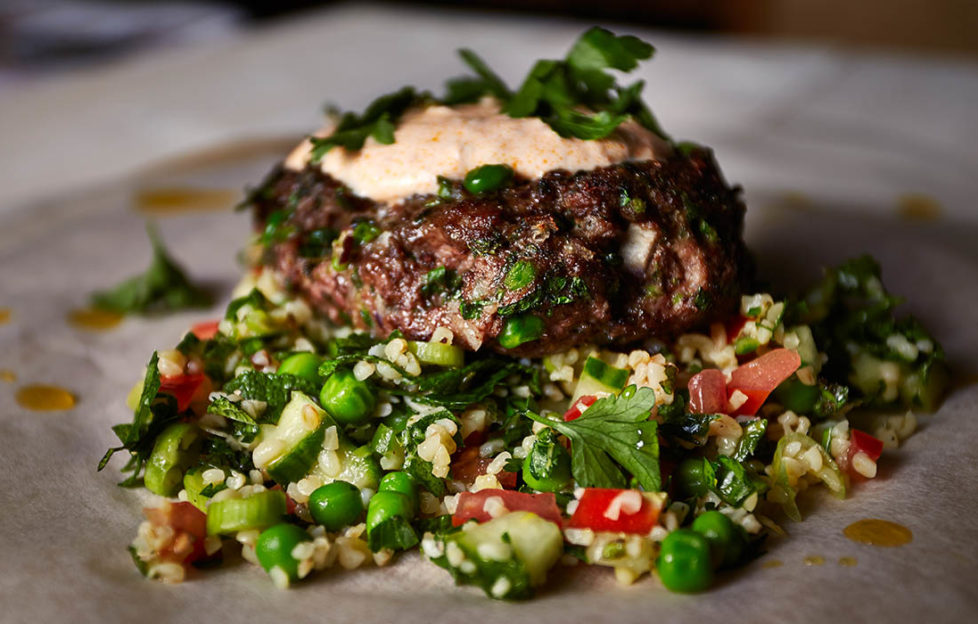 Bring some delicious Middle Eastern flavours to your al-fresco dining! Warmly spiced lamb is offset beautifully by fresh herbs, crushed peas and cool yogurt.
Preparation Time: 20min + 1hr chilling + 3omin soaking
Cooking Time: 10-15min
Serves 4
Grate the onion, squeeze out most of the liquid through a sieve and put in a large bowl. Finely chop the parsley and mint and add to the onion. Mix in the lamb, spices and salt until thoroughly combined. Shape into 4 kofta patties, cover and chill for at least an hour.
Meanwhile, rinse the bulgur wheat in a sieve until the water runs clear. Drain well and transfer to a bowl. Pour over 200ml of boiling water, cover with cling film and leave to soak for 30min.
Cover the peas in boiling water, strain, and pulse in a blender until coarsely crushed.
Put the chopped herbs in a large bowl and add the tomato, spring onion, cucumber and crushed peas.
Thoroughly drain the bulgur wheat, then add to the herb mixture along with the lemon zest and juice, garlic and olive oil. Mix thoroughly and season with salt and pepper.
To make the rose yogurt, mix the harissa paste into the yogurt and leave to one side.
Heat a frying pan, greased with a little oil. Cook the kofta patties until golden brown on all sides.
Serve immediately with the rose yogurt and tabbouleh.