Top Tips To Light Up Your Home
---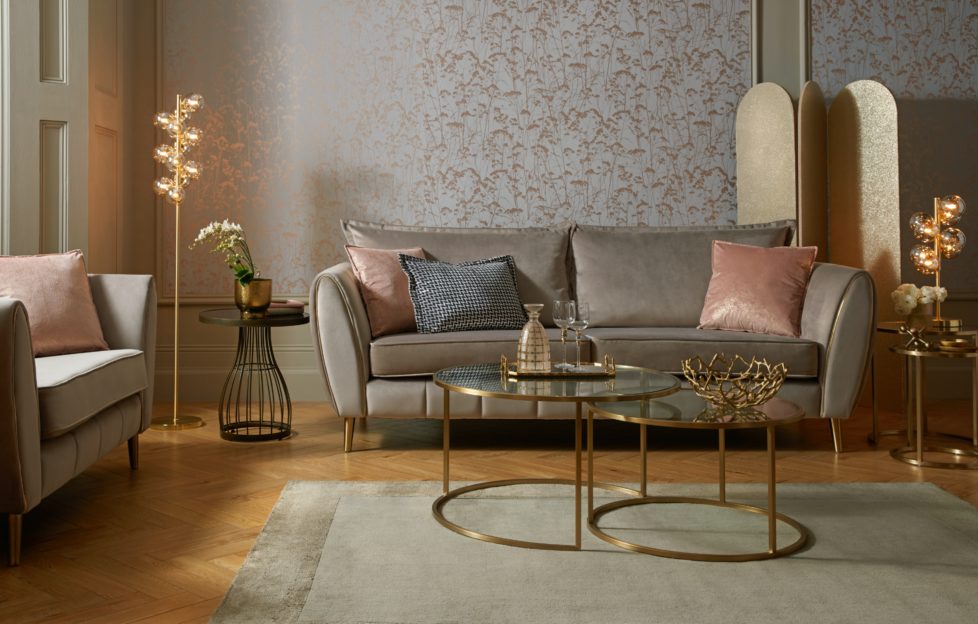 Sofology Lulu Lamps from £249, Lydia Furniture from £279, Haywood End Table £249, Aroma Rug £259, Gabrielle 4 Seat £1199, Gabrielle Loveseat £699
"Your lighting should be functional, providing adequate illumination where needed whilst being stylish and something that elevates your space," says Suzy McMahon, Buying Director for Sofology.
Create The Right Mood
"Lighting can be layered to create different ambiences depending on which are turned on, and can also help to zone a room and establish focal points within a scheme. Opting for a matching floor and table lamp can help build a scheme that feels effortlessly coordinated, whilst the variation in height adds depth. Alternatively, selecting a pair of matching table lamps to place in different areas of the room can create a balanced and calming feel.
Size and Scale
Think about the size of the room and scale of chosen design. The addition of a large floor lamp can draw the eye, adding personality and making a statement. However, for smaller rooms, consider floor lamps with slim bases that won't take up too much space; these also offer a way to light darker corners and hallways without being imposing.
Materials Matter
Choosing designs with mixed materials such as metal and glass adds texture whilst keeping the look contemporary. Although it's not necessary to match a light's materials to other pieces in the room, it's worth opting for styles that complement each other for a cohesive décor scheme. For example, if your wallpaper features a lot of green, selecting a lampshade in a similar colour will tie the look together."
Strategic Lighting
"Strategically planning your lighting is essential in small kitchens especially if you have limited natural light," adds Ben Burbidge, Kitchen Makers Managing Director. "Task lights and pendants work particularly well over work surfaces. Consider integrating lighting with dimmers throughout the rest of the space to allow you to adjust the light depending on the time of day and whether you are entertaining.  If you use your kitchen mainly in the evenings then also consider how you're your lighting reacts with your colour scheme. Warmer lower kelvin bulbs, typically found in decorative pendants, produce a yellow light when compared to the higher kelvin spots which are crisper and more like daylight."