Projects To Make The Most Of Your Garden
---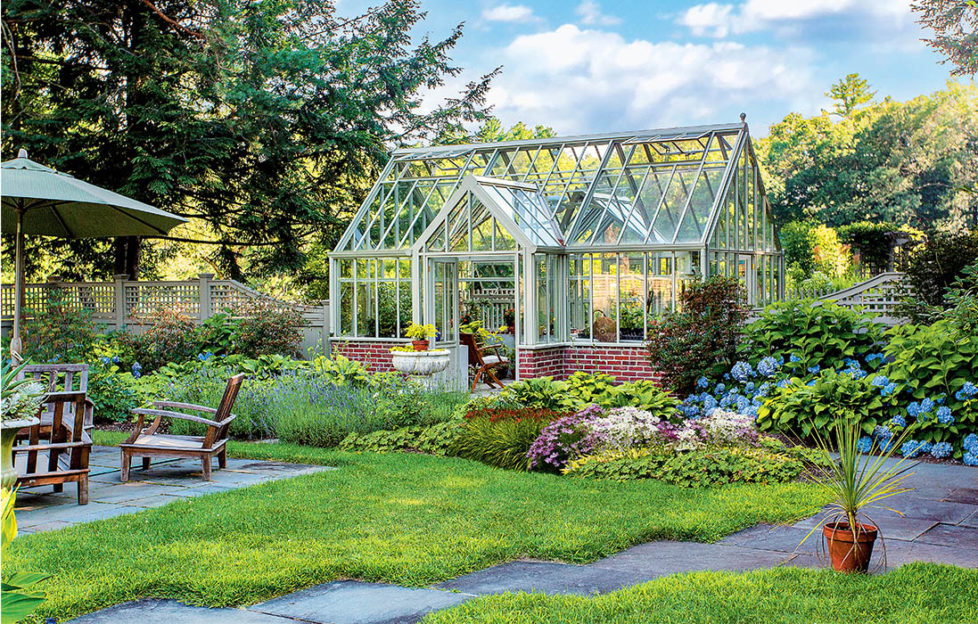 Bespoke greenhouse from Hartley Botanic
Have you been finally getting round to some neglected home projects during lockdown? You're not alone.
Since March, more than half of UK households have tackled some form of DIY or renovation work – spending a total of roughly £5.64bn in three months, home interiors specialists Hillarys found.
A further 42% of respondents have been working away on their garden. Asked what people are most looking forward to when lockdown and social distancing are fully over, top of the list were
summer garden parties (30%),
barbecues (25%) and
having friends round for dinner (16%).
With these in mind, here are some inspiring projects and handy purchases to help you make the very most of your garden, now and in the future…
Go Bright – Really Bright!
Vivid, punchy colours can create the feel of a tropical oasis in your garden, even with unpredictable British weather. Sadolin Technical Consultant Matthew Brown has some top tips…
Is space is at a premium, with flora and foliage used sparingly? Sometimes a distinctive, bold shade such as blue or orange can enliven and energise a space like a small yard, making it seem larger.
Don't be afraid to use dark colours; in a small space they can create a cosy, intimate atmosphere.
The colours appearing naturally in the space are the foundation of the colour palette. Most will be in flowers – greens along with strong shades of perhaps pink, red and blazing orange. Contrasting tones will enhance their intensity.
The often rich, warm colours of flowers will be enhanced by a cool coloured background – not bright blues or greens, but subtle, contemporary colours of off-greys with green or blue undertones.
Wood and metal paint can transform the feel of your outdoor area just as effectively as masonry paint. A fresh coat of paint on railings, gates, fencing or a front door can hugely improve your kerb appeal.
In your personal space at the rear of your home, you can be more adventurous. Why not paint seating, a table and chairs, railings or even an interesting feature such as an old wheelbarrow or ladder? Just prime the surface first (with a primer undercoat), and with a pop of cheerful colour, you can quickly transform the mood.
Create The Ultimate Chic Hideaway
Could you add the magic touch to a playhouse, like this gorgeous creation by Victoria Reed? (find her on Instagram @brass_bee). Or would you like to transform a shed into an elegant garden room for yourself? Either way, the Al Fresco paint range from Frenchic offers the perfect tools and tricks to renovate wood.
In addition to their Original Artisan Range that includes bold hues and vintage chic tones, Frenchic also offers a  Lazy Range – with added wax for an immediate perfect finish – and the Al Fresco range that's specially designed for outdoor projects. With 17 gorgeous colours including Mermaid For A Day, you can't help but be inspired to make something wooden truly wonderful!
Frenchic Furniture Paint is
natural and eco-friendly,
requires no stirring, shaking or addition of water
rigorously tested to be EN:71-3 certified – safe to paint children's toys and nursery furniture
free of added VOCs (Volatile Organic Compounds), toxins or solvents
virtually smell-free, perfect for painting indoors!
The full Frenchic range, including paints and accessories, is available from £5.95.
Get Maximum Vitamin Value From Your Greenhouse
Any time you spend outdoors will boost your health. But now historic glasshouse and greenhouse manufacturer Hartley Botanic has gathered some expert tips for growing 4 of the most nutrient-packed crops. These leafy superfoods will help keep the pandemic at bay, and keep you and your family as healthy as possible!
Watercress – nutrient density score: 100%; Vitamin K, Vitamin C and antioxidants
Watercress grows well in pots or trays of compost kept moist. Stand pots on capillary matting, or in shallow saucers (change water regularly). Grow from seed, or insert cuttings from shop-bought watercress into wet compost, sharp sand or just water; they will soon root. When your plants start to run to seed, divide them up and start again.
(Swiss) Chard – nutrient density score: 87.27%; Vitamin K, antioxidants and fibre
Swiss Chard originates from the Mediterranean and needs a sunny spot in your greenhouse, in moisture-retentive, free-draining soil. Sow in multi-cell trays around 2.5cm deep. The soil should be damp, firm, free of weeds and stones and at least 10ºC for the seeds to germinate – use a soil thermometer. Harvest chard when it's young and tender.
Beetroot greens – nutrient density score: 87.08%; many vitamins and minerals
The leaves of the beetroot plant were used historically for their amazing healing properties. Beetroot can withstand cooler temperatures although it's best if soil is at least 7ºC . Sow in multi-cell trays, or outside 5cm apart in rows 23cm apart (allow 10cm gaps if you also want the roots for cooking). Water thoroughly, especially as roots swell. Plant out after 1-2 weeks in a cold frame. Round-rooted beetroot is ready to harvest in about 12 weeks.
Harvesting – Long-rooted varieties will need a fork under them to aid lifting. Any bruises or cuts will bleed, draining the colour as the beets cook. To remove the leaves, grasp firmly above the root and twist with the other hand to prevent damage to the top of the root.
Spinach – nutrient density score: 86.43%; iron, folate, other minerals and vitamins
Spinach usually grows well in cooler temperatures. If you plan to sow now, choose bolt-resistant varieties. It likes well-drained soil which is neutral pH and rich with compost. Space seeds out well. Each new spinach leaf can be carefully harvested with a sharp cuttings knife or secateurs; this gentle pruning encourages more leaves, as long as you don't damage the centre or cut off too many too soon.
Using a greenhouse, you can…
grow veg all year round
control what fertilisers or pest control is used
eat your food the same day (or hour) it's harvested, meaning far fewer nutrients are lost.
For more greenhouse gardening advice, see Hartley Botanic's online magazine.
For information on bespoke greenhouses, click here or call 01457 819 155.
Make Your Evenings Longer And Cosier
As the day draws to an end, your time outside doesn't have to! Dobbies Garden Centres' collection of outdoor heaters will extend your days into evenings, transforming your garden or patio into a cosy, inviting space.
Create the perfect atmosphere to suit your style, from coastal cool or rustic country to sleek and sophisticated. From firepits to Mexican style chimeneas, you can get that holiday feeling at home.
All 68 Dobbies stores across the UK are now open, adhering to strict social distancing rules.
A firepit is a compelling focal point, allowing you to linger in the garden after daylight fades. Why not go for a combined firepit and barbecue – perfect whether you're peckish or simply want to take the chill off!
Maximise Your Family Fun Outdoors
So you've painted, planted and got all fired up. But finding ways to entertain the kids, and keep them busy and happy, is also a must during this long summer at home!
Fortunately there's a whole range of budget priced outdoor essentials from the UK's favourite family-friendly retailer, The Works, to provide hours of fun.
Doesn't everyone love bubbles! Watch this machine stream continuous bubbles and keep children entertained for hours. And here's a handy My Weekly tip – we've discovered that these machines are also brilliantly effective at keeping wasps away from your fire pit party or picnic.
For an extra £1, you can purchase a litre of Bubble Solution so the fun can last for days!
We all need a little cooling-off on a hot day – and what better way than with this must-have water gun? Simply fill with water, pump, and fire with the trigger. Why not position lots of targets around the garden and get the kids to water the plants as they aim to hit them – saving you a job for later…
Check out the full range of summer outdoor toys on offer.