Style Up Your Outdoor Table
---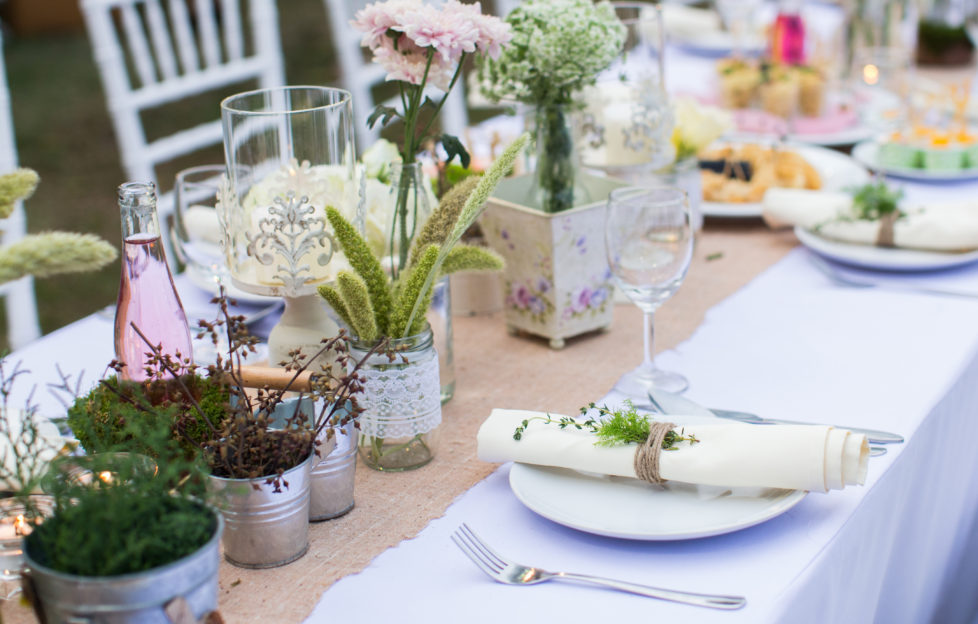 pic shutterstock
Outdoor dining is a summertime treat – and to help you make the most of the experience, Zoom That Room creator Benji Lewis has a few tips:
Zoning Your Outdoor Space
Whether your garden space is big or small, try and have different seat settings in your garden – soft seating and a dining area.
Soft seating: can be a deckchair or directors chair with a bean bag to relax on
The dining area: can be a collapsible table and two chairs for a small area or a longer table with chairs if you have a bigger space
Lighten Up
Overhead fairy lights are a wonderful way to decorate outside, they can be placed over the table or suspended from a nearby tree – always keep an extension lead to hand unless you have allowed for outdoor power points
Tea lights on the table create a delightful, gentle localised glow whilst the addition of lanterns or uplights on the building cast a fabulous wash of light in any setting
Layered ambience lighting is important
Dress The Table
Plants add colour and vibrancy to your table, potted geraniums or lavender are perfect for that rustic setting in the English countryside. Squeeze the leaves lightly on either of these and you instantly bring that added element of interest to your table
For a formal setting why not use three matched, mirror cube pots evenly spaced down a rectangular table, I'd recommend succulents that can have a more contained leaf formation, these extra touches really brighten up your outdoor table arrangement
To Cloth, Or Not To Cloth
If it's an old marble topped table that you have then I would likely not to dress it – the markings in the marble are so beautiful to look at, it'd be a shame to cover them up.  To counter the feel of the marble, look for super-sized napkins in soft linen; I often use antique French hand towels as napkins because of their size.  You can then add colour with wine glasses if you like
Cloths work well for an English countryside setting when it's an informal dining occasion – I love a smooth white cloth for a formal dinner; for a more rustic feel I once dyed an antique French linen sheet indigo – this created a different but equally charming effect
Zoom That Room is a contact free, bespoke design offer. Bookings and enquiries can be made via https;//zoomthatroom.com/. For daily updates and design tips follow Benji on instagram @benjilewisdesign.