Luxury Upgrades For Your Home
---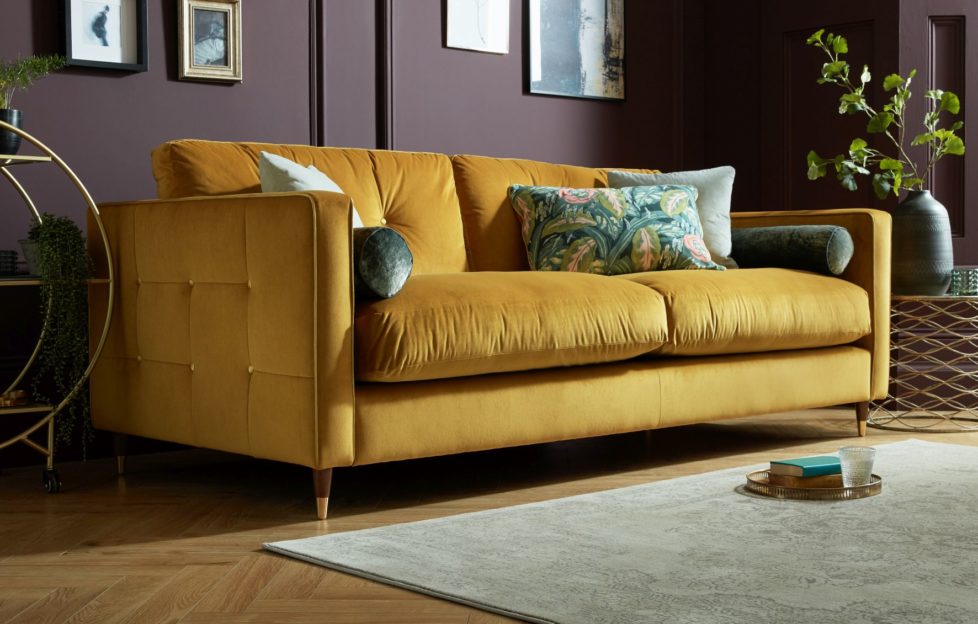 Sofology Clerkenwell 4 Seat, Sofa from £1199
Bathroom Remodel
According to research by

MyJobQuote the best luxury upgrade for the home is a bathroom remodel. Simply put, by remodelling your bathroom you can ensure all fixtures and plumbing are up to date and working efficiently. By incorporating new features such as recessed lighting and modern tiling and flooring products, you can bring in a real sense of luxury. Benjamin Heginbotham, Director and Head of Design at The Practical Planning Company says, "If you've got the room, go all out on a luxury en-suite for your master bedroom. There are so many products out there nowadays that it's easy to achieve a deluxe finish, even on a budget."
House Plants
A spokesperson from Virtual Viewings (@VViewings) comments: "Put plants on the floor, on the window sill, on shelves. Mess it up and put small ones in small spaces, massive ones that take up whole corners, trailing down over stuff indoors and outdoors. Instant glamour !"
Alex Willcocks, owner of Burbeck Interiors, adds: "The addition of plants, both real and false, is a great way to instantly uplift any space. An easy way to add colour, plants are also great for making instant statement pieces in any room. Choosing the plant pot or vase can be a creative way to add texture and a good focal point and is almost as important as choosing the plant itself."
Neutral Hues
Interestingly, in terms of Neutral Hues, research by Sellhousefast.uk found grey is the most popular interior colour, according to average monthly search volumes on Google. With Polished Pebble by Dulux being the most popular shade of grey, at 9,900 average monthly searches!
Glazing
Benjamin Heginbotham, Director and Head of Design at The Practical Planning Company says, "Bifold doors tend to be the dream aesthetic, with floor to ceiling glazing allowing natural light to flood a room. However, they can be expensive. A cheaper alternative to achieve a similar, luxury effect would be to replace existing windows at the rear of the property with traditional patio doors (French doors), which opens up the living space and makes it appear larger, while blending the outside space seamlessly with the inside. This works especially well in kitchens and kitchen extensions."
Create Space
One of the best ways to make your home feel luxurious is by creating open space and sometimes simply rearranging, decluttering, and investing in some clever storage solutions is enough to achieve it. But, when that's not enough, a simple home extension or garage conversion can help massively by creating a new, separate space, or enlarging an existing room. Both can be done on a budget with some clever cost-saving ideas. Please remember, professional advice is always required with home improvement projects such as extensions and conversions in order to comply with building regulations.
Temporary Wallpaper 
Alex Willcocks, owner of Burbeck Interiors, says, "Adhesive wallpaper is a growing trend as people look to creating new spaces, including home offices within their home. Adhesive wallpaper is perfect for people looking to refresh a space on a temporary basis, or who want to explore new colours and patterns for their rooms. Wallpapers are great for statement walls or bringing colour into an otherwise dull or white room. And a great benefit of temporary wallpaper, you can change it when you get bored.
My advice – choose lighter colours, and subtle patterns, especially for your working space, or for a smaller room. Harsher colours may become distracting or make a small room feel even smaller.
Upholstering 
With so much time on our hands, and unable to get to the shops or order what we like online, we are able to do those little projects we have been putting off. Upholstering chairs with new materials, or sewing new cushion and pillow covers seem to be the most popular.