Designer's Top Tips To Make A House A Home
---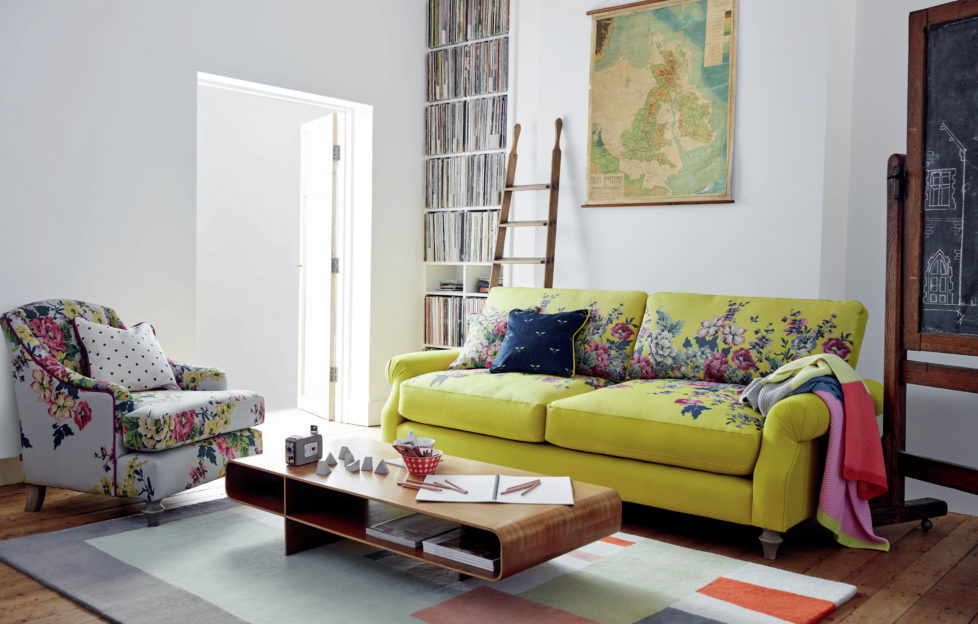 Sofa from a selection, DFS
Designing your house to create a home takes a certain eye. Pulling a room together and transforming the features to make it functional yet stylish is a big task. Each room in your house must look consistent with style, a lot of consideration needs to go into choosing the furniture and accessories to create a beautiful masterpiece. It's not only about practical tips, but simple things too! From how to display objects you've brought on your travels; what paint works best in different rooms to the lighting options that come from blinds and curtains.
Whether you're redecorating an entire home, sprucing up your kitchen or looking for a splash of colour to freshen up your bedroom you've come to the right place. We've enlisted the help of interior designer Vanessa Arbuthnott to share her designer tips and secrets so you can gain that insider knowledge and transform your home like a professional.                                                                                               
It's Your Home
There are no rights nor wrongs in interior design, everyone has the potential to design their own home, it's just a matter of getting an eye for it. Remember that you are in control, taking the latest trends into account is worthwhile but always put your own personal spin on something to make it special. There used to be the exception of your office, but with that seemingly out of the equation for a while, your home is where you spend most of your time, so the space needs to reflect you.
Find Design Inspiration
Transform your interiors from tired to revitalised by gathering inspirational images from magazines, Instagram, Pinterest etc. Once you have a strong collection you will begin to see the look you would like to achieve. Creating a mood board is a great way to use your creativity to unleash any hidden design inspiration you may have subconsciously seen. Buy a large foam board and pins from your local art or stationary shop and collate samples, images, samples of the fabrics, wallpapers, furniture and flooring that you might want to use. This way you can see how they would all sit together. Within the room, it is important to add textures through flooring, rugs and fabrics such as velvet, wool, and tweed.  Place the mood board in the room and live with it for a while.
Analyse the Look
Collect pieces as you come across them, this way you will purchase things you've fallen in love with rather than settling for what's available in certain stores or online at the time you need something. This way you can spend time analysing the look and colours of your room with accessories. The more time you take to add things into your house, your interior design knowledge will expand as you can understand what works best with certain features.
Colour and Fabrics
Start to home in on the colours you want to use – three colours are always better than two: use these colours throughout the room: for the painted walls or wallpaper, furniture, blinds and curtains. The third colour could be a highlight for cushions, lampshades, bed quilts and accessories such as a tablecloth or even a painting or sculpture.
Paint and Paper
Remember that colours can change depending on lighting so buy sample pots and paint. Paint at least A2 sized paint patches, on the lightest and the darkest walls in the same room, to see how the natural light affects the shade. Tape wallpaper samples to the walls and drape large returnable samples over existing furniture or pin them to existing curtains and blinds. Stand back and see what you think!
Old to New
If you have a blank canvas it's easier, but more often we must work with existing sofas or rugs etc. Look closely at the rug and see if you can work with the colours within it. Maybe you can reupholster the old favourite sofa to give it a new lease of life? Decide if you are someone who likes pattern or plain; traditional or contemporary; and look at a colour wheel or nature itself to see what colours go with what.  For instance, pinks and reds with greens, orange with duck egg, yellows with grey and blues.
Furniture
Decide on the furniture you want in your room. Think about scale, in a large room you need a big sofa and footstool. Most designers recommend that even small rooms should have one large statement piece, even if it is a headboard in a bedroom. A balance of large and small pieces will create an appealing living space.
Returnable Samples
Once you have narrowed your choice right down and have a good idea of what you might want, order some returnable samples. These are half metres of fabric which works best draped over backs of chairs and pined to existing curtains and blinds. The test will see if you're still happy with them after a few days. This is also a great way to see how fabrics look against the paint colours.
Measuring
Decision time happens when you measure up your windows. If you need help to decide between blinds or curtains in particular rooms don't forget you can book an half hour WhatsApp consultation with one of our designers where you can show us your windows and rooms so we can talk you through the measuring process. There are also many how to videos online to ensure you have the correct measurements.
Finishing Touches
The finishing touches are the fun bit! Lampshades, rugs, cushions, paintings and plants can all make a huge difference, but are sometimes hard to choose until you have the walls painted or papered and curtains hanging. Even the colours on the spines of books in a bookshelf, a throw on the back of the sofa, or in a kitchen ceramic, tablecloths, create opportunities for accents of colour.