Creamy Seafood Chowder
---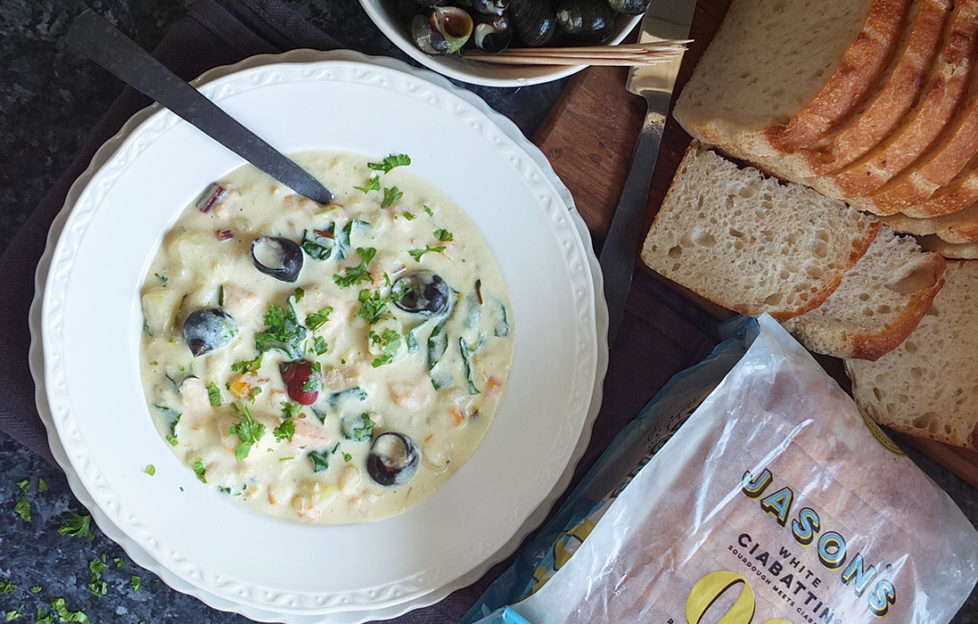 Jason's Bread, creators of the artisan sourdough sliced loaf, and food and travel blogger Elizabeth Atia (Elizabeth's Kitchen Diary) have teamed up to create a simple, nourishing and creamy seafood chowder recipe. Accompanied with Jason's artisan Bread, it's the perfect cosy dish to warm you up on a chilly autumn day.
Recipe created by Elizabeth Atia in partnership with Jason's Bread, available at M&S, RRP £1.80. 
Preparation Time: 10min
Cooking Time: 32min
Serves: 4
Heat the butter in a soup pot. Gently cook the onion and carrot, stirring occasionally, for about 5min until it softens.
Sprinkle over the flour and cook for a further 1min, stirring constantly.
Add the fish stock and potatoes. Simmer, over low heat, for 10-15min until the potatoes are tender.
Add the milk, salmon and haddock and cook a further 10min until the fish is cooked.
Add the double cream and rainbow chard and heat through until the chard has wilted.
Serve with the winkles, fresh parsley and buttered Jason's Bread.