Pineapple & Coconut Meringue Pie
---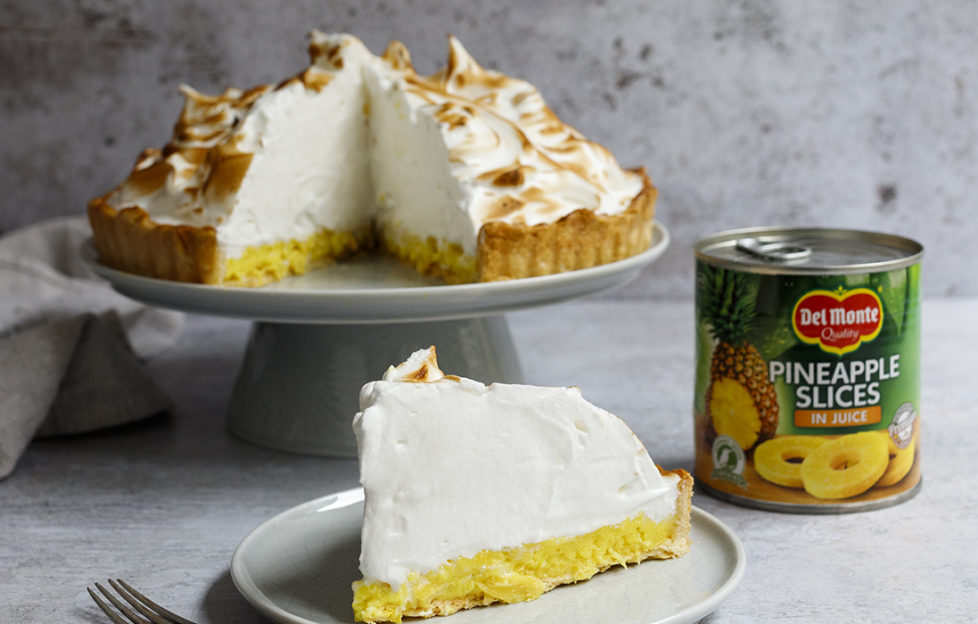 Spend a little time on creating something spectacular and deliciously different! This meringue pie has a distinctly tropical flavour with the coconut milk and juicy Del Monte pineapple.
Preparation Time: 20min
Cooking Time: 1 hour
Serves: 8
Preheat the oven to 180oC.
For the pastry: in a food processor, blend together the pastry ingredients, plus 1tbsp cold water until the dough comes together.
On a floured work surface, roll the dough and transfer to a 23cm/9in loose-bottom tin. Press gently into the corners, trim the excess pastry and place in the fridge to chill for 10min.
Line the pastry with baking paper and cover with baking beans. Pop in the oven for 15min. Remove the beans and paper and bake for a further 10min until golden. Remove from the oven and set aside to cool.
For the filling: cut the pineapple slices into small cubes. Add to a saucepan with the juice and sugar and cook over medium heat until the pineapple starts to break down.
Dissolve the cornflour in 150ml water and add it to the pan. Continue stirring until it has a creamy texture.
In a separate bowl, mix the coconut milk with the egg yolks and over low heat, gradually add to the pineapple filling. Continue to stir as the mixture is added. Finally, add the butter then set it to one side to cool. Pour the filling into the pastry case, levelling with a spatula.
For the meringue: whisk the egg whites, lemon juice and 2tsp sugar in a stand mixer to form soft peaks.
In a saucepan, add the remaining caster sugar with the water. Bring to medium heat and cook until the ingredients get to a syrupy, thready stage.
Add the syrup gradually to the egg whites, whisking until the meringue becomes stiff and glossy. Spoon the meringue over the pie and spread with a spatula, covering the filling. Use a spoon to swirl and twist the meringue as you spread it.
Bake for about 15min until the meringue is lightly golden. You also can use a kitchen blowtorch to finish the meringue top. Let it cool completely before serving.