Pad Thai Chicken For Food Waste Action Week
---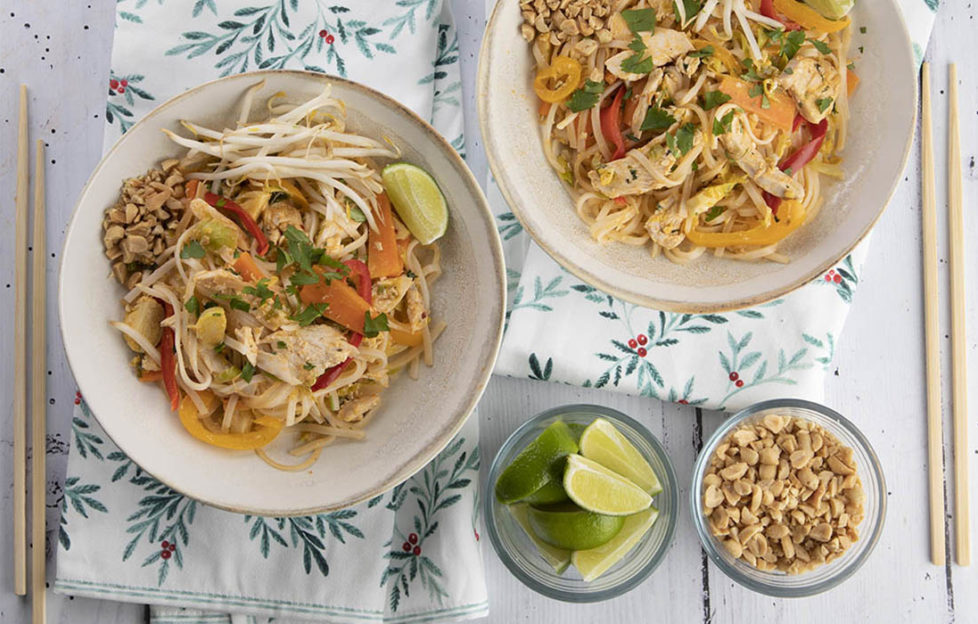 It's Food Waste Action Week! Wasted food accounts for more greenhouse gas emissions globally than all of the commercial flights we take each year – it's a huge problem. Start by making this great dish with leftover chicken and vegetables, thanks to WRAP's Love Food Hate Waste campaign. Then check out some hints and tips here.
The fresh Thai-style flavours in this dish really pop! This is a great dish to use up leftover chicken from a roast dinner. We used carrots, sprouts and peppers, but you can experiment. Omit the chicken and the fish sauce to make a tasty veggie version.
Cook the noodles according to packet instructions, drain and set aside.
To make the sauce, stir the ingredients together in a small bowl and set aside.
Heat the groundnut oil in a wok on a high heat.
Add the shallot, garlic, chilies and spring onions and fry for a few seconds.
Then add the chopped vegetables, spring onions and bean sprouts and stir fry for a few minutes.
Add the chopped leftover turkey to the pan and heat through for another couple of minutes.
Crack the egg into the pan and mix quickly to incorporate into the other ingredients.
Add the cooked noodles to the pan, then add the pad Thai sauce.
Toss the noodles to mix with all the ingredients and sauce.
Serve immediately with a generous sprinkling of chopped coriander, raw beansprouts, lime quarters and chopped peanuts.