Spruce Up Your Floor
---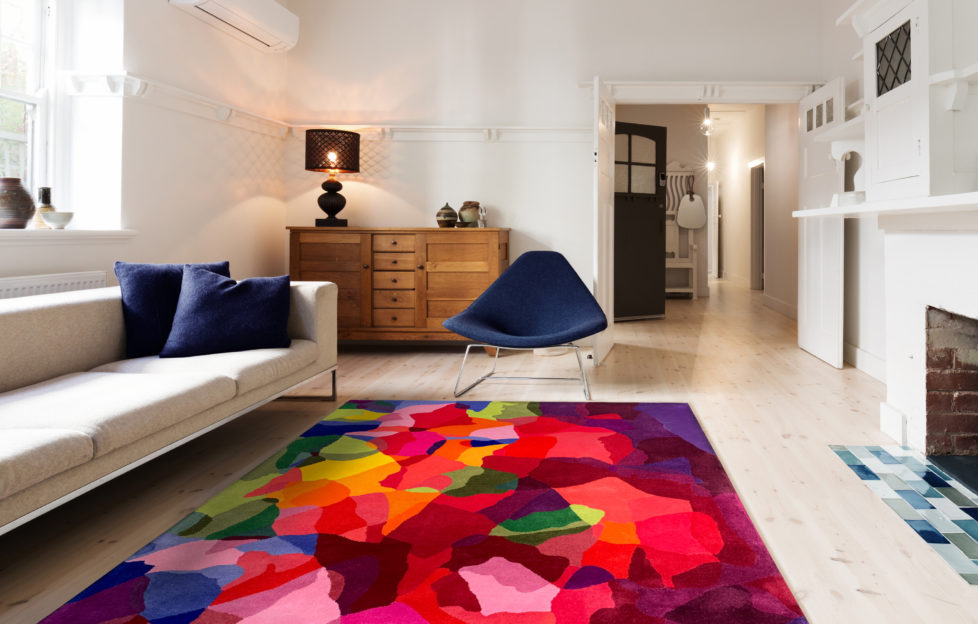 Rug by Sonya Winner Rug Studio
Vinyl Plus
Jessica Fox, Marketing & Design at Flooring Superstore, says, "Flooring is a great way to inject some personality into any room, and we're finding that more and more people are looking for something a bit different when it comes to this essential part of the home. Vinyl flooring is a cost-effective way to give your home a quick update, and for kitchens and bathrooms people are often drawn to different patterns, contrasting colours and unusual layouts. For example, Flooring Superstore's Imperia Dorchester, priced £9.99 per square metre, is a simple way to create a modern, eye-catching look. Its durable wear layer makes it suitable for high traffic areas, and thanks to its slip resistance, it's suitable for bathrooms and kitchens. The Imperia Orchid Staggered Oak, priced £9.99 per square metre, is a different take on the parquet look with its quirky layout. Again, it offers durability, slip resistance and extra comfort under foot.
Pet Friendly
"EvoCore is one of the latest innovative flooring ranges exclusively at Flooring Superstore and is ideal to use throughout the home, especially in spaces such as kitchens and bathrooms due to its wide range of benefits. As well as being waterproof, it's easy to clean and maintain, scratch resistant and even pet friendly. Thanks to its 360 click fitting system, it's also quick and easy to install and can be fitted in a whole range of styles, including the popular herringbone style. There are also long board options that can help to achieve the feeling of more space in a room, as well as products to help homeowners get a tiled effect.
Cleaning Matters
"To look after your vinyl flooring, make sure you clean it regularly by sweeping it or using a damp cloth or mop to remove dust and dirt. But don't use too much water as this can soak into the edges and seams, leading to damage. You should also avoid scrubbing the flooring with anything too abrasive like a scouring pad as this can scratch the surface. Make sure you check the specific details of your vinyl before applying any cleaning products; often vinyl flooring has a protective coat over it, which gives it a nice finish, and the wrong type of chemicals can ruin this. Finally, be careful moving heavy furniture or bulky appliances over vinyl flooring as these can dent or scratch the surface."
Go Geometric
Eye-catching geometric prints and patterns not only add interest to any room but also provide structure. The new flooring designs from Carpetright draw on a monochromatic palette to add a subtle finish to the collection of tessellating patterns. Jemma Dayman, Buyer, Carpets and Rugs, comments; "Introducing patten to the home really lifts the feel of a room. Using subtle shades for flooring helps to create a contemporary finish whilst drawing the eye downwards, grounding your design. Remember to consider the scale of the patten you choose, as this has a significant impact on the success of the project. Lay down samples to ensure the relationship works."
Neutral Gear
Jemma adds, "Although there has been a move towards bolder colours beige and neutral flooring remain at the heart of most homes; providing a perfect base whilst allowing design enthusiasts to be adventurous and creative in the rest of their space. Grey interiors have become increasingly popular over recent years. Grey flooring gives a scheme a base that can easily be brightened or toned down with furniture and accessories. Grey is particularly suited to sage green, pink, lilac and monochrome schemes that allow the colour to speak for itself and make a timeless statement.