Independent Bookshop Week: Line-up Revealed
---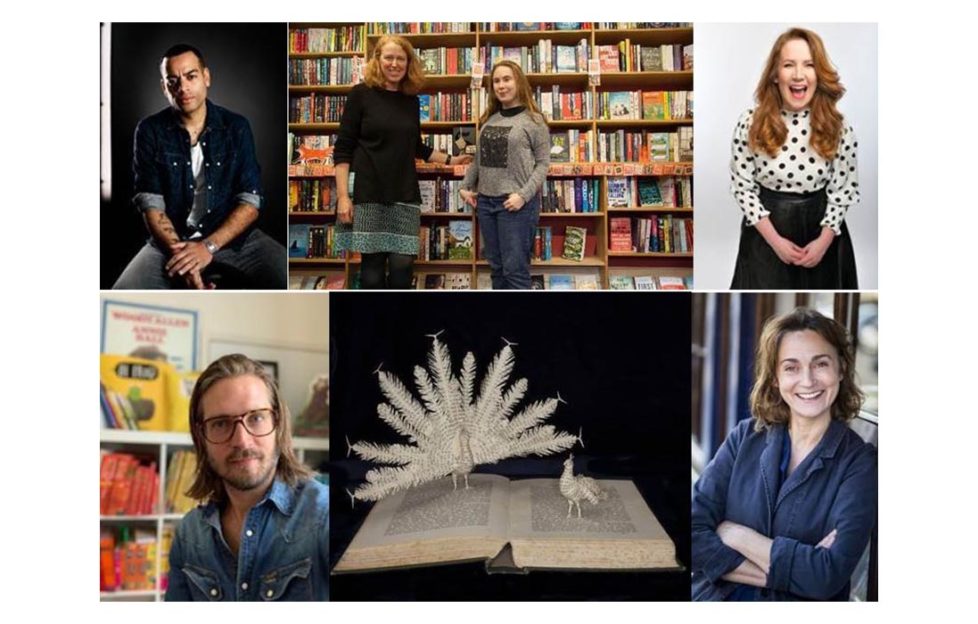 Top L-R: Ben Bailey Smith, Tracy Kenny & Bella Hall from Kett's Books, Viv Groskop Bottom L-R: Jim Field, book sculpture by Emma Taylor, Sarah Winman
Following the re-opening of bookshops in England and Wales (12 April) and Scotland (April 26) and with bookshops allowed to re-open in Northern Ireland from the end of the month, Independent Bookshop Week (June 19-26) invites everyone to support their local indie in any way they can, whether shopping in person, on the bookshop's own website, on Bookshop.org, or joining a virtual event during Independent Bookshop Week
Independent Bookshop Week aims to celebrate the resilience and creativity demonstrated by independent booksellers over the past year, in the face of the multiple challenges posed by the pandemic.
From virtual events taking place up and down the country, to window displays featuring spectacular book sculptures, and from early releases and signed stock to hundreds of National Book Tokens as part of National Book Tokens' High Five for Bookshops initiative, Independent Bookshop Weeks will have something for everyone.
Authors, Events & Activities
Jane Thynne, author of the dystopian thriller Widowland will be signing stock of her new novel at Wimbledon Books (Saturday 19 June) and will be throwing a launch party at Daunts Marylebone (Tuesday 22 June)
Rosanna Ley, author of Orange Grove, a holiday romance set in sunny Seville, will be signing stocks at Serendip Bookshop in Lyme Regis (Dorset), Winstone's Books in Sidmouth (Dorset) and Archway Bookshop in Axminster (Devon) (Saturday 19 June)
Viv Groskop will be doing a series of virtual events for the paperback release of Au Revoir, Tristesse, with signed stock available for indies
Libby Page will be touring independent bookshops (virtually) to promote her new novel The Island Home
Trevor Wood and Fiona Erskine will be in-conversation about their new novels One Way Street and Phosphate Rocks in partnership with Drake the Bookshop in Stockton-on-Tees (Sunday 20 June)
Sarah Winman will be celebrating the publication of her new book Still Life with virtual events across several indies, including Toppings Bath
Alex T. Smith, the author and illustrator behind the Claude and Mr Penguin series, will be doing an Instagram takeover tour for a number of different indies
Jim Field, author and illustrator of Monsieur Roscoe will be involved in activities with bookshops near St. Pancras, to celebrate the French theme of the book, in his first venture as a solo author-illustrator
Author and illustrator of Indigo Wilde and the Creatures of Jelly Bean Crescent, Pippa Curnick, will be creating window displays with her amazing, eye-poppingly bright illustrations, alongside in-store branded competitions and activities
Instagram legend and illustrator Alea Marley will be doing virtual (or in person) events with signed stock of her book Get Up Elizabeth!
Book Sculptures
To make their shop even more "special" for Independent Bookshop Week, Linghams Bookshop in Heswell (Merseyside) will be partnering with a local book artist from Wirral, Julie Dodd, who creates mesmerising artworks mainly working with recycled materials, including books. Julie's work will be displayed in the bookshop window throughout the week.
Meanwhile, book artist Emma Taylor will be collaborating with Kett's Books, a community bookshop run by volunteers in Wymondham (Norfolk) to create a stunning sculpture to be displayed in their bookshop window during Independent Bookshop Week.
High Five For Bookshops
High Five for Bookshops from National Book Tokens is back for a third year, celebrating independent bookshops and all who shop in them.
As customers return to the high street once again, bookshops will receive the special flyers to give to their most loyal customers. Each one bears a unique code which allows the recipient to download their £5/€5 National Book Tokens e-Gift card; supporting communications then encourage them to spend it in the same shop where they received it, with many likely to spend much more than the value of the card. e-Gift cards work just like physical National Book Tokens, and can be spent in bookshops everywhere.
Signed Copies
Authors offering signed copies or bookplates available exclusively from indies include: Ben Aaronovitch, offering exclusive signed copies to mark the 10th anniversary of Rivers of London series; Reverend Richard Coles will be doing special bookplates for this latest book The Madness of Grief: A Memoir of Love and Loss; international best-selling author of The Silent Patient, Alex Michaelides will offer exclusive content for indies to mark the publication of his latest thriller The Maidens; rapper, comedian, actor and author Ben Bailey Smith, author of Something I Said, will be doing a special signed edition exclusively for independent bookshops (with extra jokes!), as well as a selection of POS including a character standee, die-cut bookmarks, posters and postcards.
Sarah Winman, author of Still Life, said,
Independent booksellers are the gatekeepers of infinite possibility and of thousands of journeys yet to be taken. As readers, we love them. As writers, we love them. To be supported and championed by them is an incredible privilege.
Find out more
Follow the latest developments via social media: #IndieBookshopWeek @BooksAreMyBag