Steamed Trout With Ginger & Spring Onions
---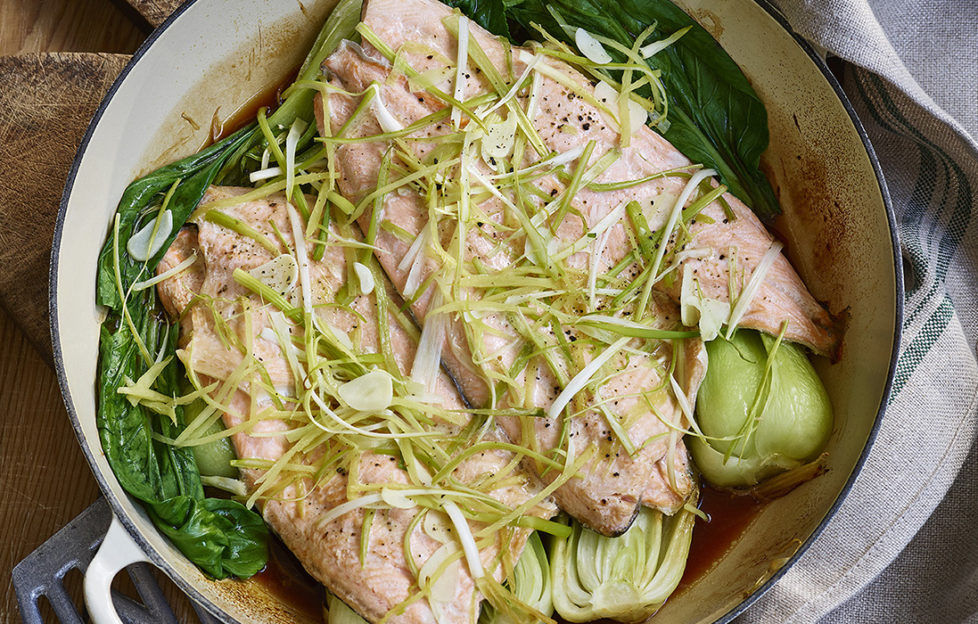 An oily fish such as trout ticks all the boxes: it's low in saturated fat, high in protein and a rich source of Omega 3s. Award-winning nutritionist Lucy Williamson says, "Trout contains Vitamin D, vital for immunity and healthy bones, plus iodine which is known to be low in UK diets, essential for healthy development. It's also a great source of selenium and other antioxidants. I can't recommend it highly enough, especially during this pandemic when we can all take simple steps to improve our health."
Boneless trout fillets and steaks are available in most supermarkets. It's one of the most sustainable fish you can buy. This Asian-style one-pot trout recipe is light and has health-giving ginger and garlic too. Follow British Trout on social media for more fin-tastic ideas.
Preparation Time: 15min
Cooking Time: 30min
Serves 4
Heat the oven to 200°C, 180°C fan, gas mark 6.
Mix together the prepared spring onion, ginger and garlic, then sprinkle 1/3 of this mixture over the bottom of a shallow lidded casserole pan, or in a lipped roasting tin.
Arrange the pak choi over the top, then sprinkle over another 1/3 of the spring onions mix and top this with the trout.
Mix together the mirin, soy sauce, rice wine and sesame oil. Pour over the fish, then scatter with the remaining spring onion mixture and season with a little black pepper.
Put on the lid, or wrap tightly with foil, and bake in the oven for 30min. Serve with rice.