Q&A With AJ Pearce, Author Of Yours Cheerfully
---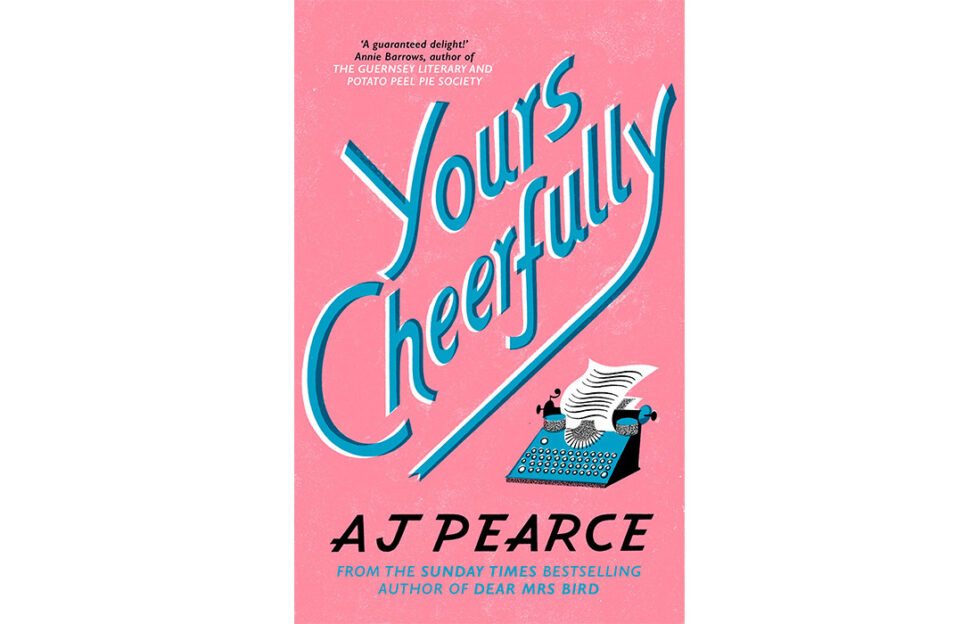 A heartwarming sequel throws new light on women's work in WW2…
Fiction editor Claire writes: For fans of Dear Mrs Bird, the sequel Yours Cheerfully couldn't come quick enough! This time it's October 1941 and in wartime London, Emmeline Lake takes centre stage as star of the show at Woman's Friend.
British women's magazines are asked by the Ministry of Information to help in the war effort to recruit female workers. Keen to help, Emmy soon faces the dilemma of duty, friendships and love.
Upbeat in the face of adversity, Pearce manages to encapsulate the spirit, values and wonderful nostalgic phrases of the WW2 age. Feisty and fiercely feministic, Pearce highlights the role women played in the victory of the wars, sacrifices they made and hardships they faced.
Highlighting the strength of women, it's a tonic of a read and authentic as commissioning editors like myself could vouch for life at a women's magazine just like My Weekly! A book that will have you on your feet parading victory signs, it's warm and cosy, transporting you back in time and enveloping you like a big hug.
No rations on heart-warming treats. A jolly good read!
Now enjoy Claire's chat to A. J. Pearce about her writing and inspiration…
When did you first start writing fiction?
I started writing about fifteen years ago, just for fun. I had loved writing stories as a child and (very bad!) poetry as a teenager, but then stopped when I went to university. It wasn't until years later that I realised how much I enjoyed sending long emails to friends and family so I thought I would go on a writing course to learn about writing fiction. If it wasn't for emails I wouldn't be a writer now! 
Why did you decide to write historical fiction?
In the beginning I didn't intend to write historical fiction. In fact I tried to write a contemporary novel, but realised it didn't have a plot! I was wondering what I could write about when completely by chance I saw a 1939 issue of a women's magazine for sale online. I've always loved reading magazines and I was curious to see what it was like.  
As soon as I opened the first page, I was captivated. It was like looking through a window into another era.
So much was familiar, with fiction, recipes, fashion and advice, but of course 80 years ago it was a very different world. Above all, the thing that grabbed my attention was the problem page, which really gave insight into what women were going through at the time. I knew straight away that this was what I wanted to write about.  
I started collecting magazines from the 1930s and 40s and began piecing together a story about a young woman called Emmy Lake who gets a job working for a very ferocious agony aunt during the war. This became my first novel, Dear Mrs Bird, which was published in 2018 and ended up becoming a Sunday Times bestseller.  
Now I write full time. It sounds dramatic but seeing that first magazine online ended up changing my life!   
Tell me a bit about your latest novel and what inspired it.
My new novel, Yours Cheerfully continues Emmy's story, although I've made sure that if you haven't read Dear Mrs Bird the new book can be read on its own. It is set in 1941 and follows Emmy as she gets her big break as a journalist. She is asked to help recruit women to sign up to do war work. But when she meets a group of young workers, she realises they face some really hard challenges with very little support. 
Yours Cheerfully was inspired by a wonderful lady who told me that some of her earliest wartime memories were as a small child going to the factory where her mother worked. She explained that with limited childcare provisions, there wasn't always much choice.
I knew I wanted to write about it so began researching the subject. I won't give away the plot, but Emmy and her best friend Bunty find themselves torn between doing their bit for the war effort, and standing by their new friends. 
Tell me what you hope readers will love about it…
I really hope that readers will like Emmy's latest challenge, but most of all I hope they will enjoy reading about the friendships in the book. That's the main thing I write about – how friends share the good times and help each other through bad times.
In fact, one of the nicest things about meeting readers at events and book signings (before Covid of course) is when they tell me how long they have known their best friends. I've had lovely conversations about this – it is always inspiring and often very moving. You can't beat a lifelong best friend! 
Tell me about authors who inspire you and books which have made a particular impression on you.
There are so many, particularly female authors. I am a huge fan of authors from the mid-twentieth century such as D E Stevenson, Angela Thirkell, Verily Anderson and Dodie Smith. More and more authors from that era are being republished now and it's wonderful to get to discover them. I also admire many current authors, such as Katie Fforde, Jill Mansell, Jo Thomas and Milly Johnson.
They bring such joy to readers – when you need cheering up you know you can turn to them like a dear friend. Rachel Joyce, Jessie Burton and Elizabeth Macneal are also favourites, and I loved Dog Days, the debut novel by Ericka Waller that came out recently. You can probably tell that my bookshelves are always full.  
What tips would you give to aspiring novelists?
I think you need three main things – passion, patience and persistence!
It has been said a lot, but you have to really love what you are writing. It takes a long time to write a novel, so you really do have to be passionate about it. Don't try to write a thriller if you don't like that genre! That's where patience comes in as well. You can't write a good novel overnight and there will be highs and lows along the way – there are even for the most successful authors.  
But one of the wonderful things about writing is that it isn't a race and there's no age limit. You start at any point in your life and can be any age when you get published. I was 53 when my first novel came out.
You do need persistence to get published as it is quite tough to get an agent, but if you keep going, keep reading and writing, you give yourself the best chance 
Of course, the other thing is that writing for fun is lovely too. You don't have to be aiming to be a published author. Writing for yourself or joining a local writing group can be such a great hobby. I've made some of my very best friends through writing and that was way before I was published.  
What's next? Are you working on another book?
Yes! I'm researching at the moment. It will be the next book in The Emmy Lake Chronicles, so we'll see Emmy and Bunty and the other characters back for another challenge.
I hope to be able to follow Emmy through the whole of the war, so I hope readers want to follow her too. As long as people enjoy the novels, I would love to write more. 
Yours Cheerfully by A. J. Pearce is published by Pan Macmillan, HB, £14.99