Strawberry Cider Can Chicken
---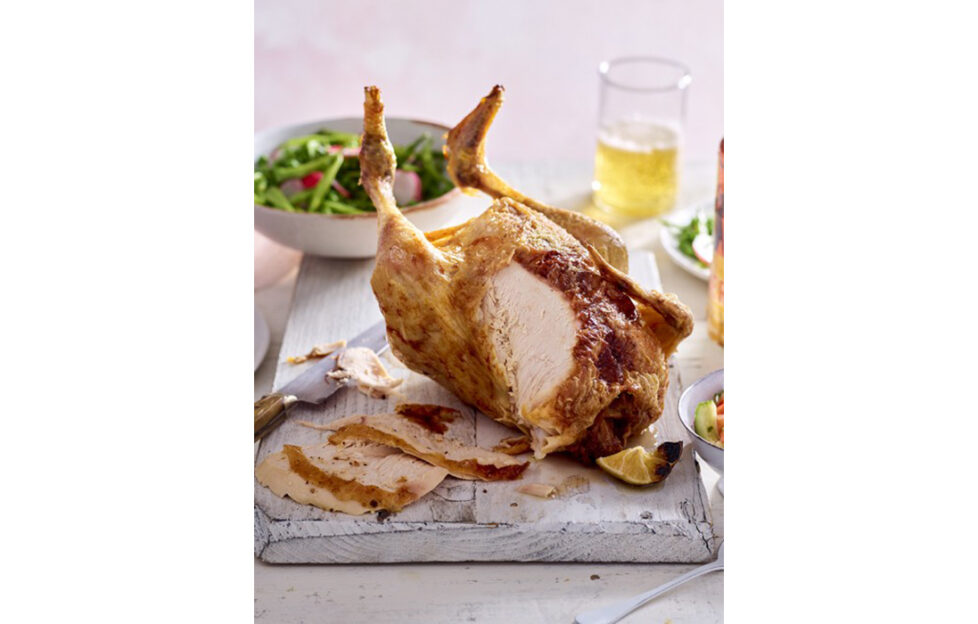 Cooking chicken inverted over a can – in the oven or on a barbecue – allows the meat to steam as well as roast.  Pushing strawberries into the can adds a wonderful subtle, sweet citrus note.
Preparation Time: 30min
Cooking Time: 1hr 10min- 1hr 20min
Serves 4-6 
 Preheat the oven to 200ºC/fan 180ºC/gas mark 6, or crank up the barbecue. Open the can, decant around half the cider (you can drink it if you want to!) and press the strawberry pieces into the can. 

Invert the chicken over the top of the can with the legs hanging down.  Put the lime wedges into the chicken cavity.  Rub the oil over the chicken and season with salt and pepper. 

Stand the can with the chicken on top in a roasting tin.  You can push long skewers at right angles through the chicken to rest on the rim of the roasting pan to help it stand up.  Or use a beer can chicken holder. 

Roast for 1hr 10min- 1hr 20min. Test with a skewer to see if the juices run clear.  If barbecuing, check after 45 minutes – it may take less or more time depending on the heat of your coals. 

Remove from the can, cover and rest for 15min before carving and serving.

 

For the salsa: place the strawberries and cucumber in a bowl.  Whisk together the lime zest and juice, olive oil and honey in a small bowl and season with salt and pepper. Spoon over the strawberries, scatter over the mint and stir to combine.

 

For the salad: combine all the ingredients, drizzle over a little olive oil if required (the salsa is quite juicy) and serve alongside the chicken and salsa.