Kitchen Ideas To Wow Your Guests
---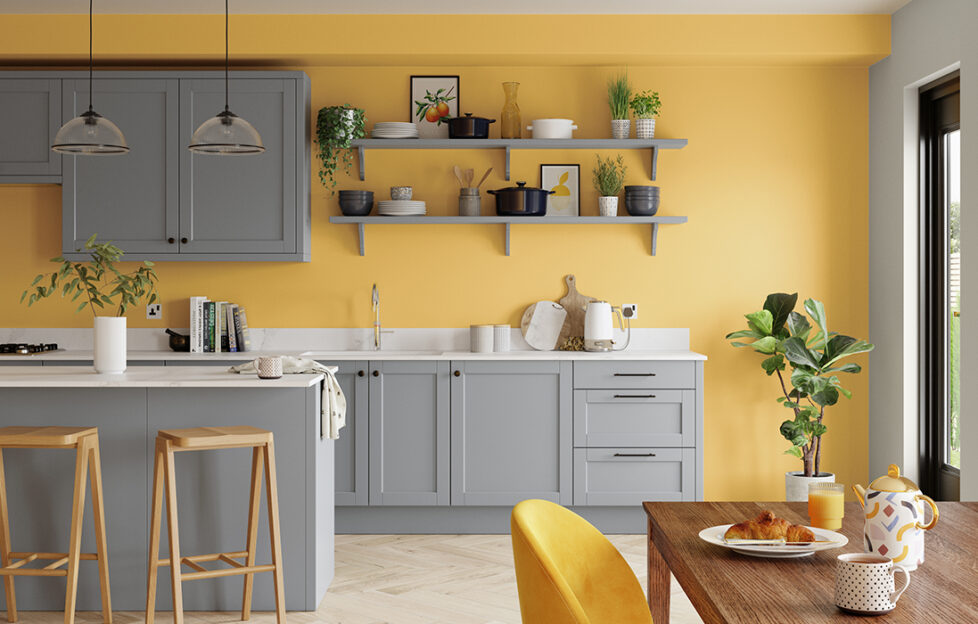 Walls: Banana Split and Pebble Shore (Dulux Easycare Kitchen), Cabinet - Natural Slate, Shelf - Natural Slate (all Quick Dry Satinwood).
Freshen up the busiest room in the house! Here are 3 great design and colour tips from the experts at Dulux…
Stand-out shelves
An open shelf is great for displaying your best crockery. Paint your shelves in a crisp and clean off-white. This will stand out against a bold feature wall.
Pepper the kitchen with cookware in light wooden accessories like salt and pepper mills or chopping boards for an easy and affordable way to update your kitchen.
Go bold with a blue feature wall
If you've got light and neutral units and worktops, you've got a blank canvas to play with in your space. Use Brilliant White on three out of four walls to provide a crisp starting point that blends in with your units. If the thought of white in the kitchen worries you then no fear – the Dulux Easycare range is easy to wipe clean.
On your fourth wall, try using a rich and vibrant shade such as Sapphire Salute to create a contrasting feature wall. The combination of white and a rich blue hue will complement accessories such as mixed-metal fixtures, marble worktops and even houseplants on the windowsill. All in all these colours are an ideal solution for a bustling family kitchen.
Pick two tones of grey for a split effect
If you're feeling creative, why not try a split effect in your family kitchen? The clean line across the room will help lead the eye across the space, making it appear longer. Opting for a darker shade along the bottom will also conceal scuffs that are inevitable in a busy area.
For a stylish yet inviting space for you and your family to enjoy, choose two shades of grey to complement neutral units and wooden worktops. Try Goose Down on the top portion of your walls and Chic Shadow on the bottom half. The result will be a room that is suitable for both busy family time and for hosting dinner with friends.
This look could also work with earthy tones such as Willow Tree and Caramel Latte.
Dulux Easycare Kitchen paint is an exceptionally tough grease resistant paint. Its Grease Proof formulation resists everyday cooking stains, and is washable without the colour fading. So even the busiest kitchens will look great for longer.
Dulux Easycare Kitchen is priced at £30.04 for 2.5L from Dulux.