Gallery Wall Inspiration
---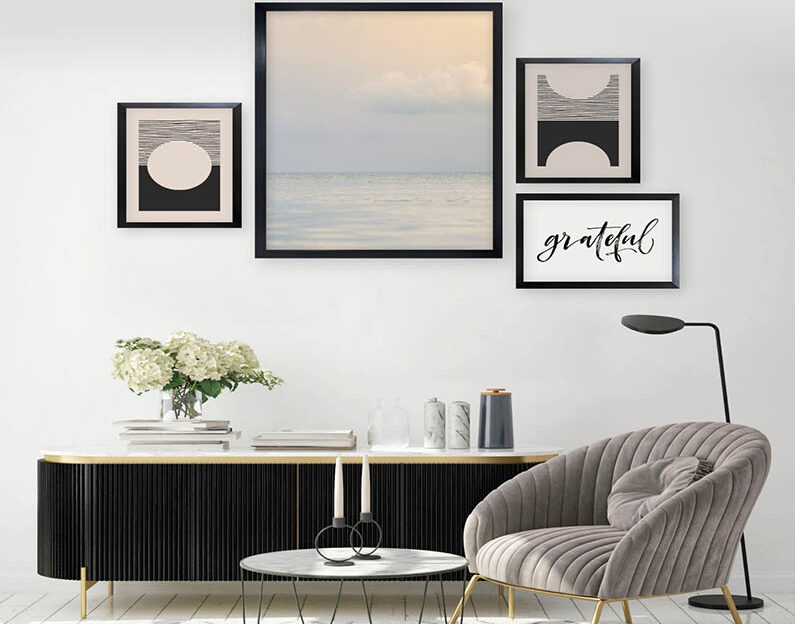 A gallery wall of artwork is the simplest way to overhaul an interior, giving a new look to a room without having to spend too much money. Kayleigh Jordan, design specialist at Photo Frames and Art, shares her shrewdest tips to help you create eye-catching collections…
Peer into a show home or browse an interior design catalogue and it won't be long before you encounter a gallery wall. This enduring trend, loved by designers and homeowners, has sustained for a reason. Well, three actually.
Firstly, there is the sheer simplicity of creating one. Then there is the pleasing appeal of expressing our artier sensibilities.
But the great advantage of grouping artwork is reimagining a room without having to change the décor.
Kayleigh's Top Tips
Where to hang your gallery wall
First, you'll need to select the optimum spot for your gallery wall. Look for an uncluttered space, or a feature that can be offset or combined with the artwork featured in your gallery wall.
In bedrooms, the wall above a headboard is ideal. Desks in offices and tables in lounges positioned against a wall are both immediately enhanced by gallery walls. This is because they present an opportunity to underline the room's feel or theme with the artwork that the frames display.
Colour themes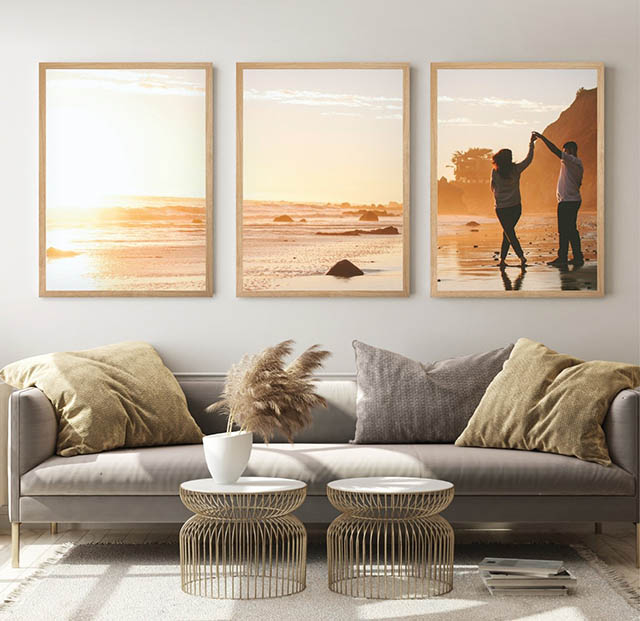 The success of a gallery wall is dependent on the selection of its colour themes. A good rule to remember is: frames to match the secondary room colours, artwork to offset the walls. In our example, the light tones of the couch legs, pillows and coffee table are matched by the photo frames and the orange tones offset the grey walls. This collection smoothly aligns the various styles and themes.
Frame size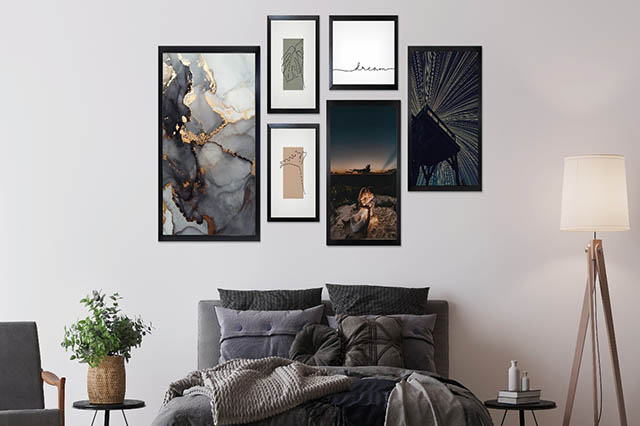 In bedrooms and living rooms, I recommend a more relaxed arrangement of frame sizes. If the vertical frame is equally distanced from its neighbouring frame, then sizes can be utilised to taste. You can mix themes, with words and line drawings as shown.
More formal rooms such as reading spaces or offices lend themselves to a triptych-type display, where three equally-sized frames exhibit artworks of a closely related subject and style. In this type of arrangement, use your artwork to represent a single topic.
Patterns or Plain?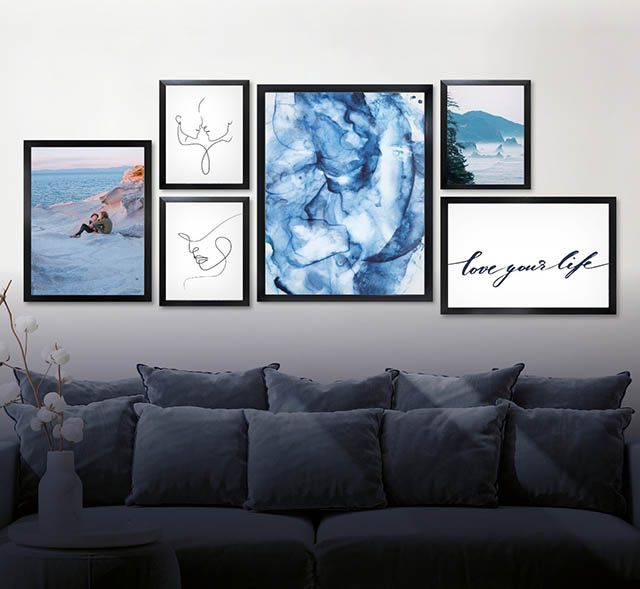 When the artwork gallery trend emerged a decade or so ago, interior designers embraced intricate artworks, akin to an exhibition at a gallery – hence the name. Now, modern and minimalist interiors lend themselves to the latest take on the trend, a mixture of simple designs, photography and abstract art.
With displays that feature more than five frames, you can even begin to expand your chosen theme with pages from books, trinkets, mementos and items that hold cherished moments and memories.
Lay out your chosen selection on the floor and play around with the position of the frames before beginning to add it to your wall.
---