Tom Daley's Turkey Burgers With Sweet Potato Fries
---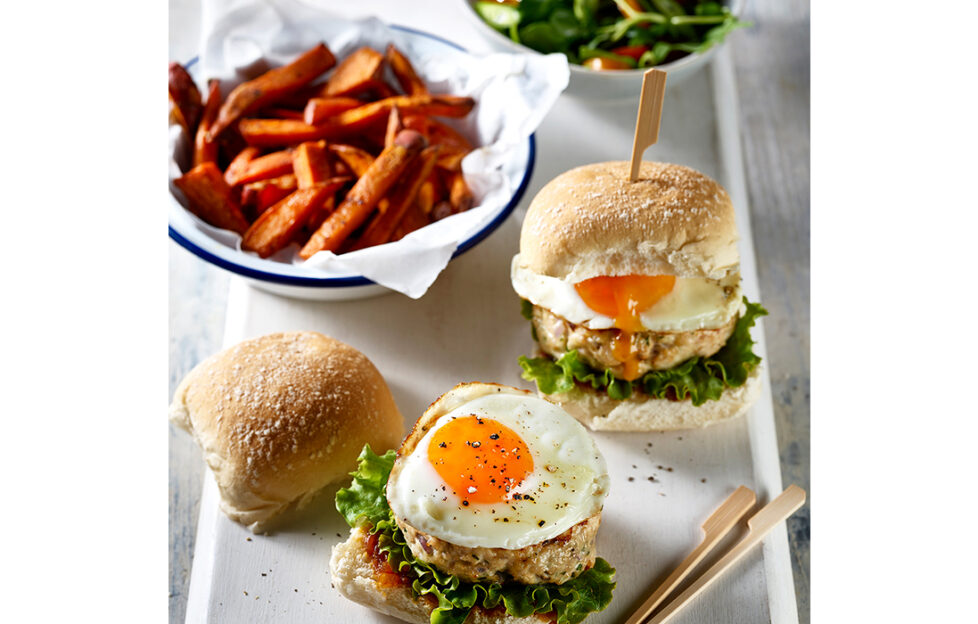 Fresh from his latest Olympic triumphs, diver Tom continues to champion healthy, high protein dishes like these mouthwatering burgers topped with a golden egg.
Preparation Time: 5-10min
Cooking Time:  30min
Serves: 4

Heat the oven to 200ºC/180ºC fan/ gas 6. Place the sweet potato fries on a baking tray and drizzle over 1tbsp olive oil, toss to coat then sprinkle over the cayenne pepper. Bake in the oven for 30 min.
Meanwhile combine the garlic, onion, 1 British Lion egg and turkey mince together in a large bowl and season with black pepper. Shape the mixture into four patties about 3cm thick.
Heat 1tbsp oil in a large, ovenproof frying pan over a medium to high heat and sear the burgers for 2min on each side until browned. Transfer the pan to the bottom shelf of the oven for 15min until golden and cooked through.
Prepare the bread rolls by cutting in half and spreading the base of each with tomato chutney, then top with lettuce.
Heat the remaining 1tbsp oil in a non-stick frying pan over a medium heat. Crack the eggs one by one into different corners of the pan and cook for 3min or until the white is set, covering with a tight-fitting lid to cook the tops if needed. Season with salt and pepper.
Place the turkey patties onto the prepared buns, then top with the fried eggs. Serve with the sweet potato fries and a crunchy salad.