Celeriac and Apple Soup With Savoury Granola
---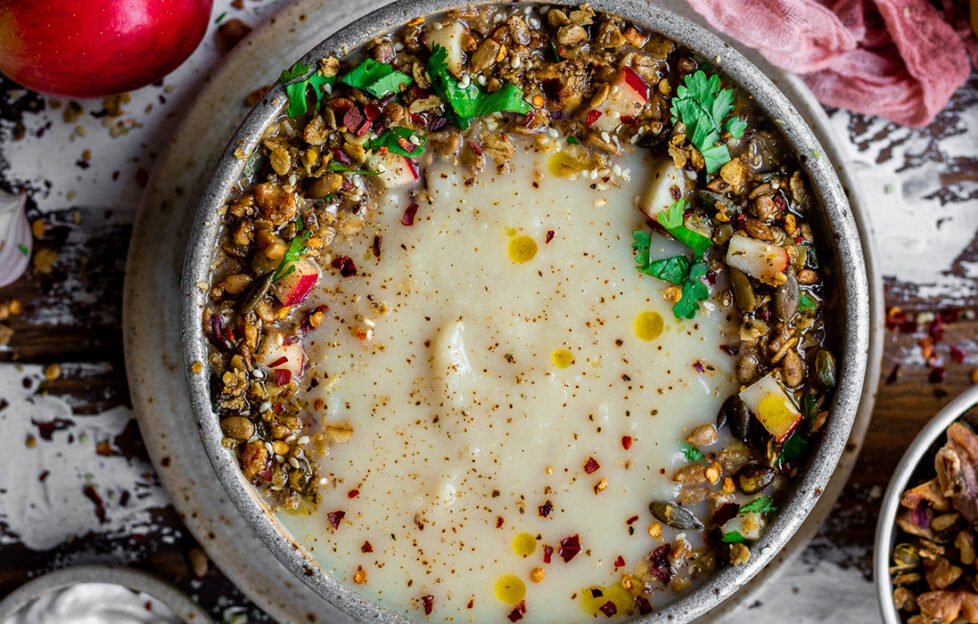 This soup is the perfect nourishing bowl for chilly days. The apple works so well paired with the hearty flavour of the celeriac.
I love sprinkling on top a handful of my Savoury Granola to add a little texture and some skin-glowing healthy fats. Trust me, it's really delicious and is the perfect crunchy topping to add to so many different dishes.
I have used walnuts as the base as they are such a powerhouse of healthy fats and omega-3. I have also added pumpkin, sunflower and sesame seeds all bursting with beautifying minerals.
Preparation Time: 30min
Cooking Time: 30min (soup) + 35min (granola)
Serves: 4
To make the granola: preheat the oven to 150°C. In a small bowl, mix the ground flaxseed with the water. Let it sit for 5min until you have a gloopy consistency.
In a large bowl mix together the walnuts, pumpkin seeds, sunflower seeds, sesame seeds, spices, salt and pepper. Pour over the olive oil and the flaxseed mixture and mix everything together.
Spread on a baking tray covered with some parchment paper and bake in the oven for 30min until golden.
To make the soup: Add the coconut oil to a large pan and once hot, add in the chopped shallots, ginger and garlic. Cook on a medium heat until the onion starts to caramelise, about 5min.
Add in the chopped celeriac and chopped apple and give it a good stir. Add in cumin powder and mix again. Pour in the veggie stock. Bring it to a boil and the turn it down to a simmer. Put the lid on and cook the soup for 25min.
Once the soup is cooked, transfer it to a blender and blend until smooth and creamy. Serve with a drizzle of extra virgin olive oil, the savoury granola and some finely chopped apple and flat leaf parsley.