Louise Hare Exclusive!
---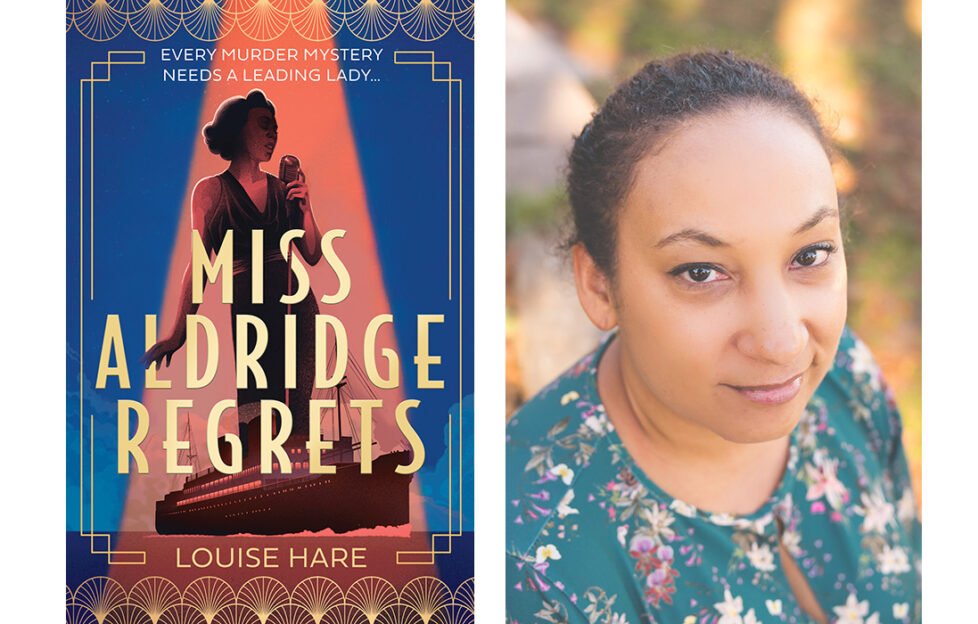 Louise Hare, acclaimed author of 2020's break-out debut This Lovely City, has a hotly anticipated second novel coming out in April 2022, Miss Aldridge Regrets. We'll have a short story in the magazine written by Louise to celebrate the launch of her book in April, but until then, we're delighted to be one of the first to reveal the cover – and an exclusive prologue – from the new book!
From the author of This Lovely City comes a new historical murder mystery, set on board the Queen Mary in 1936.
Lena Aldridge is wondering if life has passed her by, her dazzling theatre career hasn't worked out as she'd hoped. Instead, she's stuck singing in a sticky-floored basement club in Soho and her married lover has just left her. She has nothing to look forward to until a stranger offers her the chance of a lifetime: a starring role on Broadway and a first-class ticket on the Queen Mary bound for New York.
After a murder at the club, the timing couldn't be better and Lena jumps at the chance to escape. But death follows her onto the ship and she realises that her greatest performance has already begun…
Prologue from Miss Aldridge Regrets
The doorman barely glanced at me as I approached, slipping past him and down the stairs into the basement club, the stale air thick with cigarette smoke. No one here knew who I was; no one cared. It was a risk, but I'd had to come. The wig that concealed my real hair, the long trench coat that hung almost to my ankles, the glasses from a dress-up box, they lent to me a new persona. My own mother wouldn't have recognised me, let alone Lena Aldridge. She may have possessed both common sense and ambition, but from what I'd learned about her, she rarely used the two together. Why else would she still be working at the Canary Club?
The place was a dive but it was packed. The drinks were cheap and the clientele was mostly made up of young couples, none of whom gave me a second glance. I lurked at the back of the room, out of place without a companion by my side. The club wasn't as sleazy as I'd expected, a pleasant surprise. Apart from the owner that is. I could see Tommy Scarsdale, sitting right at the front where I'd been told he would be, on show for the crowd. A too-young girl leaned into him and he gave her a sloppy-looking kiss. He was more than old enough to be her father. He deserved everything coming to him.
I slid behind a table in the back, out of sight, as Lena was announced to the stage. I'd heard so much about her that seeing her for the first time, it was as though I already knew her. I ordered a drink from a girl whose skirt was short enough to show off her stocking tops. The waitress's cheeks were rouged like a clown and her caked mascara had begun to flake in the steam caused by a low ceiling and damp weather, every newcomer laden down with a wet coat and a sodden umbrella to add to the humidity.
Lena can sing, I'll give her that. Her dress was cheap and she looked like she'd rather be somewhere – anywhere – else, but every man in the audience was watching her, most of the women too. What must that feel like, to hold sixty or so random strangers in the palm of your hand? A temporary sort of power, but still…
Two couples were trying to force themselves into a space made for one, the girlfriends giggling as they shared the spare chair at my table.
'Here,' I offered my table, standing up as I pushed my untouched drink away. 'I'm leaving in a moment anyway.' They smiled and thanked me, then lost interest. I loitered by the exit, my heart beating hard, in time to the drums on stage. Not long now. As long as everything went to plan.
I watched Tommy Scarsdale knock back his drink. An Old Fashioned, to which he had added his own sprinkling of cyanide. A green-bound Agatha Christie novel from Hatchards on Piccadilly gave me the idea, the best sixpence I'd ever spent. It wasn't long before he realised something was wrong, his hand clutching at his neck, ripping at his tie, trying to catch a breath. It was over quickly, not that I could see. Being right at the back, those closer stood to get a better look at the dying man. Macabre, really.
It didn't matter that I couldn't see the man on the floor, that I had to imagine his body seizing in the throes of death. I could see Lena just fine. The horror on her face, the realisation that this man she had despised, had so often wished dead, was dying right before her. She stood there, frozen to the spot, then looked across at her friend, the new widow, their eyes meeting. Shared guilt.
The first doorman charged down the stairs and began to push his way through the crowd. When the second doorman appeared, I slipped past him while his back was turned and ran lightly up the steps before anyone could stop me. Outside, the rain had ceased. I took it as a sign of my good fortune continuing and walked home on a cloud of jubilation. I'd done it. I'd actually pulled it off.
There was no turning back now.
---
Miss Aldridge Regrets by Louise Hare (HQ) will be available April 28, 2022, £14.99