Horlicks Vegan Victoria Sponge
---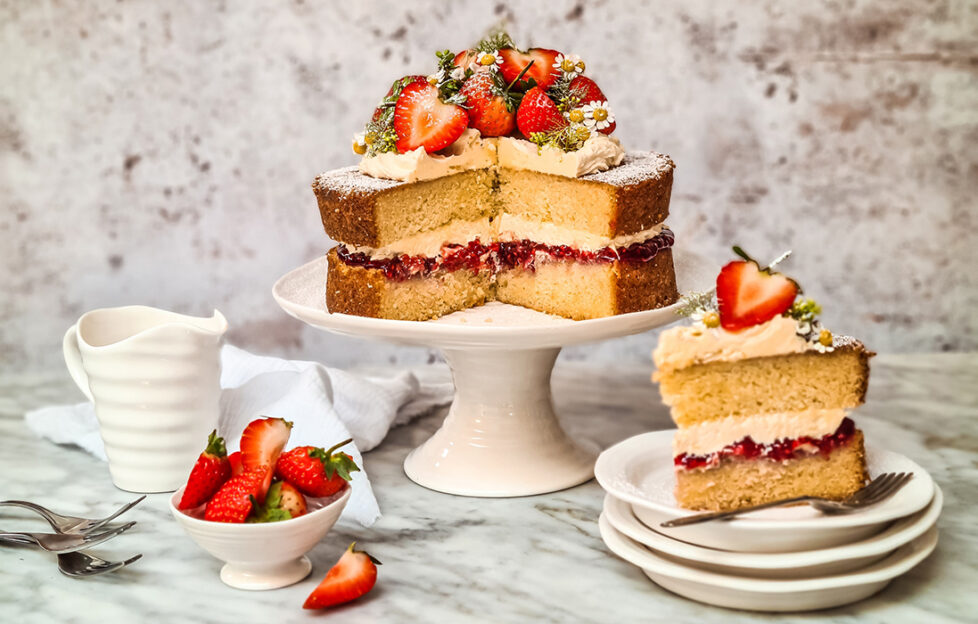 This is surely the Queen of Cakes, a delicious, moist sponge, with some Horlicks Vegan added to give a delicious flavour! And enter throughout January 2022 for your chance to win a Horlicks Vegan bundle!
Serves: 12
Cooking time: 20-25min
Preparation time: 30min
In a mixing bowl, beat the soft dairy-free butter and caster sugar until a thick and fluffy buttercream.
In a separate bowl, mix the flour, Horlicks Vegan and baking powder.
Lightly beat the flax eggs, then add a small amount of flax egg into the vegan butter cream.
Fold in a spoonful of flour mixture. Then mix in a spoonful of flax egg. Repeat until all the flax egg and flour is fully mixed in.
Divide your mixture between two 7 inch cake tins that have been lined with a little dairy-free butter and parchment paper.
Bake in the oven at 180°C, Fan Oven 160°C fan, Gas Mark 4 for 20-25min. The cake is done when a skewer inserted comes out clean. Set aside to fully cook on a wire rack.
To make the buttercream filling, whisk the dairy-free butter and Horlicks Vegan until light, thick and fluffy.
Add one spoonful of icing sugar at a time until fully mixed in.
To assemble, place one of the cooled sponges onto a cake stand. Top with the jam and two-thirds of the buttercream and then finish with the remaining sponge cake.
Spread the remaining buttercream on top and garnish with fresh strawberries.