Four Joy Veggie Meatballs For Chinese New Year
---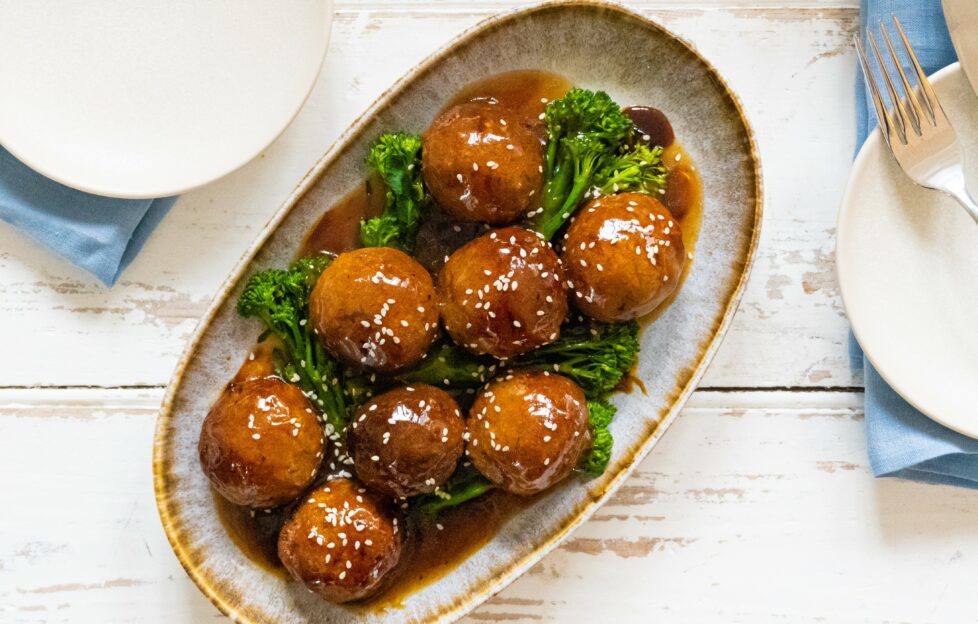 Enjoy something a little different and celebrate the Year of the Tiger with this authentic recipe from Shangdong Cuisine.
Add the tofu, ginger, spring onion, Light Soy Sauce and Char Siu Sauce to a blender and whizz up to form a thick paste. Add to a mixing bowl and fold through the finely diced water chestnuts. Add the panko breadcrumbs and cornflour. Stir well to combine. 
With wet hands, form the mixture into 8 large balls and set on a greaseproof lined sheet. Place in the fridge for at least an hour to firm up. 
Oven bake on a greaseproof lined baking tray at 200ºC for 30min, turning frequently. 
Steam the broccoli for 5min until al dente but still green. Strain in a colander and set aside.




 

In a non-stick frying pan, heat 1tbsp Sesame Wok Oil. Add the ginger and fry for 30secs until fragrant. Add sauce mix and stir well to combine. Add 200ml water and bring to a steady simmer. 
Mix the cornflour with 1tbsp water and stir to dissolve. Add to the sauce and stir until it thickens. 
Add the meatballs to the sauce and gently turn until the meatballs are just warmed through. 
Plate broccoli around a serving plate and place meatballs in the middle, serve with Oriental Sesame Soy Sauce.
---
Pick up this week's My Weekly to find 5 more original, tasty recipes for the Year of the Tiger!
Just £1.60 from newsagents and supermarkets, or subscribe for a great money saving deal.