Connect To Mother Earth To Create a Calming Kitchen
---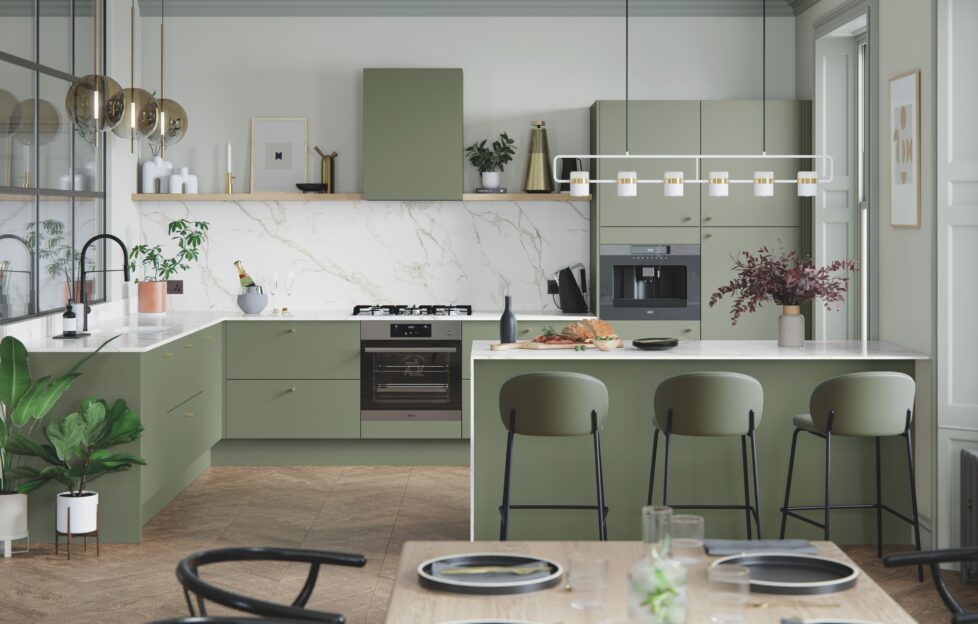 Magnet Kitchen in new shade, 'Misty Moors'
The calming beauty of nature continues to be an inspiration for interior designers. 
Here the experts at Magnet Kitchens share their top tips to help us bring the outdoors in.
Natural Materials
Whether it's through a worktop or door frontals, using a natural material such as rich oak will evoke a peaceful and calming mood in the home. Materials and elements inspired by nature will create a smooth transition from outside to in and counterbalance the linear look of a kitchen. This is particularly effective in kitchens that feature large bi-fold doors that showcase a garden or other outdoor space.
Opt for elegant, solid oak handles that feel robust in the hand and can be used as stand-alone or part of a kitchen frame design, such as those found as part of Magnet's Nordic Nature concept.
Styling Touches
For those additional styling touches, surround yourself with an array of different sized plants. Styling with big plants can not only improve air quality but can boost your productivity. Furthermore, the green leaves are known to be calming and revitalise our senses.
From rattan furniture to wicker lampshades, a range of neutral-toned textures will help to create a soothing space and connect with the outdoors. Even 'found' objects like pinecones or prints of animals and leaves will invite this aesthetic into your kitchen space.
Earthy Tones
Earth tones refer to any colour that finds its roots in nature. Incorporate natural colours into your kitchen space such as greens, blues, and browns to feel further connected with the outdoors.
Lighting
Breathe air and daylight into your kitchen by clearing spaces around windows and patio doors for an escape route to the great outdoors.
Consider incorporating 3D fluted glass to create a contrasting look, with shadows that change throughout the day as the light moves around your kitchen. Cabinet lighting is visually striking and not only creates an elegant aesthetic but provides practicality when finding your kitchenware.