White Chocolate Fudge With Dark Chocolate Crumb
---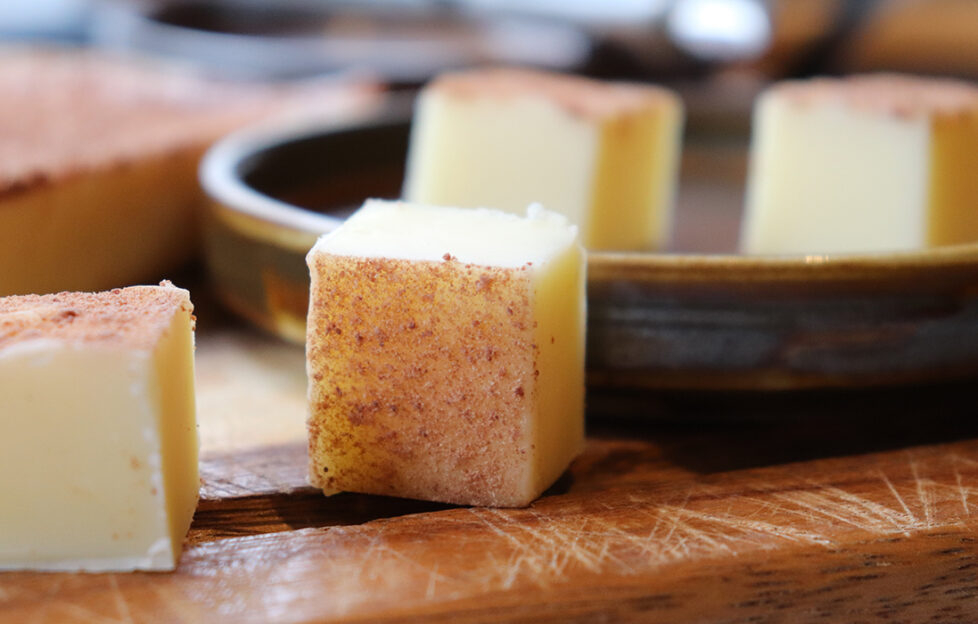 Credit: Kindling Restaurant
This is Kindling's signature petit four, and it also makes an excellent gift. Sweet, creamy and soft, this fudge is perfect with a cup of coffee or espresso martini.
Preparation time: 20min+overnight chilling
Cooking time: 20min
Serves: 8-10
For the dark chocolate crumb: Put the water and sugar in a pan and cook to 168ºC, checking the temperature with a thermometer suitable for high temperatures.
Remove from the heat, and stir in the chocolate.
Cool on a baking paper-lined tray, then chop to a medium crumb.
To make the fudge: Line a 20cm cake tin with non-stick paper.
Place the sugar, glucose syrup and double cream in a large saucepan over a medium heat. Cook while stirring to a temperature of 114ºC. Be careful not to heat the mixture too strongly because it can bubble and spit. Be patient, heat it steadily and keep stirring at all times.
Once the mixture is at the correct temperature, remove it from the heat and add the butter and chopped white chocolate. Stir well until everything is melted together. If the mixture is a little stiff, you might want to return it to the heat for a few seconds to ensure it is liquid enough to pour into your tin.
Pour the mixture into the prepared cake tin and immediately sprinkle the top with the chocolate crumb.
Allow to cool at room temperature, then wrap the tin in cling film and chill overnight in the fridge.
The fudge is easiest to cut when cold and should be stored in an airtight container in the fridge.
Find more lovely indulgent recipes (and healthy, delicious ones too) in My Weekly magazine every week! £1.60 from newsagents and supermarkets, or subscribe for a great saving. Order our fantastic recipe collections too!