We Talk to Guilty Women Author Melanie Blake
---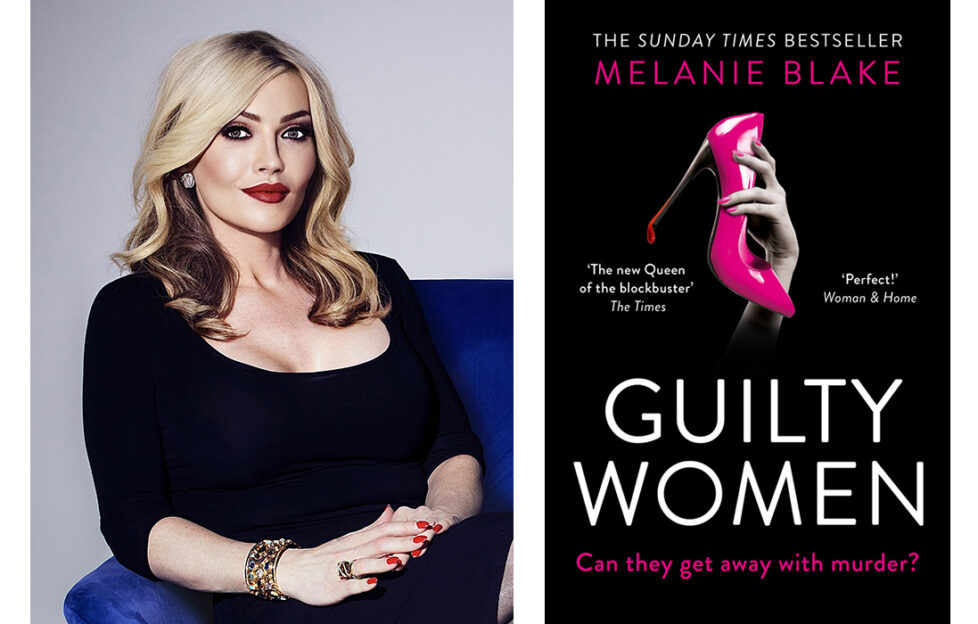 Author Melanie Blake
Following on from bestselling Ruthless Women, Melanie is back with a brand new crime novel set on a beautiful island off the English coast.  When four TV stars gather, only they know why the fifth member of their group is missing. All the women have something to hide – but the question is, are they all guilty?
Melanie joins us now to tell all about more about her sensational new thriller, and who she would cast if the book was turned into a film.
Guilty Women by Melanie Blake (HarperCollins, HB £12.99, Kindle £5.99) is available from April 28 on Amazon.
---
Q & A With Melanie
We return to Falcon Bay in Guilty Women – tell us a bit about what readers can expect from the second instalment in this exciting trilogy?
So the great thing about Guilty Women is that although it is the same location and same characters you don't need to have read Ruthless Women to start fresh with this story. From Page 1 of Guilty Women it's a brand new rollercoaster ride and when you've finished it and you love it you can always go back and read the previous one afterwards. What I would say that is different about the two books is that this one is a lot darker, the first book was a lot about body heat and this one's about the body count, and it rises quickly – nobody is safe!
You say the characters just write themselves – if you had to pick one, who's your favourite character to write about?
Oh gosh, so hard because they all are alive in my head. I guess the easiest one to write for is Sheena because she is an agent like I was for twenty years so it's like second nature but I'll think I'll have to go for Catherine Belle, the show's leading lady who for some reason everybody is always out to get so much drama with her, it is never ending and that is delicious to write.
How did you come up with the inspiration for the setting?
I wanted somewhere that was not too far from England and was near to another country, in this case France, to give it that sort of exotic Riviera type feel but also still believable because they say write about what you know, and I wanted it to be believable that you could imagine that this place was real. What I never imagined though was that hundreds of thousands of readers all over the world would now believe that St Augustine's Cove, the fictitious location where the fictitious soap opera Falcon Bay is set, is actually real. Apparently at one point it was one of the 10th most searched places on Google, how crazy is that.
This series would make a fabulous TV/ film adaptation – who would feature in your dream cast?
It definitely will be brought to the screens no question and I believe in many languages and many different countries because it's been bought by so many different territories. For the UK version I'm going to keep my cards close to my chest, because that's the one I'd probably have the most say in so I probably shouldn't elaborate on my casting choices. But as far as Hollywood goes, my top list would be Goldie Hawn, Meryl Streep, Courtney Cox, Jane Fonda, Melanie Griffith, Sharon Stone, Mira Sorvino, Reece Witherspoon, Lucy Liu, Halle Berry and Jennifer Anniston to name just a few.
You worked for many years as a celebrity agent – do you use a lot of your experiences as inspiration for your books? Where else do you find inspiration?
I don't need to look anywhere else for inspiration after finding myself for twenty years behind the scenes, on set, off set, in boardrooms and bedrooms of some of the biggest stars and shows of the world, trust me I've seen enough to write a hundred books. Whatever you see on screen is nothing compared to what will be going on behind the camera.
Your writing has a bit of a Jackie Collins feel to it with all the glamour, revenge and love – what do you love about her books and which of them is your favourite and why?
What I loved about all of Jackie's books is that the women don't rely on men, they may desire them and have them in their lives but they are never controlled by them, which would lead me to the most obvious title of all, Lady Boss, which is the story of a woman in Hollywood fighting it out in a man's world to run her own studios. Jackie Collins was definitely a feminist, and her sex scenes were always female led and so I definitely took inspiration from that from her that my characters, storylines and in fact my own life, although may never be plain sailing, are never subservient to men.
You're a huge advocate of older women in the media and have spoken previously about the disrespectful way some older actresses are treated. Do you think things are changing for the better? Do we still have a long way to go?
No, I don't think anything is changing for the better and yes, I do think we've got a very long way to go. The only women that seem to be celebrated as older actresses are the ones that really have been at the top of the tree for a very long time. It's practically unheard of for a new actress to emerge in her forties or fifties now which many years ago was not the case – the legendary Mae West did not become famous until she was 40 years old and the Royal Family's iconic comedic actress Liz Smith didn't even train as an actress until she was in her fifties, so if anything we're going backwards and that's why I hope that when my TV shows do get made that they show that there are so many great roles out there for older women rather than just one per show and six or seven men, which seems to be the general case.
You've got a proper rags to riches story, having grown up in poverty and ended up with a career as a successful writer and businesswoman. Do you think your difficult background motivated you to your success?
People ask me this question all the time and it's a really hard one to answer because the real question is if I hadn't have had the life that I had growing up would it have inspired me to still achieve what I've achieved in my career and I believe the answer to that is that yes. I would still have achieved everything because I'm driven by my passions and have only worked in areas that I'm passionate about, but I'd much rather not have had to go through the horrendous childhood, unhappy upbringing, homelessness and poverty before I got my break. I made it against all the odds and I often feel for those that maybe had similar backgrounds to me that might have had the same desire to do what I'm doing but didn't have the same resolve to fight back the way that I did. But I'm always a big believer in it's never too late, my first book wasn't published until I was 40 so it's never too late to have a go at your dreams. The worst that can happen is you fail but at least you'll know you tried and that's better than a life of wondering what if…
Was there a defining moment in your career when you thought to yourself 'I've made it'?
Yes, when Ruthless Women topped the Sunday Times Bestsellers chart and then was translated into 9 foreign languages, turning it into a global hit book. Suddenly everything was different, people that didn't want to know about my work before were interested and it opened a lot of doors and it led to where we are now with Guilty Women. If Ruthless had not been the success that it had been I would never have written another book. I'm not shy about revealing my ambitious streak, I gave up an incredibly successful career as an agent to write so I was never going to be happy with anything less than bestsellers so I'm so relieved and thrilled that that is what has happened. I'm now finally getting to have the creative career that I always dreamed about but had it have failed I would have completely left showbusiness altogether and gone and done something totally different with my life and started again.
What's been one of your proudest moments?
Proudest moments for me are always receiving letters from readers telling me how much they love the books, they are always better than any newspaper review because at the end of the day it's the readers that I care about, the literary industry can be very snobbish about commercial fiction but I want to write books that everybody can enjoy, I don't want to be niche, I want to be mainstream and write escapist stories that will be popular for people wanting to escape the miserable world that we find ourselves in nowadays.
What's next? Any hints as to what we might find in the third book in the trilogy? Do you already know how the story ends?
These books are so unique, if you've ever seen the movie Ghost, where Whoopi Goldberg plays the psychic, that's kind of how I feel when I'm writing the Guilty Women series. The characters are so alive that they literally dictate to me what happens so I feel a bit like a medium, that I'm just here to convey "their stories" – I think that is why the readers have taken to the characters so strongly because they are so believable because they ARE real, they are practically alive, they're just within the pages of my books.
---
Pick up My Weekly each week for top fiction stories, book reviews and author interviews – on sale every Tuesday!