Beet Burgers With Tarragon Mayo
---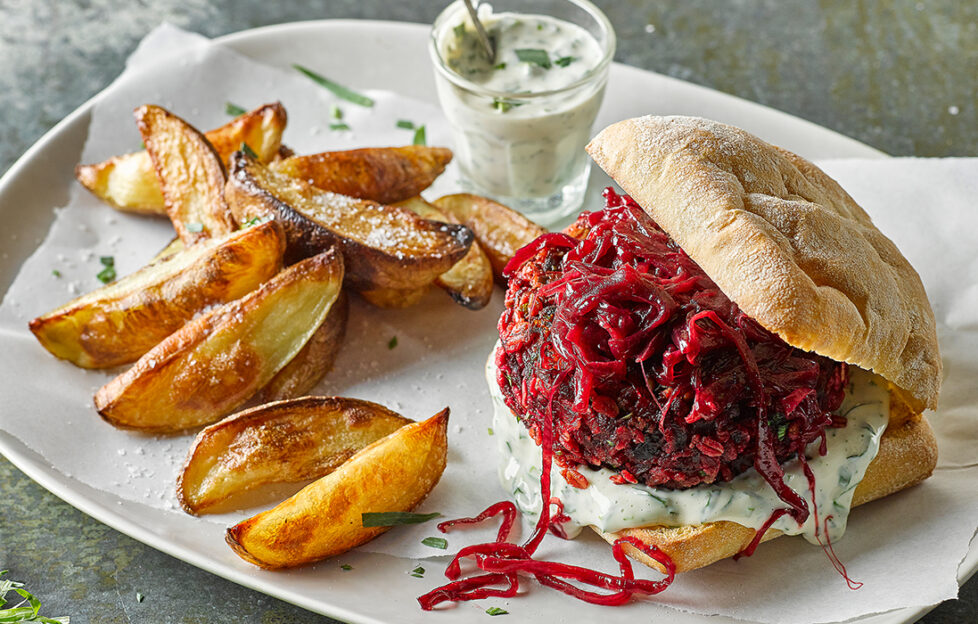 Chefs at Gousto have shared some innovative ways to make the most of seasonal ingredients – including beetroot – ensuring nothing goes to waste. 
Beetroot contains iron, potassium and Vitamin C.
Roast with honey and walnuts to create a Honey Roast Beetroot with Feta & Spinach Bulgur.
Roasted beetroot also goes well with carrots and sweet potatoes.
Finely chop the beetroot and bubble in a rich, delicious mushroom and carrot stew, Beetroot & Mushroom Ragù.
Beetroot tops, rinsed well, can be a substitute for greens such as spinach. They can be steamed, sauteed, braised, added to soups or eaten raw. Sautee the stems with a little garlic, orange and shallot and serve crisp.
Add leaves to a stir fry, with olive oil, garlic, sugar, seasoning and at the last second, red wine vinegar.
Beetroot is also best friends with walnut, so sauté the leaves with butter, ground black pepper and salt, and top with toasted walnuts.
Grate into a burger and combine with red onion relish – here's how!
Preparation Time:  15min + chilling
Cooking Time: 30min
Serves: 2
Preheat oven to 240°C/ 220°C (fan)/Gas 9. Cut the potatoes (skins on) into wedges. Add the wedges to a baking tray skin-side down (to prevent sticking) with a drizzle of olive oil and season generously. Put the tray in the oven for 30min or until the potatoes are golden.
Meanwhile, drain and grate the beetroot into a sieve over a bowl. Press and squeeze to release any excess juice (you'll use this later!). Season the grated beetroot generously with salt and pepper.
Chop the tarragon finely, including the stalks. Peel and finely chop (or grate) the garlic. Combine the grated beetroot, oats, garlic and egg with half of the chopped tarragon and combine thoroughly.
Make 2 patties from the mix, squeeze until they hold their shape, then place in the fridge to firm up. Peel and finely slice the red onion.
Heat a large, wide-based pan with 1-2tbsp olive oil over a medium-high heat. Add the sliced onion with a pinch of salt and cook for 5min until the onion has softened slightly. Reduce heat to medium-low, add the reserved beetroot juice and cook for a further 5min or until caramelised.
Combine the apple cider vinegar, mayonnaise and the remaining chopped tarragon with 1tbsp olive oil – this is your herby mayo. Season lightly with salt and pepper. Transfer the cooked, caramelised onions to a plate, reserving the pan.
Place the ciabatta in the oven for 6-8min or until hot and crusty. Return the reserved pan to a medium heat with 2-3tbsp olive oil. Once hot, add the beetroot burgers and cook for 4min on each side or until lightly caramelised and hot through.
Assemble the burgers with some caramelised onion and a little herby mayo. Serve with the wedges and the remaining herby mayo to the side.
Find more tasty recipes in My Weekly magazine every week! £1.60 in newsagents and supermarkets or subscribe for a great money saving deal.