Tomato Risotto with Garlic & Chilli Pangrattato
---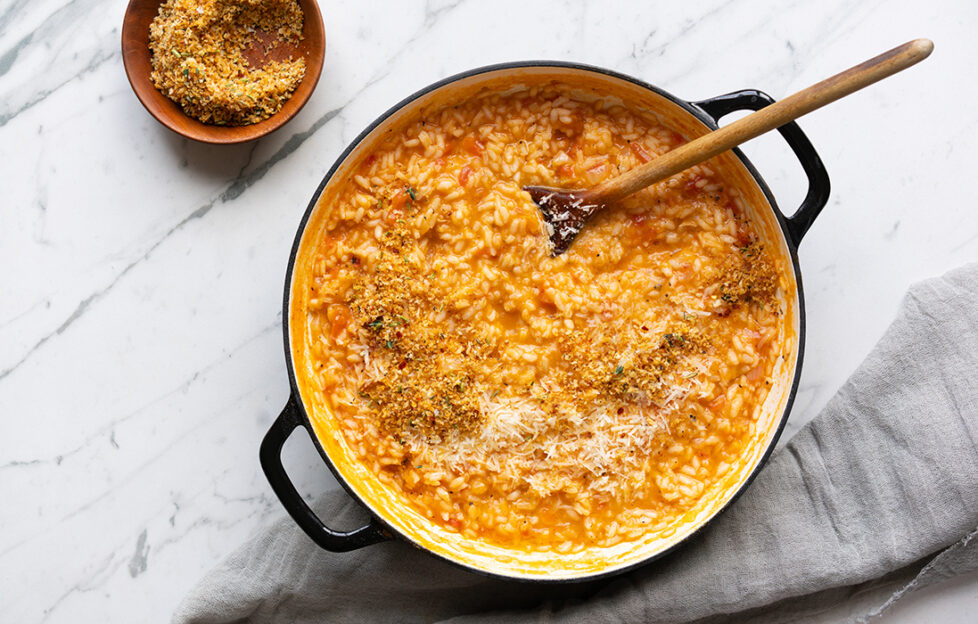 Stirring tomatoes into your risotto creates a lovely, creamy rice, full of juicy, sunshiney flavours…
Serves: 4-6
Cooking time: 45-50min
Bring a large pan of water to the boil. Score each tomato with a small X then carefully lower into the boiling water for 10-15 seconds or until you can easily peel away the skin. Scoop into a colander, rinse briefly under cold water, then slip off the skins and roughly chop. Return the tomatoes to the colander to drain excess juices.
Melt half  the butter and oil in a wide saucepan over a medium-low heat. Add the onion and a pinch of salt and gently cook for 12-15 minutes, stirring often until the onions are soft and sweet.
Turn the heat up to medium and stir in the rice and a teaspoon of salt. Cook for a minute or so to toast the rice, then add the vermouth, and stir for a few minutes until the alcohol has evaporated. Stir in the tomatoes and some black pepper and get your stock warming.
Add a small ladleful of stock to the pan, and stir until the rice has absorbed all the liquid. Repeat, adding a ladleful of stock at a time and stirring often until the rice is tender, but still with a little bite to it, this'll take around 18-22 minutes. You might not use all the stock.
For the  pangrattato, in a large frying pan over a medium heat, warm the olive oil with the garlic clove and just as the garlic begins to colour, add the breadcrumbs, fennel, chilli, thyme and a big pinch of salt and fry, stirring constantly, until the bread has an even golden colour, about 2-3 minutes. Season, then scoop onto a plate to cool.
Once your rice is tender, take off the heat and beat in the remaining 30g of butter and Parmesan, then leave the risotto to rest for a couple of minutes before serving, sprinkled with the pangrattato.
---
Find more super-satisfying meat-free recipes like this – plus lots besides! – in this week's issue of My Weekly, just £1.60 from newsagents and supermarkets.
Or subscribe for a great saving on the shop price!