BBQ Fish Tacos With Mango Salsa
---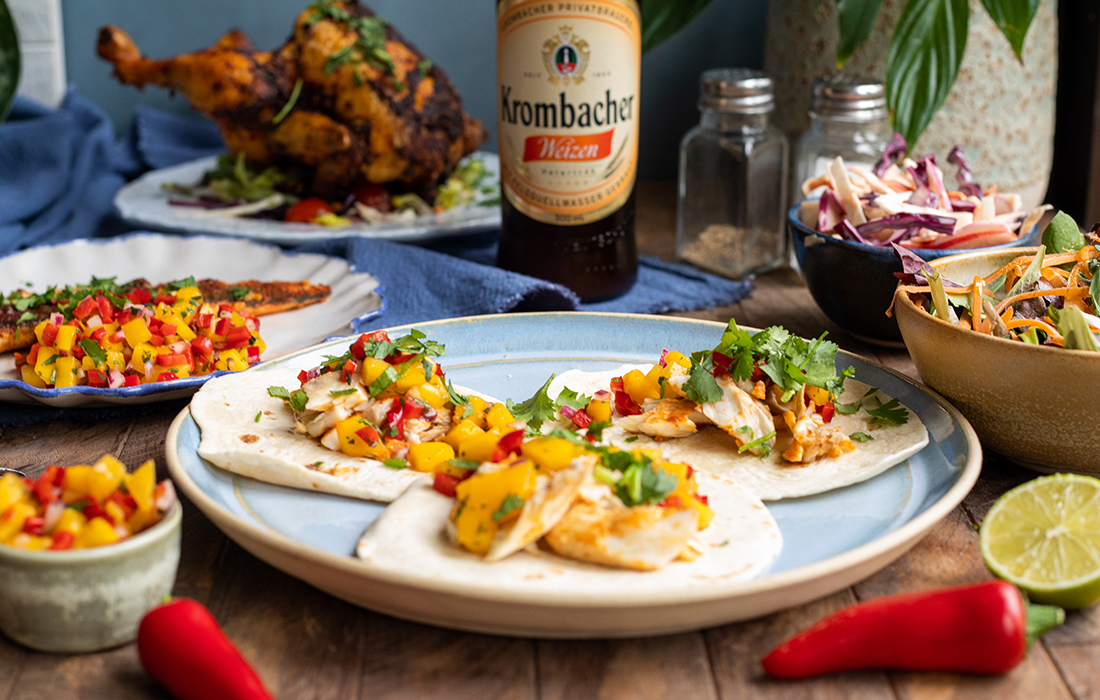 Cook up a blaze of flavour on your barbecue with these spicy, fruity fish tacos!
Preparation Time: 15min+20min marinating
Cooking Time: 9min
Makes: 8-10 tacos
To make the mango salsa: Peel and finely dice the mango and red onion. De-seed and dice the red pepper and green chilli, then finely chop the coriander. Add it all to a mixing bowl and season with a pinch of sea salt. Pour over the lime juice. Mix to combine.
To prepare the fish: Add the minced garlic, smoked paprika, ground cumin, cayenne pepper and ancho chilli flakes to a bowl, followed by the juice of two limes and 3tbsp oil. Mix to combine.
Place the fish fillets on a large plate, then pour over the spice mix. Rub all over both sides of the fish and leave to marinate for 15-20min.
Oil the barbecue grates or a fish rack and place the marinated fish fillets on the barbecue. Cook over a medium-high heat for 3-4min on each side, making sure they don't break.
Once cooked, remove the fish from the barbecue and quickly warm the tortillas on the grill.
Flake the fish into bite-sized pieces and assemble on the warmed tortillas with a spoonful of mango salsa and a handful of chopped coriander. Enjoy with a bottle of Krombacher Weizen beer.

Find 5 more delicious taco recipes and much more in the new issue of My Weekly! In newsagents and supermarkets from June 7. Priced £1.75, or save up to 50% with a print or digital subscription.
Quality beer perfect for a barbecue
Germany's leading premium beer brand Krombacher has teamed up with food writer Jonathan Hatchman to ignite some beer and barbecue food matching this summer.
Fiercely independent, family-run and with a deep respect for nature, Krombacher has produced high-class beers exclusively in Krombach, Westfalia, since 1803.
Krombacher beers are available through Co-op, Booths, Bargain Booze, Filshill Keystore, Majestic, Morrisons, Ocado, Oddbins, Spar (north of England) and Tesco.