Frozen California Walnut & Raspberry Ripple Yogurt
---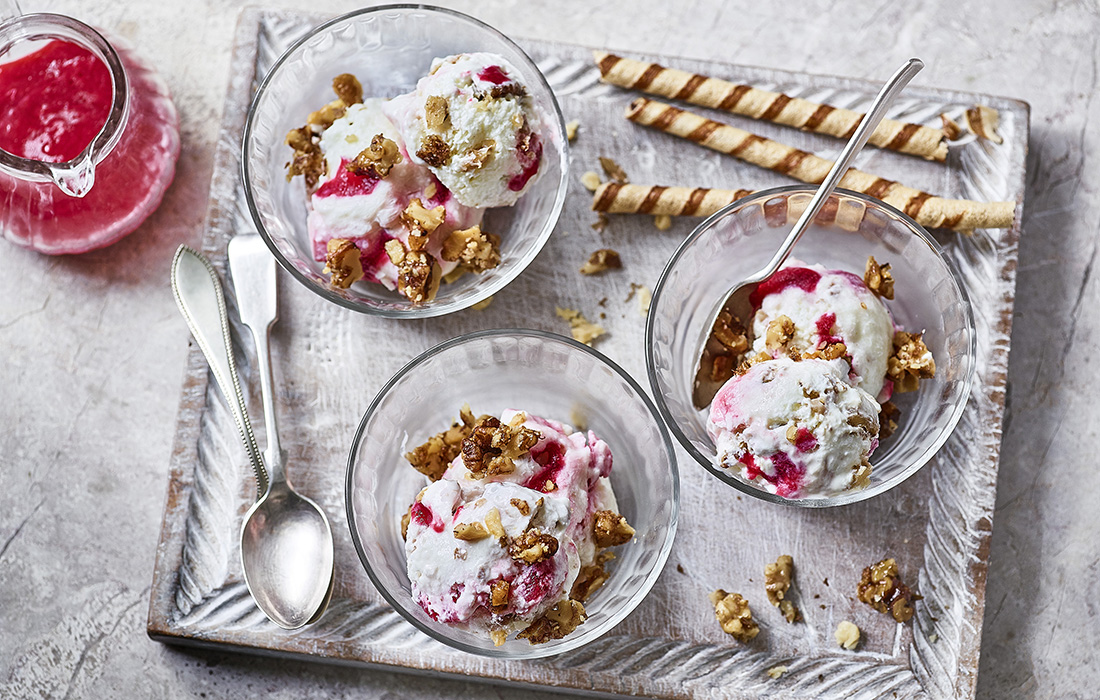 For a deliciously refreshing, healthy summer treat, you can't beat this scrumptious bowlful!
Preparation Time: 10min plus freezing
Cooking Time: 7-8min
Makes: 1 litre
Vegetarian, Gluten free
Preheat the oven to 200oC, gas mark 6.
Mix together the yogurt and 2tbsp honey. Transfer to a freezer-proof container and place in the freezer for 2 hours.
Meanwhile, mix together the walnuts, remaining honey and oil and spread out onto a parchment lined baking tray. Bake for 7-8min until golden, then allow to cool completely. Reserve some clusters for garnish.
Place the raspberries in a small saucepan with 1tbsp water and cook gently for 4-5min until a pulp is formed. Allow to cool completely, then press through a sieve and discard the pulp.
Stir the yogurt and freeze for a further 2 hours. Stir again with a fork to mash down any large ice crystals and stir in the chopped caramelised walnuts. Gently stir in ¾ of the raspberry sauce to create a marbled effect and freeze again for 2 hours or until needed.
Remove from the freezer 20-30min before required. Serve sprinkled with reserved walnut clusters.
Cook's tip
Try using strawberries or blueberries instead of raspberries.

Pick up the new issue of My Weekly, dated June 14. We've got 5 original recipes for Main Meals Under 500 Calories plus fiction, travel, friendly advice and much more! £1.75 from newsagents and supermarkets, or get a subscription and save up to £33 over a year on the shop price.