Chicken & Kale Chilli – Great Nutrition On A Budget
---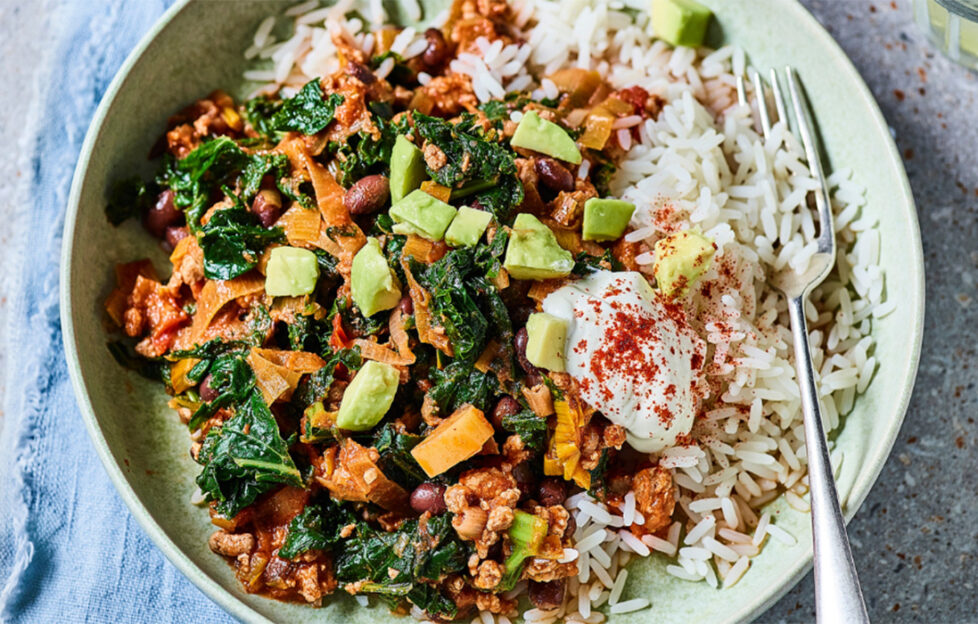 Credit: Discover Great Veg
With the rising cost of living it's more important than ever to get the most out of every food we buy, including fresh veg.
A 2020 study found that UK adults eat on average only 4.3 portions of fruit and veg per day, and many are not hitting the recommended intake for nutrients such as fibre, iron or folate.
With some smart tweaks like adding a portion of kale or spinach to our diet, we can make up for these shortfalls. These green leafy veg are incredibly versatile and boost essential nutrient consumption for only a few pence a portion (an 80g portion of kale or spinach costs from just 30p at the time of publishing) .
Folic acid (folate) is vital for formation of red blood cells. For women who are pregnant or trying to get pregnant, it's particularly important.
Iron intakes were found to be particularly low in women in the study, with those aged 19-64 having an average intake of 9.5mg per day (recommended 14.8mg).
Since 2008 the study found a fall in vitamin A intakes, particularly in children. Best-known for keeping our eyesight healthy, it's also vital for skin health, metabolism of iron and our immune system.
Discover Great Veg has created a selection of simple recipes that make it easy and cost-effective to add these delicious vegetables into the family diet. Here's one to get you started!
Preparation Time: 15min
Cooking Time: 30min
Serves: 4
Heat oil in a large saucepan and fry the leek and garlic for 1min. Add the spices and then the minced chicken. Fry until browned.
Add the tomato purée, chopped tomatoes, ½ can of water and the beans. Cover and simmer for 20min.
Cook the kale in boiling water for 3-4min, drain well then stir into the chilli. Season to taste.
Serve topped with avocado and a spoonful of soured cream, on a bed of rice.

Find more easy, tasty, good value recipes every week in My Weekly. Often healthy, always delicious! Plus lots more advice and feelgood content. £1.75 from newsagents and supermarkets – or take out a subscription for a great saving on the shop price.