Slow Cooked Duck Legs With Blackberries, Orange & Cinnamon
---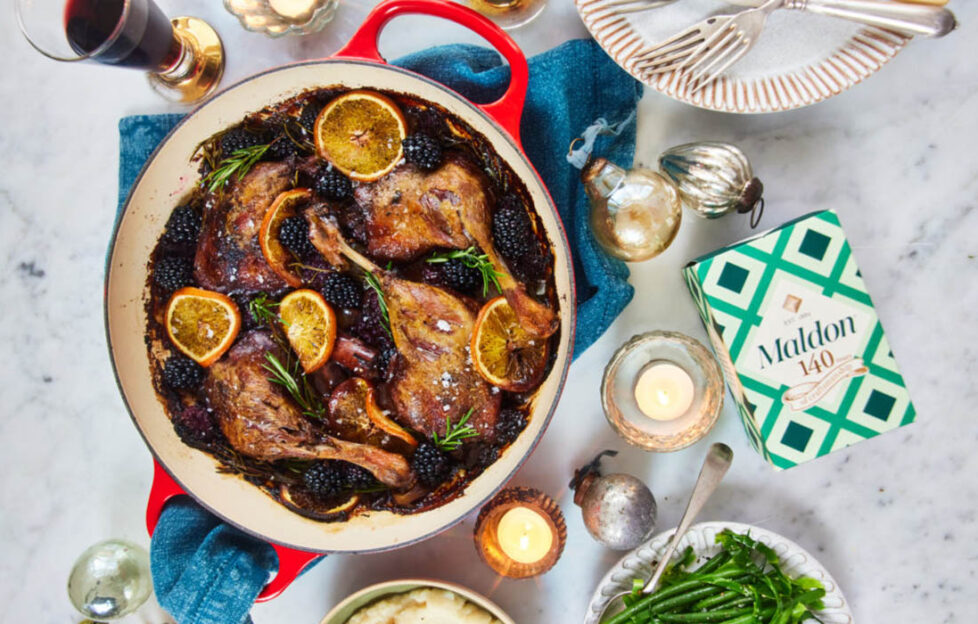 For this show-stopping dish of duck paired with festive fruits, star anise and cinnamon, Maldon Salt have partnered up with Le Creuset. Their Cast Iron Shallow Casserole Dish has a depth perfect to soak up the juices, making the duck legs succulent and tender for your Christmas feast!
Preparation Time: 20min
Cooking Time: 2hrs
Serves: 4
Preheat the oven to 160°C.
Place a large casserole on the hob. Brown off the duck legs on both sides, starting on the skin side. Once browned, remove from the pan. Add the shallots and sliced garlic, frying until they soften and start to go golden.
Add the flour and cook into the sauce for a few min until thickened. Then add the red wine and stock. Allow it to bubble and come to the boil.
Add the duck legs back into the casserole along with 2/3 of the blackberries, the orange slices, cinnamon sticks, star anise, a pinch of Maldon Salt and rosemary sprigs.
Cover and transfer to the oven for 1hr 30min. Once cooked, add the remaining blackberries and serve.
To make the mash: Add the celeriac to a pan with the stock and milk and bring to the boil. Simmer gently until the celeriac is tender. Mash or pass through a ricer. Stir through a knob of butter and a pinch of Maldon Salt.
Serve the duck legs with the celeriac mash and some sautéed greens.
Look out for more fabulous Christmas recipes, savoury and sweet, in My Weekly magazine. It's your feelgood read! In newsagents and supermarkets every Tuesday – or subscribe to get a great saving on the shop price.