Christmas Fiction: Sarah Morgan
---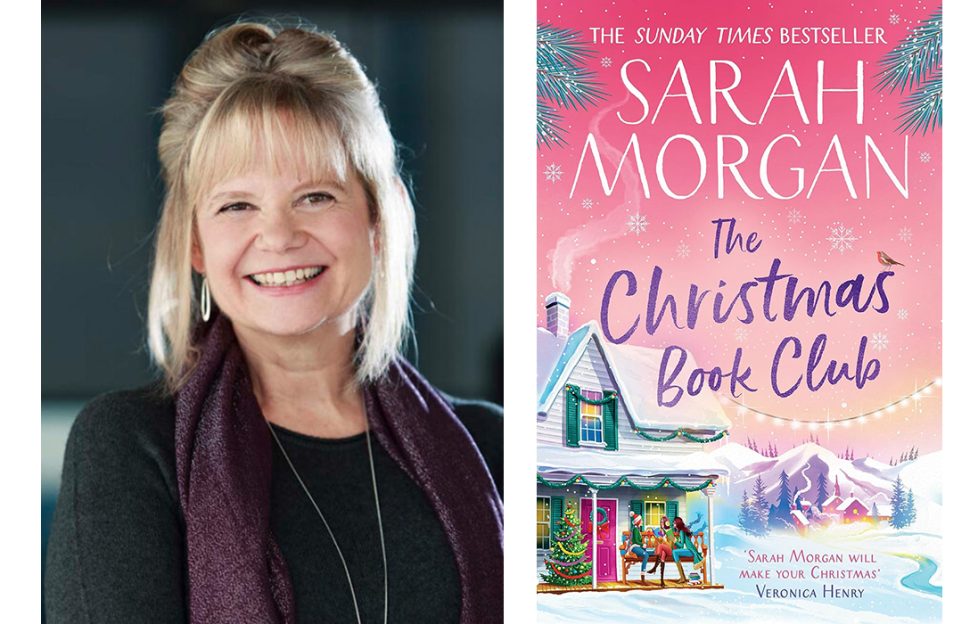 Bestselling author Sarah Morgan
We're asking a few of your favourite writers to tell us about their latest Christmas-themed fiction novels. The Sunday Times bestselling author Sarah Morgan joins us now to talk about The Christmas Book Club, a heart-warming story of friendship, love and life, set against a backdrop of the cosy Maple Sugar Inn…
Can you tell our readers about your latest book?
The Christmas Book Club is a heart-warming festive story about three friends, Erica, Anna and Claudia, who for the past twenty years have met up once a year for a week-long book club holiday in a hotel (I might have been living out a fantasy here!).
This year Erica has chosen a cosy historic inn in the middle of beautiful, snowy Vermont. All three friends are facing major change as they approach their fortieth birthday milestone. Businesswoman Erica is contemplating a serious relationship for the first time; stay-at-home mum Anna is facing an empty nest; and chef Claudia has been blindsided by losing her job and her partner of ten years. Their close friendship and shared love of books have carried them through life's ups and downs and they all hope that the week together will help them regroup and recharge. But Erica chose The Maple Sugar Inn for a reason she hasn't shared with her friends. Soon, innkeeper Hattie is drawn into their circle and the friends discover that even after two decades they don't know each other quite as well as they thought!
Why do you enjoy writing about the festive season?
I've always loved Christmas, and the season lends itself to family drama which is always interesting to a writer! It's a time of year when people are often trapped together, which offers no end of story ideas. The Christmas Book Club explores how people deal with change, and like all my stories it has themes of family and friendship (as well as romance!).
Why do you think readers enjoy reading Christmas-themed novels so much?
I think there is a demand for feel-good fiction, and Christmas books are the ultimate comfort read. For many readers they have become a Christmas tradition, a small slice of uplifting reading that gives them all the festive feelings with none of the stress. A good Christmas book delivers a powerful emotional journey between the main characters, but must also capture the warmth and mood of the season. You can sink into the magical snowy setting of a fictional winter (no scraping ice from the car, no frozen fingertips), and enjoy romance with all the extra emotional intensity that the season brings.
What inspired you to first start writing about Christmas?
I enjoy writing cosy, winter stories. Just as some readers can't get enough of reading them, I can't get enough of writing them! They've become part of my own Christmas tradition. I've written a book set over the festive period every year for as long as I can remember.
What books or authors (Christmas or non-Christmassy) are some of your influences?
I read widely, both fiction and non-fiction, so it's hard to pinpoint one particular influence. As the festive season approaches, I enjoy books that give me that cosy, Christmassy feeling and one that I always come back to is The Christmas Chronicles by Nigel Slater, which is so much more than a recipe book. His love of the season is evident on every page and reading it wrapped in a warm blanket with a mug of steaming hot chocolate is my recipe for a perfect few hours in winter.
If you're writing about Christmas during the spring or summer months, is there anything in particular you do to get into the spirit?
I'm lucky enough to write most of my Christmas books during the cold winter months and because I love everything about the festive season it's not a hardship to extend that feeling beyond Christmas itself. My family are patient and are used to putting up the Christmas tree early, but it's true that I'm usually still thinking about Christmas and playing Christmas music long after everyone else has packed away their decorations for another year. Whatever season I'm writing about, I'm immersed in the story rather than real life so what's happening outside the windows of my office doesn't matter too much.
When the world is particularly tough, do you think there's more of a need for these kinds of novels?
Absolutely. Many readers are looking for escapism, and Christmas stories offer that. It's a slice of Christmas without the stress and the work. When I first started writing Christmas novels there weren't so many around, and I think the sheer volume of festive fiction published now reflects just how hungry the reader is for this type of story. When I'm writing, I aim to make my Christmas stories the ultimate comfort read.
How do Christmas novels fit in with the rest of the literary world – what is their place and how do you think they can maintain it?
In the end the reader wants a good read, and what qualifies as a good read depends on what the individual is looking for. It might be perfect prose, or it might be a heart-thumping thriller, fantasy, or perhaps an uplifting romance. I will continue to write Christmas books and hope readers will continue to find comfort in reading them.
What do you take away from writing festive stories?
They remind me to treasure those small special moments with friends and family and not sweat too much about an overcooked turkey!
The Christmas Book Club by Sarah Morgan is out now (HQ, PB, £8.99) and available from Amazon.
---
Also in the series…
Don't miss our interview with Jo Thomas as she talks about her new book, Countdown To Christmas.