Yellow Thai Prawn Curry
---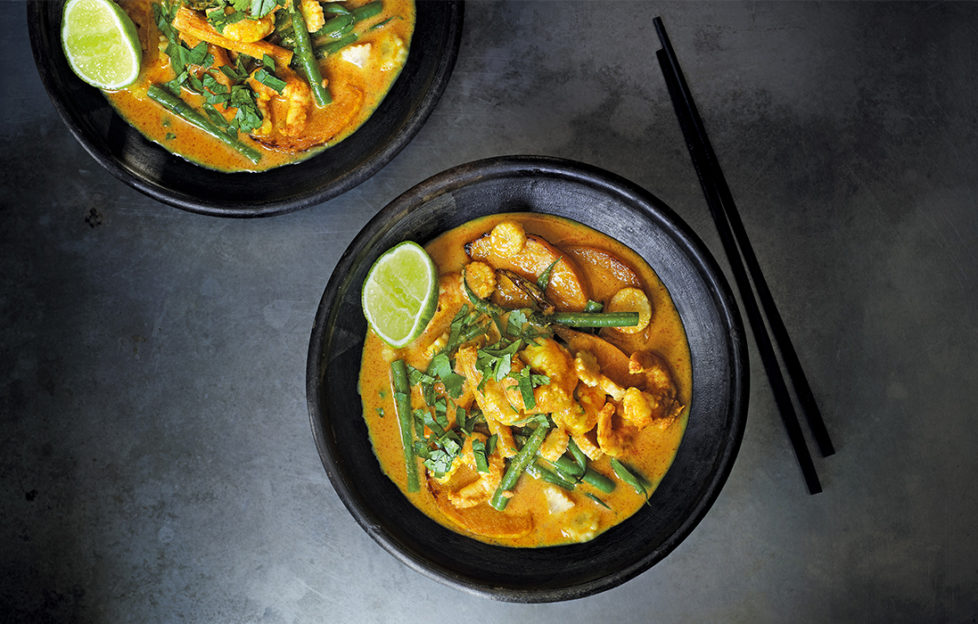 Yellow curry is medium-spiced and traditionally considered to be in between a red (hot) and green (mild) Thai curry. Ground turmeric gives it its rich colour.
Preparation time: 10min
Cooking time: 25min
Serves: 2
Preheat the oven to 220˚C, Gas Mark 7. Arrange the squash in a parchment-lined roasting tin, drizzle with the oil and roast for 25min, turning halfway through.
Meanwhile, from the recipe kit, empty the container of coconut milk into a large saucepan, add 140ml water and the dried chilli, lemongrass and lime leaf. Simmer for 2min; stir in the curry paste and the drained pack of baby corn.
Stir in the prawns, green beans, sugar and fish sauce. Check the seasoning, adding more fish sauce if liked, and simmer for 4min.
Take off the heat, then stir in the roasted squash and scatter with the coriander. Serve with the lime wedges for squeezing over, plus some jasmine rice, if liked.