Book Review: The Silence Between Breaths by Cath Staincliffe
---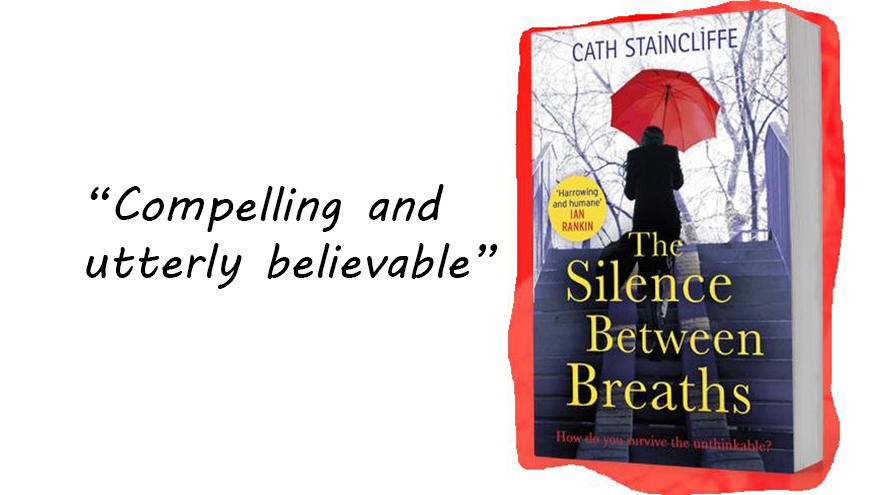 My Weekly Book Review
The Silence Between Breaths
by Cath Staincliffe (Constable, £8.99 PB)
Review by Sarah Proctor
What would you do in the event of a terror attack?
A busy Virgin Trains service from Manchester to London Euston. One passenger has only just managed to catch the train, another has missed the earlier one she had booked. They are variously bound for an interview, a family wedding, a conference, a holiday during which bad news must be broken, and a reunion with an old friend. So far, so familiar; all the characters are deftly observed with bang up-to-date situations and dilemmas.
However in the midst of all this life, bustle and interaction, amid the frustrations, prejudice and budding attraction there is Saheel, resolute and silent, with his rucksack and his mission.
At home, Kulsoom's computer crashes as she works on her animation project and she sneaks into her older brother's bedroom to borrow his laptop…
From multi-faceted normality to the first awful suspicions, through the attempted evacuation and to the detonation of the bomb, Cath Staincliffe's writing is so utterly real – and virtually invisible – that the reader experiences the shocking as vividly as the ordinary.
Many of those whom we have just met and, in varying degrees, grown to sympathise with do not survive; those who do are all damaged, some by horrific injuries, all by mental trauma. And so begins the second half of the story.
Distressed, loving families gather round –some intuitively understanding, others less able to do so; some coping better than others, attempting to pick up the pieces. Saheel's family, heartbroken and devastated, have to be uprooted from their lives and relocated.
Delayed reaction
Setting up and managing an online forum for survivors and families of victims sustains Holly in the immediate aftermath. But as more people gradually feel able to speak out and connect through it, the workload increases. A delayed reaction overwhelms her, full force, and suddenly she can no longer face leaving the house.
Jeff, having taken some time to begin to come to terms with a double amputation, is stung by his sister's affectionate pledge to "look after you forever" and realises he has to make the most of his remaining capabilities. He can't shake the feeling that he needs to make contact with Holly to see whether the spark between them has possibly survived the awful experience they have shared…
Connections are salvation
The story is deftly balanced without a shred of obvious moralising.
Saheel rejects his happy, liberal family's assimilation into Western society and steadily pushes them away. In a very similar way UKIP sympathiser Nick disconnects from and longs to escape his harassed wife and unhappy children. He rejects Holly's and Naz's attempts to help simply on grounds of race, abruptly changes his opinion of Meg and Diana on discovering the nature of their relationship, and shuts out his in-laws in the aftermath of the bombing. Even Boss the dog, it seems, may not be able to save him.
Yet for everyone else, making connections, however initially painful, is their salvation. The survivors' pain is eased a little by sharing their harrowing memories of the victims' last moments, and the victims' families are comforted to hear that their loved ones did not die alone.
Kulsoom is able to connect and tell her story too, if only anonymously to a newspaper, and the book ends with a reunion – a coming together of almost everyone involved that emphasises their interdependence and the strength this gives them to face the future.
Depth of feeling
What this little book may lack in length it makes up for in depth of feeling. It is compelling and so utterly believable that on finishing it, I had to check an impulse to do an online search for the Euston train bombing and the support forum.
This ability to present and analyse shocking events calmly and unflinchingly is also evident in Cath's previous book, "Letters To My Daughter's Killer".
The overwhelming message of The Silence Between Breaths is that isolation is dangerous – and so the book ends with a reunion, and a promise that together, anyone can face the future.
More Book Reviews