New Book Reviews – Three Great Crime Fiction Novels Out Now!
---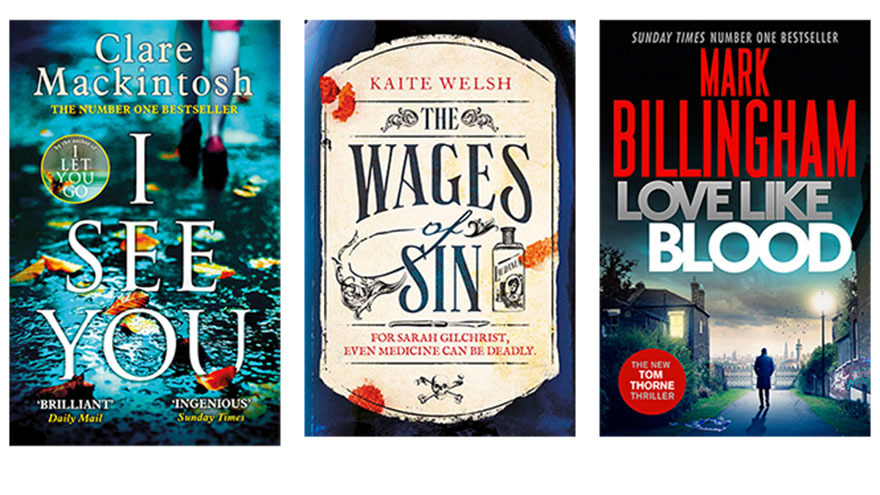 I See You by Clare Mackintosh
Sphere PB, £7.99
Are you in danger?
When Zoe Walker's photograph appears in the classified section of a London newspaper, she tried to dismiss it as a joke. Then another woman's picture appears, one whom Zoe recognises as the victim of a robbery.
Then when a young woman is murdered, Zoe discovers her photograph has been featured, too.
Only transport policewoman Kelly Swift takes Zoe's fears seriously. Together they have to convince the police that someone is stalking the women commuters of London, and track down the perpetrator before he kills again.
Gripping from the opening pages, I See You weaves skillfully between Zoe and Kelly, building up the plot while never losing pace. Occasional glimpses into the thoughts of the stalker add to the tension – there is never any doubt that Zoe, any woman, even the reader, is in grave danger …
Tightly plotted, with convincing characters and a satisfying ending, I See You is a psychological thriller you have to read.
The Wages Of Sin by Kaite Welsh
Tinder Press HB, £16.99
Historical detective fiction with a difference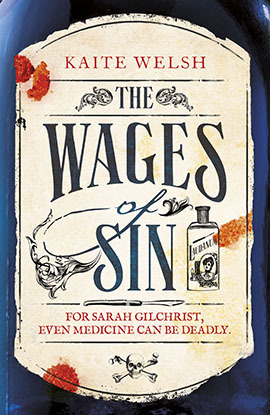 It is in 1892 and from the disease-ridden streets of Edinburgh old town to the rarefied atmosphere of her aunt's house in new town, Sarah Gilchrist treads a fine line. A scandal in her past has led her family to agree to her training as a woman doctor at Edinburgh university. She is also allowed to help out at St Giles Infirmary for Women and Children.
It's there Sarah first encounters prostitute Lucy Collins, who is turned away when she comes begging for an abortion. The next time Sarah encounters Lucy is on a mortuary slab, when the students gather round for their anatomy lesson.
It's assumed Lucy died of an opium overdose, but Sarah suspects she has been murdered. And so she sets out to track down the murderer.
So much more than a detective story, this skilfully-written, atmospheric novel explores the place of women in a male-dominated university environment, where professors and students alike do all they can to put girls off from studying. It also brings into sharp focus the attitude of strait-laced Victorians to women's frailties.
Sarah is reaping the wages of "sin" just as much as Lucy, but unlike the prostitute, she is no victim. A strong woman, she stands up to her peers and her professors – even irascible, hard-drinking doctor Gregory Merchiston. From threatening to have her sent down, he gradually becomes an unlikely ally.
Atmosphere, murder, a strong heroine, a flawed hero and a stunning twist –  The Wages of Sin has it all. I hope we'll be reading more by Kaite Welsh. And I hope it will involve Sarah Gilchrist.
Love Like Blood by Mark Billingham
Little, Brown HB, £18.99
A topical, sensitive subject from an accomplished writer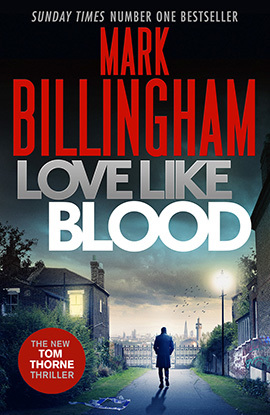 "Fallen" Victorian women may have been shamed and cast out by their families, but the victims in this new thriller have it worse. They're the subjects of honour killing – the euphemism used as an excuse to despatch young women – and sometimes men – because of some perceived disgrace they have brought on their family. It happens in this country, and Mark Billingham bravely tackles the subject in Love Like Blood.
DI Tom Thorne and DI Nicola Tanner join forces to investigate a series of brutal killings or disappearances of young Asian men and women. As there is nothing to link their families directly to the murders, Thorne and Tanner know they must track down the broker who is handing out deadly killer contracts.
And so they are drawn into a horrifying and disturbing world in which some families will do anything to protect their honour.
Mark Billingham says, "How could I not write [about this subject]? Writing about cultures and religions that are not your own brings with it a degree of responsibility, and so it should. I have endeavoured to do so with care, sensitivity and crucially, with respect … for those who practise their religions peacefully."
He's achieved his goal admirably. The result is an enthralling detective story that makes no judgments but does its job of presenting the reader with a skilfully nuanced story of bringing the perpetrators of crime, whatever their race or religion, to justice.
Don't miss our exclusive chat with Clare Mackintosh in our next Special, on sale June 22. Subscribe here
More book reviews