The Things We Thought We Knew by Mahsuda Snaith – My Weekly Review
---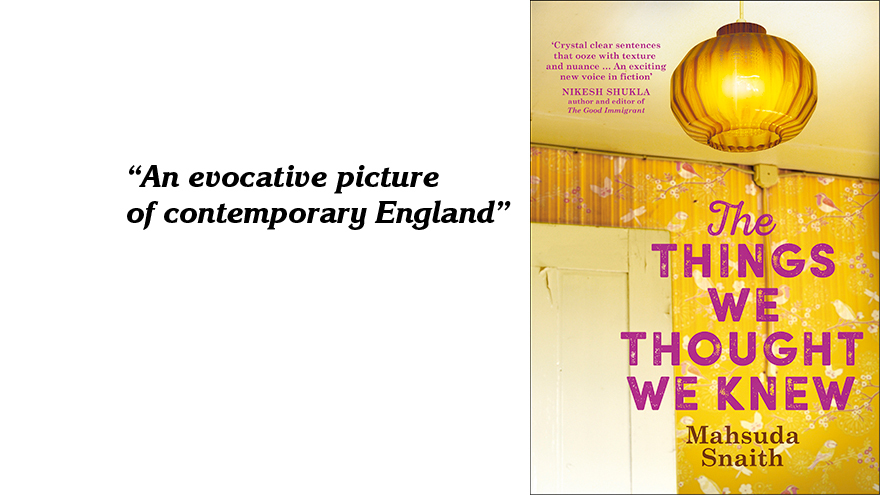 The Things We Thought We Knew by Mahsuda Snaith
(Penguin Random House HB, £14.99, publishing June 15, 2017)
Reviewed by Sally Hampton
The Things We Thought We Knew, a debut novel from Leicester teacher and prizewinning short story writer, Mahsuda Snaith, rattles along at a compelling pace and culminates with a very satisfying ending. It takes the form of 18-year-old Ravine's diary written to her friend Marianne.
Ten years before, Ravine and Marianne were best friends who practised handstands together, raced slugs and teased Marianne's serious elder brother, Jonathan.
But now Ravine has been confined to bed for a decade, the victim of a chronic pain condition, Marianne is missing from her life and she is hearing voices from the next-door flat that may or may not be Jonathan.
What happened in the hideout in the woods?
As Ravine writes her diary, the reader slowly becomes aware that events of 10 years before had a profound effect on three children's lives. Exactly what happened in the hideout in the woods all those years ago? Who is the mysterious Soul-drinker? Is Uncle Walter really a spy? And why did Marianne's mother suddenly disappear?
All these questions and more are answered as the chapters unfold. Be assured this is not yet another misery memoir about child molestation. But it does ask pertinent questions around adults' responsibilities and the tragic consequences when they let them slip.
Just one more chapter …
The structure of the novel, with short paragraphs that switch between the present day and the events of 10 years ago in a predictable manner, makes it very easy to read. Of course, that means you're always tempted to say, 'Just one more chapter and then I'll put the light off…'
The author paints a very evocative picture of contemporary England and conveys the time frame very cleverly, using big national events. Her characters are believable yet never stereotypes.
Fans of A Short History of Tractors in Ukranian and The Unlikely Pilgrimage of Harold Fry will love this The Things We Thought We Knew, too. A very impressive debut – I'm sure we'll hear more of Mahsuda Snaith.
More lovely book reviews