All The Wicked Girls | Chris Whitaker | Ventures into a dark place …
---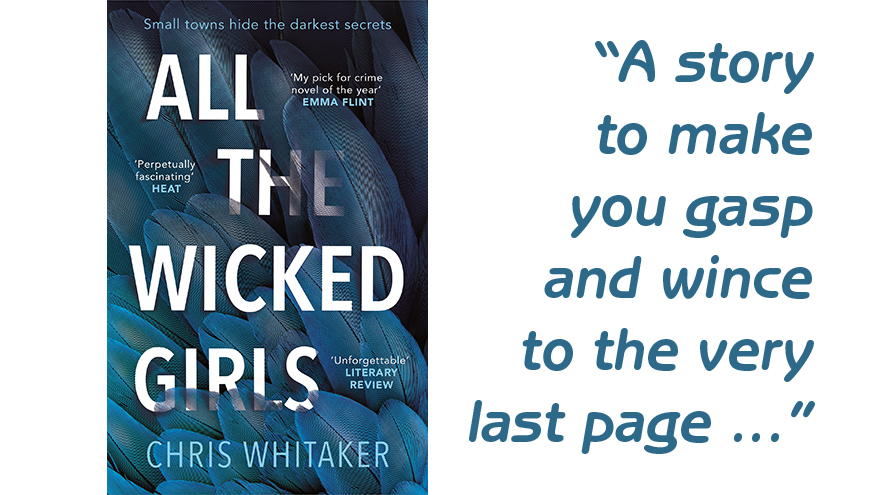 All The Wicked Girls by Chris Whitaker,  Zaffre PB, £7.99
Reviewed by Sarah Proctor
On one level, All The Wicked Girls is an oh-so familiar plot.  Small-town girl goes missing; small-town cops struggle to make headway.  Various family members take investigations into their own hands.
Before long Summer's case is being linked to the unsolved disappearances of "the Briar girls" a few years previously. How could five God-fearing teenagers vanish one by one from a neighbouring town?
Black, the police chief, still reckons Summer "ran" rather than being taken – she left a note, simply saying I'm sorry.
However her twin, wild-child Raine, knows there must be more to it. Determined to find her sister, she ventures into some very dark places with "brave and fierce" Noah and Purv. The two skinny youths and best mates have the most heart-rending back-stories y'all ever heard.
Shock after shock
At first glance, All the Wicked Girls is yet another foray into the often brutal life of an impoverished deep South community, dominated by violence and violent religion.
It sets out to shock – a severed penis is washed up on the riverbank on the first page! But this is simply setting the scene. That case is soon closed… though there are inevitably more shocks to come.
Yet like a fertile Alabama swamp, below the surface of Chris Whitaker's story there is unexpected depth and richness. Summer, the girl who vanishes, has a voracious appetite for books. She also has a startling affinity for music, which emerges when her mother sends her for lessons with the pastor's wife, Savannah, a concert cellist before her only child was killed.
Yet Summer is not pretentious, or even aspiring.  She is of her family and her community, yet also someone very different.
Perceptive details and glints of humour
The array of roughly sketched, familiar characters – drink-soaked police chief, vengeful, gun-toting father, brassy girl in cut-off jeans, the constantly flogged "disappointing" son – all steadily soften. They fill out and stand taller as more layers of perceptive detail and glints of humour are added.
The investigation is realistically messy and frustrating, with the only arrest – of a loner whose guilt is far from certain – leading to factions of church people and local tough guys camping out in front of the police station steps.
TV crews descend – and so does an impenetrable, glowering, slightly supernatural storm cloud which hangs heavy over the town. The sharply defined border between sun and semi-darkness at its edges draw as many sight-seers as the ongoing drama.
Tensions rise, Chief Black drinks and injects to numb the horror of the possibilities he faces, and Raine refuses to give up searching…
It feels as if we, too, have been through a storm
This is one of those harrowing books that succeeds in making us care deeply about its thoroughly flawed, long-suffering protagonists. When resolution comes, it feels as if we too have been through the peril, the anguish, the storm and the shoot-out.
Some survive to make a fresh start, and the spectacularly complex case is finally closed.
It's hard to believe this book was written by a former City of London financial trader who lives in Hertfordshire, so complete is the immersion in another, utterly different place.
Whether you experience it as a challenging crime drama, a masterful web of character studies or a dark and gritty movie running compellingly in your mind, All The Wicked Girls will have you gasping and wincing to the last page.
More book reviews