Here And Gone – A review of Haylen Beck's new thriller
---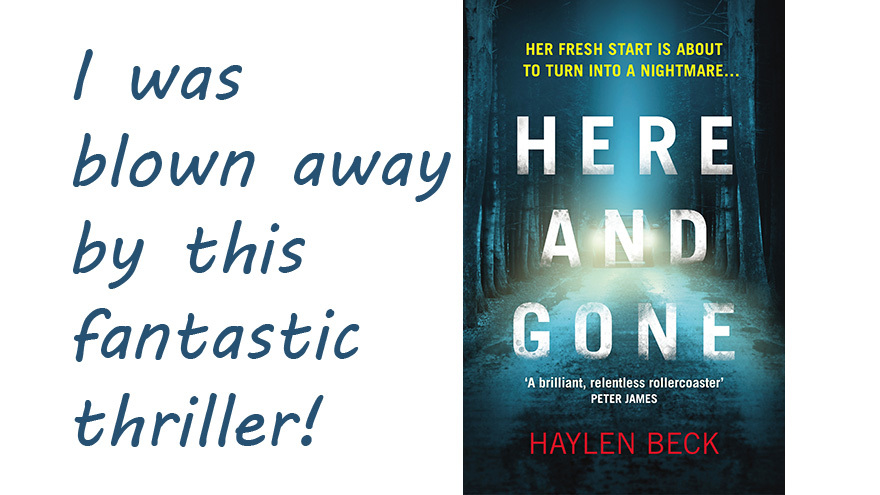 A distraught mother, missing children, crooked policeman and an emotionally damaged hero – they're all here in Here and Gone (published by Harvill Secker Vintage HB £12.99) brought together by Haylen Beck in one of the most thrilling stories I've read.
Audra is on the run from her abusive husband. With her two young kids, Sean and Louise, she is crossing Arizona from New York on route to LA. Then she is stopped by a lone police car. After a brief search of her car, she is accused of possessing marijuana. She is arrested and her children are taken from her.
In the jailhouse she asks where her children have been taken.
"What children?" ask Sherriff Whiteside.
And so a new nightmare for Audra begins. She has a history of drug and alcohol abuse and no-one believes that she has not harmed her children.
No-one except Danny Lee. The mobster turned vigilante is still mourning the loss of his wife. She too was stopped by a lone police patrol car. She, too, was accused of harming her daughter. The loss of her daughter and the suspicion of guilt drove her to take her own life.
Danny knows that there is a cartel of rogue police officers supplying the dark web with child victims. It's too late to save his daughter. But there is still a chance he can save Sean and Louise. But first he must persuade Audra to trust him, and together they must escape the wiles of Whiteside and his sidekick Collins as they try to cover their tracks.
Danny Lee is flawed and dangerous
Wow! From the very first page, I was blown away by this fantastic thriller. The ever-present sense of danger is heightened by the tight prose. Tight plotting, too, kept the tension high. The gradual unfolding of Audra's story contrasted well with the immediate knowledge of Danny Lee's tragic situation. What a man! He is flawed, dangerous but supremely sympathetic.
And Sean! He is no willing victim. The eleven-year-old does all in his power to effect his and his sister's escape. Despite setbacks and failures, he never gives up trying to outwit officer Collins.
Knowing what fate lies in store for the children if they are not rescued or can't escape keeps your heart racing all the way to the end of this book.
There can be no happy ending for Danny Lee – but I wonder if we have seen the end of him?  Here and Gone was thrilling thanks in no small part to him. It would be great if Haylen Beck introduced him in a series of books.
Read regular book reviews and meet top authors in My Weekly and My Weekly Special
More book reviews