Shari Lapena | A Stranger In The House | Thrilling New Novel
---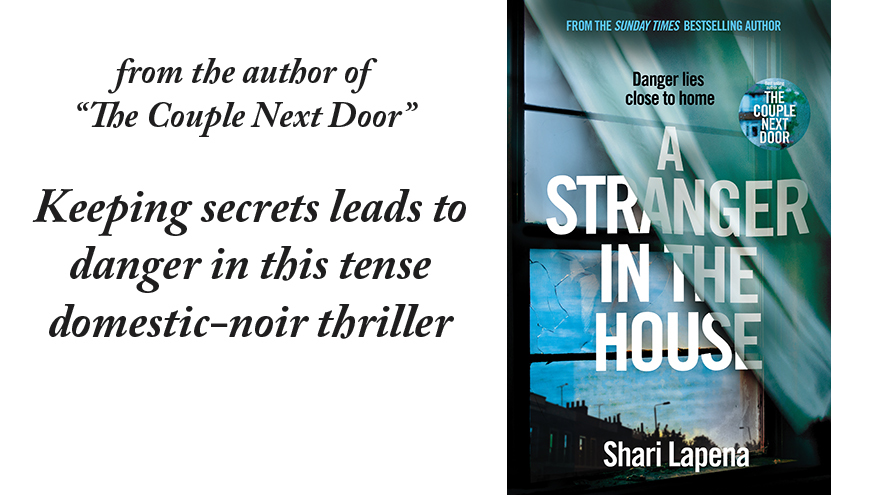 Reviewed by Karen Byrom
A Stranger In The House opens with a mystery when Tom Krupp comes home from work to find that his wife, Karen, is missing.
The house is like the Marie Celeste. The door is unlocked, the dinner half-prepared. Has Karen popped out to the shops for a forgotten something? No, her handbag and purse are still  there.
Then the police appear to tell Tom that Karen is in hospital. She has crashed her car. The mystery deepens when Tom learns his wife was in a seedy part of town where she'd no reason to be.
Meanwhile, three young boys come across a murder victim in an abandoned shop in the same area … is he connected to Karen's crash? With no memory of the accident or the events leading up to it, Karen can't say.
How frustrating for Tom, and for the police.
Should we believe Karen's memory loss?
Karen comes home and life returns to a semblance of normality. But the police won't leave the couple alone.  Officer Fleming is sure Karen holds the key to the dead man's identity. He doesn't believe in her memory loss either.
As the narrative switches from Tom to Karen and back again, we, the reader, start to wonder too if we should believe Karen's memory loss? She is definitely hiding something from Tom and the police.
She is frightened, too, believing that a stranger is coming into her house when it's empty, leaving the evidence of an empty mug, an indent in the bedclothes, a light left on …
It can't be the dead man, so just who is threatening the couple and why?
Meanwhile,  Brigid Cruikshank, the Krupps' neighbour, watches and waits for the truth to come out.
So many secrets and lies
Oh my! All the secrets and lies each character is hiding makes A Stranger In The House just as tense a read as The Couple Next Door, Shari Lapena's debut novel which was last year's thriller hit and is sitting comfortably at No. 1 in the Sunday Times best-seller list.
Tom, Karen, Brigid and even Officer Fleming are not particularly likeable characters but Shari Lapena gets right into their minds and makes us care what happens to all of them. But her true art lies in the art of clever clueing, leading the reader along the road to the truth, with many aha moments along the way.
Of course, there are still shocks to come when all is finally revealed. We can promise you'll be gripped by this tense thriller.

Don't miss our exclusive chat with Shari Lapena in our Summer Reading Special, on sale August 17
More Reviews