Margaret Kirk | Shadow Man | New Detective Fiction
---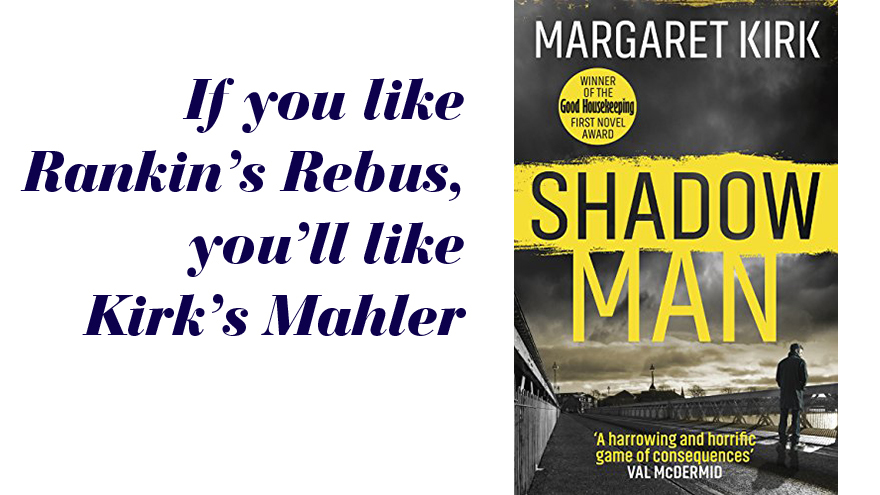 Shadow Man by Margaret Kirk (Orion, £13.99)
Reviewed by Barbara Beaton
This is Margaret Kirk's debut novel, and (I presume) the first in a series set in Inverness featuring DI Lukas Mahler. As such, it's a steady offering that should put the author up there with the already well established Scottish writers of the detective thriller genre.
The marketing implies the book is "horrific and disturbing", but rest assured that it is nothing of the sort. It's a police procedural thriller, a whodunnit.
DI Mahler returns to his home town of Inverness after a stint working in the Met in London. He has just attended Raj's funeral – a friend and fellow cop in London, so he's not off to a great start already. In addition, his mentally unstable mother's health is fragile and he's the only person around to care for her.
A troubled cop, plagued by demons
So it's not much of a surprise that Mahler is more than just a little morose in temperament. He's a troubled cop, plagued by personal demons and challenged in all the ways we have come to expect from our fictional DIs.
Nevertheless, with an overstretched and underfunded Inverness police force, DCI June Wallace throws Mahler in at the deep end, having him head up recent murder inquiries. But is he looking for one killer or two?
In a prologue, Janis Miller is a young student 15 years ago who is thrown off a balcony to her death at a student party in Glasgow… what possible connection could there be to murders in Inverness in the present day?
A deliberate and vicious attack
When Mahler arrives in Inverness, police informant Kevin Ramsey has been the victim of an apparent hit-and-run that turns out to have been a deliberate and vicious attack. Not long after, TV darling Morven Murray is found brutally murdered in her hotel room the morning of her wedding to ex-footballer Ross. Are these murders related – and how?
Morven's estranged sister Anna, a university history lecturer, has just arrived from San Diego – reluctantly – for the wedding. Mahler finds himself inexplicably drawn to her, even though he believes she's hiding something.
As if all that wasn't enough, a kitchen hand, Donnie Stewart, a man with alcohol issues, goes missing.
Grave danger
The main investigation for DI Mahler and his team is that of the murder of Morven Murray, especially as her fame puts them under considerable pressure to find her killer quickly.
As they delve into her life for possible motives, it soon becomes clear that the ambitious Morven was not as popular as she seemed. Even her sister and husband-to-be had serious issues with her.
Anna tries to assuage her guilt at feeling little grief for Morven by trying to conduct her own investigation to find the killer – putting her in grave danger.
Mahler's investigations are impeded by Anna's delving, as well as being constantly interrupted by the needs of his mother, and the stress is giving him increasingly worrying headaches.
Is there a second killer?
The novel starts slowly and I struggled with the first quarter of it – DI Mahler is difficult to get to know and the investigation seems to be going absolutely nowhere – however if you persevere with it, the story picks up significantly.
In the end he decides to follow his instincts that point to a suspect that others think is nigh-on impossible. I think it's likely that most readers will guess who the killer is, but that doesn't really distract from the story – or at least from Mahler's story and how his character is set up for future outings.
The ending works as both a conclusion and a continuation. In my opinion the ending is an obvious set up for a sequel, especially as the other murders that had been strongly hinted as being connected are left open, and although a killer is found, we still don't really know if they're still hunting for a second killer.
Will we find out more about that in the next offering? There is also much about Mahler that still lies beneath the surface, since his character was very guarded, so perhaps we'll also find out more about his inner workings and motivations in further stories.
If you like Rankin's Rebus, you'll like Kirk's Mahler.
More online book reviews