Vegan Portobello Waffles
---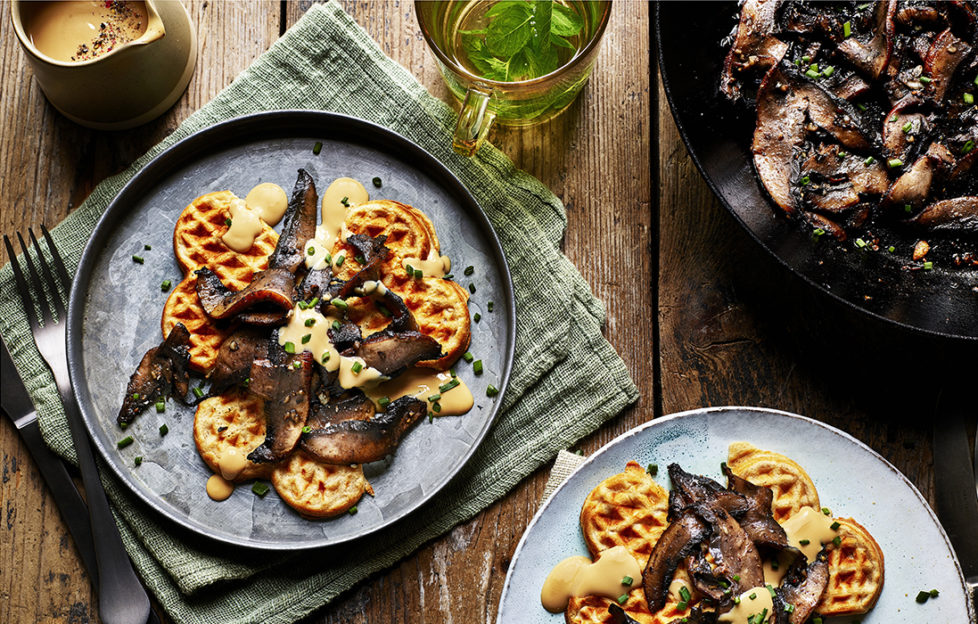 The deliciously original combination of flavours, the creamy dressing, juicy mushrooms and hot, golden waffles make this a really special breakfast or supper! Find more mushroom recipes here.
If you don't have a waffle iron, the batter works just as well for pancakes. Make up the batter as instructed, add a knob of butter to a non-stick pan, and fry a ladleful of batter at a time. Flip when the pancakes start to bubble. Serve hot and enjoy!
Mix together the ingredients for the dressing and set aside.
Mix together the almond milk and lemon juice in a jug and leave to stand for 5min. In the meantime, heat and oil the waffle iron.
In a bowl mix together the olive oil, flour, baking powder and salt. Add the almond milk and stir together to make a thick batter. Pour a ladleful of the mixture onto the iron and cook the waffles, one at a time, until golden and crisp.
Meanwhile, make the mushroom topping. Heat the oil in a deep frying pan and add the mushrooms. Fry them over a gentle heat, stirring occasionally for 3-4min until soft.
Add the five spice and garlic. Stir through. Cook for a further 1min. Season with salt and pepper.
Serve the waffles topped with the mushrooms, a drizzle of the dressing and a sprinkle of chives.