Jo Thomas Exclusive
---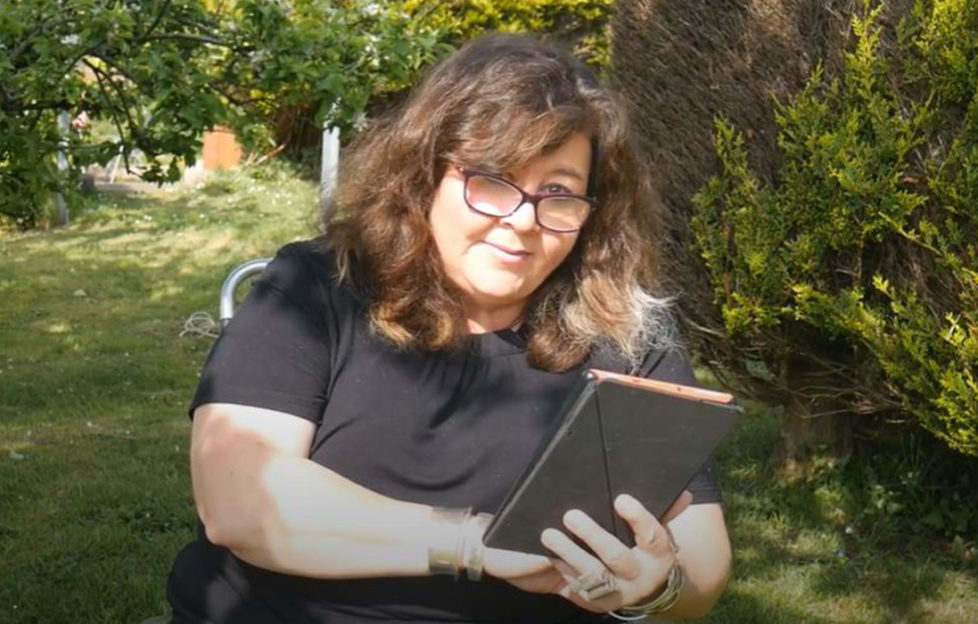 Author Jo Thomas
We're all craving some escapism at the moment and this gorgeous little slice of Provence is just the tonic we need. Out August 6, Jo Thomas's latest novel, Escape To The French Farmhouse will transport you to the sun-drenched lavender fields of France, and here Jo exclusively reads a passage…
---
---
Q & A with Jo
Jo shares her passion for cooking and travelling – and reveals a sneaky bit of gossip about her next novel due to be published later this year!
What inspired the idea for your latest novel, Escape To The French Farmhouse?
Well, I knew I wanted to go back to France, and in particular Provence. I worked there when I was in my late teens, in a restaurant and loved it there. The smell of Provence is so distinctive! I have some really happy memories from there and so decided to write about the lavender fields. I wanted to explore how it's used in cooking. I also wanted to create a house where the people who gathered there found it in some way healing. Lavender can help soothe and heal in so many ways.
Main character, Del, discovers a passion for cooking and baking in the book – do you enjoy cooking up a storm in the kitchen?
I'm much more of a cook than a baker. I love cooking big bowls of hearty meals and love using lavender in my herbes de provence. Lavender goes really well with roast lamb or with my herbes de provence in boeuf bourguignonne. However my middle daughter is a pastry chef and baker and lavender goes really well in bakes like macarons and shortbread.
I love cooking for my family. I remember when we first started our family, after some years of waiting, what I looked forward to was finally cooking fish fingers for tea. I have a little bit of Italian blood in me someway down the line, but family meals of pasta and rich tomato sauce, jugs of wine and simple desserts is my idea of happiness. Birthdays in our house are always an excuse for family friends of all ages to gather around the table. Actually, I like any excuse for a gathering around the table!
So you enjoy cooking for other people? Why?
I love cooking for other people! It's my way of saying I love you! Christmas Dinner is one of my favourites. The smell of the turkey cooking, filling the house and having everyone around the table. I love planning Christmas Eve cooking and cold cuts on Boxing day too. I'm a simple cook, but love nothing more than having friends and family around the table. BBQ is another favourite, lots of salad and bread and a big pile of sausages! Or birthdays I tend to do a pot of chilli con carne with rice, jacket potatoes and sour cream. And there are always sausages for the little ones!
Del is inspired by an ancient cookery book she finds at a local antiques shop. What cookery book do you most treasure from your own collection?
I think it would have to be Nigel Slater's Real Cooking. It's been everywhere with me. When I used to go on holiday before kindles and ereaders, I would take it in my suitcase and find it was like a map, guiding me round the market to discover what I wanted to cook and how. The pages are splattered and falling out, but I still turn to it when I start cooking. Like stablisers on a bike, I may have taken them off, but I know they are always there if I need them.
Delicious food always plays a part in your novels – tell me about one of the best meals you've had in the name of research?
I've had so many meals that have stayed in my memory such as my 20th birthday in Provence under an awning in a pop up restaurant on the beach in a thunder storm; where the sides of the awning slapped as the wind did it's worst and the lightening lit up the sky. We ate, drank and laughed. It was wonderful. Another was up in the mountains of Crete when I was researching The Honey Farm on the Hill. We went to a slow food organic restaurant there. It was like walking into someone's front room. All the food was cooked in big pots on open fires outside and everything was grown on the small holding. The views were amazing too!
You've travelled far and wide – what's been one of your stand out places you've travelled to and why?
I loved Sicily. When we stayed there, for the first night we stayed on an Agriturismo, an organic farm, surrounded by orange and lemon trees. It was fantastic in it's simplicity. The restaurant there was wonderful as was the passion for what they grew and cooked. And pizzas I've never seen the like of! The generosity of the Sicilian people, to feed you and make you happy is amazing. We did a cookery course there in the family home and feel like we are old friends! We met a wonderful citrus fruit farmer who showed us around and sent us home with a huge box of fruit and olive oil, and in a villa we stayed in they had laid out the most amazing spread of cakes, fruit and wine for our arrival. Everyone was so welcoming. It was very hard to say goodbye. We will definitely be going back.
Who are your favourite authors? What books have you read and enjoyed recently?
When I first started writing it was because I fell in love with books by authors Katie Fforde and Jill Mansell and still love them today, along with books by Milly Johnson and Carole Matthews. I loved the humour in Wendy Holden's books and Marian Keyes' poignant by funny books like Rachel's Holiday. I have just recently been rereading Jackie Collins' books and am blown away by what a story teller she was. And right now am rereading Jilly Cooper's Riders. Great storytelling. A great sense of place, characters that really live and that we care about and think about when we're away from them.
Can you give us any gossip about your next novel? Where will it be set?
My next book is Finding Love in the Christmas Market and it's set in a German Christmas market in the week before Christmas, with the smell of gingerbread and cinnamon spiced glühwein in the air. Connie has embraced her single status and is throwing herself into on line dating, or was, until one dating disaster too many. Until she gets the chance to finally meet up with her perfect on line match. Will it be a Christmas to remember?
---
Escape to the French Farmhouse by Jo Thomas is published by Corgi on August 6, 2020, RRP £7.99.
Also available as an ebook.