Fresh As A Daisy Embroidery
---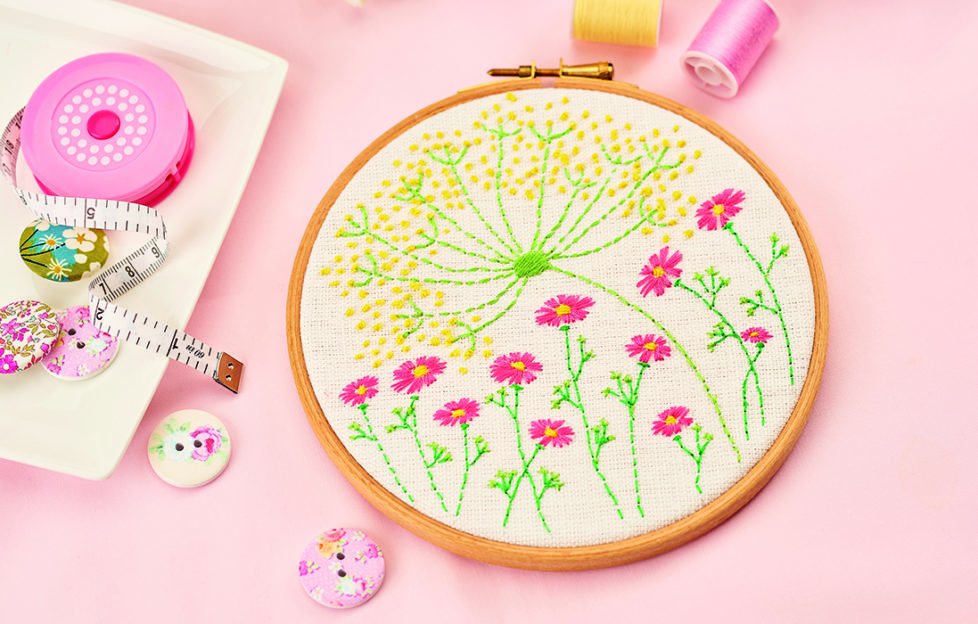 Simple and so pretty, you can stitch this exactly as we have or use the colours of your choice…
You will need:
Fabric, even weave linen, ivory
Stranded cotton, Anchor: pink, green, dark green, yellow (or colours of your choice)
Embroidery hoop, 15cm
Embroidery needle
To make:
Cut a square of linen fabric large enough to fit a 15cm embroidery hoop. Open the pdf below and re-size the design to suit, making sure it will fit into the 15cm embroidery hoop. Trace the design onto the linen, either directly or using carbon paper. Secure the square in the hoop, pulling the fabric firmly so it is taut.
Snip a length of green thread, separate three strands and pass onto your needle. Start with the stem of the cow parsley, which is worked with a back stitch. When complete, continue to work the curved parts of the flower head. Fill the centre of the flower with satin stitches.
Thread the needle with two strands of yellow, then form the tiny flower tips by stitching French knots. These are not marked on the template – just stitch them randomly around the tips of the flower head.
Work the stems of the daisies with back stitches and two strands of dark green. Embroider the petals with three strands of pink, working three satin stitches next to each other. Because the flowers are formed on an oval shape, the stitch lengths will differ and may need filling with single stitches.
Fill the daisy centres with yellow satin stitches. Add little tips to the ends of the stem spurs in lighter green using the image as a guide. Trim excess fabric from the back of the embroidery, then run a gathering stitch around the remainder and pull up tight to secure the fabric flat inside the hoop. Hang on your wall.
Template
---
Crafts Beautiful May Issue Out Now, Includes a Free Issue of My Weekly!