Christmas Fiction: Jenny Bayliss
---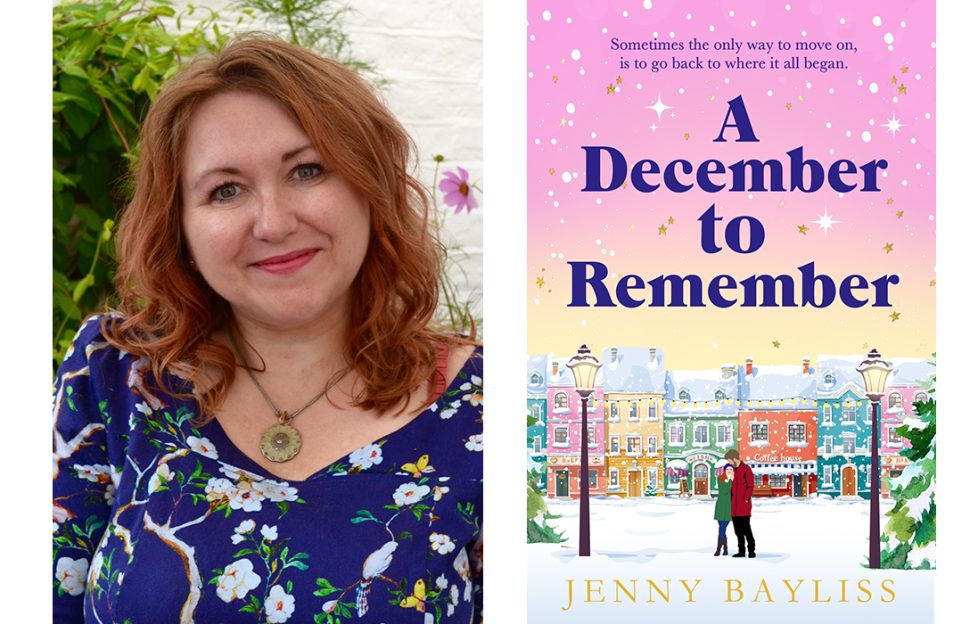 In our Christmas Fiction author series, we're chatting to some of your favourite writers about their latest Christmas releases – and you can win all the books from the series here!
Author Jenny Bayliss loves to write about the festive season. In her latest book three estranged sisters meet again, but will the Christmas lights and festive mayhem help them rediscover the meaning of family?
Jenny, can you tell our readers about your latest book?
A December to Remember follows three estranged sisters; Maggie, Simone and Star, who are forced back together by their equally estranged father's death. As children they would spend one idyllic month of every summer together with their father – Augustus – at his home and curios shop in the town of Rowan Thorp. For the rest of the year, they each lived with their respective mothers. As adults they drifted apart from each other and Augustus. But they are pulled back to Rowan Thorp when Augustus dies, and his will states that the sisters may only inherit his estate if they complete a series of challenges together; one of them being to reinstate the traditional Winter Solstice celebration to the town. The three women live different lives and have very different personalities, but it's clear they're going to have to pool their resources if they are going to successfully jump through the hoops their wily old dad has laid out for them. And perhaps among the fairy lights and festive chaos, they might rediscover what they lost when they became adults and remember what it means to be sisters.
Why do you enjoy writing about the festive season?
I am an autumn and winter person. I love everything about it: the colours, the cold, the hunkering down under blankets, the brandy-laced hot chocolates, I don't even mind the dark evenings. There is a school of thought which says you will be most drawn to the season in which you were born. It is probably bunkum, but I was a winter baby and I've been a winter gal ever since. So, I think I enjoy writing about the festive season because it's where my heart lies. And because I love all things Christmas! There is something about December that makes people kinder and more hopeful. Despite how busy everyone is, our generosity seems to grow exponentially during the season and we give more of ourselves to others, whether that takes the form of giving our time or our charity. It is an inspiring time to write about.
Why do you think readers enjoy reading Christmas-themed novels so much?
I think there are a few reasons Christmas-themed novels have such an appeal. Obviously, for many of us there is a lot of nostalgia around the festive season, and I think in some ways we are (speaking for myself here) always looking for ways to re-capture a little of the magical feeling the holidays brought us when we were children. I think festive novels can also help us hold onto those feelings as we go through the season. For many of us it's an incredibly busy period and it's easy to get so wrapped up (excuse the pun) in making everyone else's holiday perfect that we forget it's our holiday too; by setting aside time to read we are stealing back a few precious moments just for ourselves. For me, Christmas-themed novels enhance my own holiday joy. I want to feel rejuvenated and hopeful; I want to read about happy-ever-afters and Christmas miracles; I want to feel like there is still magic in the world if you only look hard enough. From January 1 to November 30 I am a bona fide sensible grown-up, so let me have December to dream.
What inspired you to first start writing about Christmas?
Each year in the run up to Christmas, my mum and I would each choose a festive novel. We would read them, swap, and then discuss, like a little holiday book club for two. My love of the holiday season is vast and deep, and I often felt like I'd like to write my own ode to the holidays; something my mum would like to read. One day, I was cleaning the bathroom – which is where as everyone knows all the best ideas come from – and singing The Twelve Days of Christmas – because why wouldn't I? – and I suddenly had the idea for a dating website which offered twelve dates at Christmas time, with twelve different people, and I knew that Kate Turner was the woman who would be going on these dates. And that was how my first novel, The Twelve Dates of Christmas, was born, bent over the bath with a soapy sponge in one hand and a bottle of squirty bathroom cleaner in the other; super glamourous!
What books or authors (Christmas or non-Christmassy) are some of your influences?
On the Christmas side, Trisha Ashley's novel The Twelve Days of Christmas is one of my all-time favourites, as is A Christmas Party by Georgette Heyer; I read that one every year, it's a cosy murder mystery. Those authors really know how to write a Christmas house party.
And in the non-Christmas department, I am in awe of anything written by Anthony Horowitz. His writing is captivating and he has a way of describing characters that is so brilliantly clever that they explode into my head fully formed. It's a gift, it really is. If I had to name someone I aspire to write as well as, it would be him.
If you're writing about Christmas during the spring or summer months, is there anything in particular you do to get into the spirit?
I am lucky in that my adoration of the Christmas period is strong enough to endure the warmer seasons, so getting into the festive spirit isn't hard for me. But I will occasionally listen to The Dance of The Sugar Plum Fairy to keep my Christmassy vibes topped up. I have tried listening to Christmas songs and music in the summer, but it only makes me feel sad that it isn't Christmas yet; I'm such a baby! Although I have been known to indulge when the free movie channels do their Christmas in July movie month.
When the world is particularly tough, do you think there's more of a need for these kinds of novels?
I tend to think that most fiction is a form of escapism because it allows us to remove ourselves from reality. I adore a good crime novel or a spooky horror, but there are times when I feel overwhelmed by the fear and tragedy in the real-world news, or I am finding life a bit stressful, and in those moments I reach for books which comfort me. I think sometimes we need books that act as a balm to soothe us and help get us ready to go back out and face the world. Festive novels, and festive movies for that matter, tend to be restorers of hope and faith in humanity and there are times when that is just the medicine we need.
How do Christmas novels fit in with the rest of the literary world – what is their place and how do you think they can maintain it?
I think there is a definite book snobbery around much commercial fiction, and Christmas novels probably bear the brunt of that. Luckily, I have never bought into book snobbery; I say read whatever makes you happy. The important thing is that you are reading! Music is much the same, there will always be people who turn their noses up at pop, or rap or whatever, but who cares? I've reached an age where I am unapologetically loud and proud about my love of Taylor Swift, Britney, and holiday romcoms; I am who I am.
There is certainly a place for Christmas novels in the literary world and they are in good company, after all Charles Dickens started the bauble rolling with A Christmas Carol. And just like Dickens's novel, most festive books are underpinned by a message of love, forgiveness, and hope.
As with all genres, there are sub-genres within the holiday book market, and I think that is what will maintain it. There are spicy holiday books to get your pulse racing if that's your thing, or historical Christmas novels, or Christmas crime capers (serious and cosy), or comedy holiday romance, or straight-up Christmas romance – which also has its own sub-genres; enemies to lovers, friends to lovers, faux dating etc – or novels which could happen at any time of the year, but just so happen to be set around the holidays. It is hard to imagine that all those genres will suddenly fall out of favour, or that people will stop reading books at Christmas. In most of my books, my characters are going through things that affect them all year round, such as divorce or money worries. I am merely shining the spotlight on them during the festive period; if you removed the tinsel and trees, the story would be the same.
What do you take away from writing festive stories?
Did I mention that I love Christmas? Though writing is often hard – I am not someone who can just bust out a book, it takes me ages! I find deep joy in writing stories around the festive season because winter is my happy place. I get to indulge all my wintry fantasies and live them vicariously through my characters. One of my most favourite things is being able to stitch kindness into my stories, and December is the perfect time to spread some kindness around. My wish for my books is that people can relate to the characters and what they're going through, and hopefully feel uplifted by the end of the book. There is nothing so heartwarming as getting a message from a reader who has related to one of my characters and found it a positive experience, it makes me glow with happiness and gratitude.
A December To Remember by Jenny Bayliss is out now and available from Amazon (Pan, PB £8.99, audiobook and eBook, too)
---
Also in the series