Christmassy Q&As with Jeevani Charika
---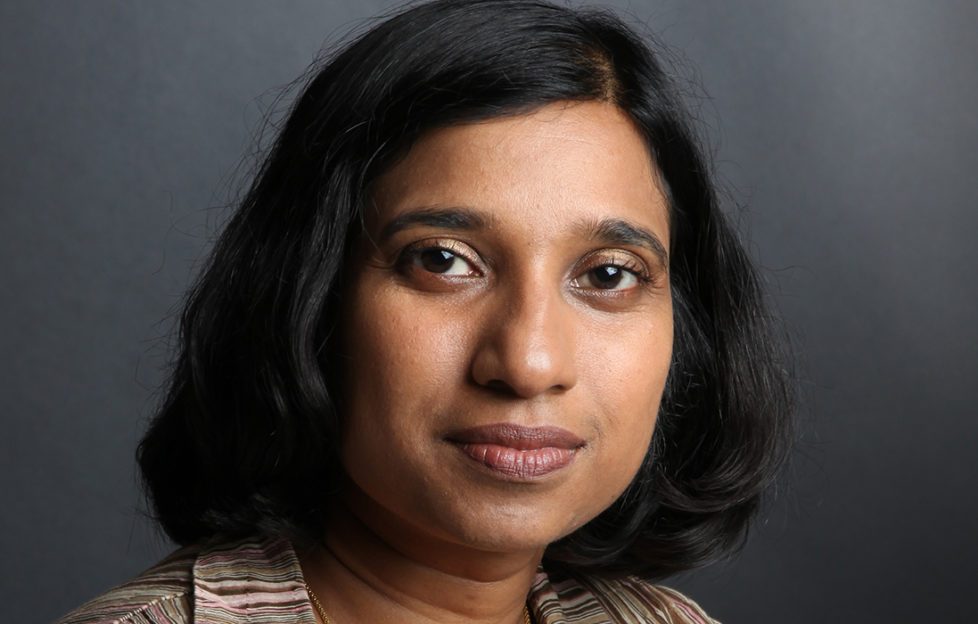 Author Jeevani Charika
INTERVIEW BY KAREN BYROM
Bestselling author Jeevani Charika shares her inspiration for her novel Christmas at the Palace, and tells us how she and her family will be spending Christmas this year.
Jeevani, you have previously written as Rhoda Baxter. How exciting is it for you to see Christmas at the Palace published under your real name, and what made you decide to use your real name?
It felt really strange seeing my name on a book cover for the first time. It was exciting when I saw "Rhoda Baxter" on a book cover too, but this was different. It felt more personal somehow; more mine. I kept staring at it and patting the book to check it was real.
When I was first published, back in 2013, it made sense to use a pen name that was easier to pronounce and easier to spell than my real name. I named myself "Rhoda Baxter" after the bacteria I used to work on when I was a microbiologist (Rhodobacter species). Those books had some Sri Lankan characters in them, but they always had very minor roles, because it was assumed in those days that people wouldn't buy books with BAME protagonists. This book, on the other hand, has a British-Sri Lankan heroine, so it seemed appropriate to use my real name on it.
Can you describe the feeling you get when you see your novels on the bookshelves?
You know that feeling when your child wins an award? It's a bit like that. You feel proud and elated and slightly humbled all at the same time.
For as long as I remember, I've wanted to write novels. It takes a long time to write a book and even longer to get published, so seeing your words made into a physical product is just amazing! I don't think I'll ever get used to the buzz of seeing my books on the shelves.
Did your inspiration for Christmas at the Palace spring from Prince Harry and Meghan Markle's romance, or had you already had the idea?
It was a bit of both. As with all of my books, a lot of disparate things that interested me combined to make a fuller story. The idea of writing about a woman who has to choose between her career and love had been something I'd been chewing over for a while. (It's quite hard to find circumstances that would require that nowadays.) I was also interested in how the media reported people who didn't fit the traditional narrative – Barak Obama, Hilary Clinton, even Teresa May (remember the "forget Brexit, who has the best legs" headline?). Some of the headlines about Meghan Markle (especially on the web) were astoundingly offensive. So I'd been interested in that side of the royal story too.
When the royal wedding was announced, and the opportunity arose to work with a publisher on a royal romance featuring a British Asian heroine, it seemed the obvious thing to combine these things and shake them together to see what happened. I'm really pleased with the result.
Do you think Meghan and Harry faced the same dilemmas as Kumari and Ben?
The honest answer is that I have no idea! The press attention on them has been pretty relentless, and in the early days a lot of it focused on race, so there some things that must have been similar. Kumari being camera shy was a huge part of why she struggled with her new role as the prince's girlfriend, which of course, wouldn't be a problem to the real duchess.
Christmas at the Palace explores the issue of ethnicity and Britishness in the 21st century in a truly sensitive way. How important do you think it is that fiction writers address pertinent issues of the day?
It's not essential, but I always feel that it's interesting when fiction addresses issues in subtle ways. Of course, the story should be the most important element, but it's always nice if it leaves you thinking about something that you had barely noticed before. I've learned so much about life and about other countries and cultures through reading fiction. I think reading stories lets us "practise" emotions, just like dreams do. You get to go through experiences in a safe way and imagine how you'd feel. That's part of the fun.
This book is a little more "issue heavy" than my usual books because the story lent itself so well to discussing race and the perception of second generation immigrants (who aren't really immigrants at all).
Kumari has some tough choices to make which we can all sympathise with. Were you ever tempted to have Benedict resign his place in the line of succession and run off to Lesotho with her?
Ha! I did think about it, but the research was much more fun this way around. I spent hours looking at pictures of posh houses and pretty, pretty dresses. The wedding dress and Christmas outfit research was so much fun! I have a pinterest board full of the most incredible gowns. I think my search history about designer dresses and eye-wateringly expensive jewellery was starting to worry my husband a bit…
I love the cover of Christmas at the Palace. Do you get to choose the covers of your books, or have any say in them?
I get to see them and comment before they go out. I was so happy to see a brown girl on the cover of the book!
How do you and your family celebrate Christmas? Are there any unusual traditions you follow?
I don't do anything Christmassy until the first of December and then we go all out with the decorations and advent calendars. We have a fairy door that appears on the kitchen skirting board on the first of December. I can't see it (wink) but the children can. The fairy puts her bins out on bin day, leaves a cocktail umbrella drying if it's rained in the night and does all sorts of little things like that. My husband and I have so much fun doing this – almost more fun than the kids do! The hardest part is keeping a straight face when they ask "can't you see it Mummy, it's right there?" My oldest sussed it out years ago, but she still pretends for the sake of her little sister.
Who are your favourite authors and which Christmas books will you be reading this year?
Oh, this is a huge question. Where to start… Milly Johnson is always a favourite for Christmas reads. So are Jane Lovering and Sue Moorcroft. I love Christmas novellas. I pile them up on my kindle and then binge read them between Christmas and New Year. They keep me going until the days become lighter and the daffodils come out.
Do you have a favourite-ever Christmas book?
I love Jane Lovering's The Boys of Christmas, because it makes me laugh every time I read it (which I do every year). That said, the Christmas book I read most often is The Night Before Christmas. It's such a magical poem.
And a favourite Christmas song or carol?
I'll happily sing along (badly) to most Christmas tunes, but Let It Snow is my current favourite.
What would you like to find in your Christmas stocking this year?
Chocolate!
Who would be your real-life sexy Santa? (You can't have Prince Harry – he's spoken for!)
I suppose I should say someone like David Tennant, but really, my ideal man is Willy Wonka – bear with me on this, I've thought it through. Here are my reasons:
He's a millionaire
He owns a chocolate factory
He's creative and innovative (he designs all those new chocolates)
Underneath all the make-up, he looks like Johnny Depp
He owns a chocolate factory
 And finally, sprouts –  Yes or no?
No.
Thanks so much for chatting to us, Jeevani. Have a lovely Christmas.
More Christmassy Q&As